From his time growing up in his native France to the present day, Simon Pagenaud has had a number of teachers and mentors.
But it's likely none – especially in the racing world – come with the credentials of four-time Indianapolis 500 winner and three-time CART champion Rick Mears.
Although Mears hasn't raced since 1992, he's been the most formidable driving coach, spotter and consultant open-wheel racing in the U.S. has ever seen.
Just look at who he's mentored the last several years at Team Penske: three-time Indy 500 winner Helio Castroneves, 2014 Verizon IndyCar Series champion Will Power and 1999 CART champ and 2000 Indy 500 winner and former Formula One driver Juan Pablo Montoya.
There've been a number of other drivers who have learned their lessons well under Mears' tutelage, with five CART or IndyCar championships.
What's more, in addition to the four Indy 500 victories he drove to for the Penske camp, Mears has also overseen seven of the organization's 15 other wins in Indy.
And now it's Pagenaud's turn. Even with four career wins on the IndyCar circuit, Pagenaud can still learn a great deal from Mears' wisdom and knowledge.
Who knows, that kind of teaching could put Pagenaud in Victory Lane at Indianapolis Motor Speedway on May 24 for the 99th running of the legendary Indy 500 – just six days after Pagenaud turns 31.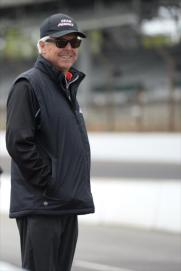 Prior to the start of the season, Mears told IndyCar.com how much he was looking forward to working with Pagenaud.
"I think he is going to be very good for the team and he is going to fit right in," Mears said. "He is obviously very talented. I think he is going to be a real asset to our operation and help strengthen the team even more. … It's going to be good."
Pagenaud isn't only with arguably the top team in IndyCar, he's also in a unique situation with Team Penske moving to a four-car team this season.
"We have a pretty good record of what it takes to make it happen and what it takes to add another car," Mears told IndyCar.com. "I think it is just going to make the team stronger."
Even though this is his fourth career 500 – his best finish thus far has been eighth in 2013 – it's Pagenaud's first attempt at winning the Greatest Spectacle in Racing with Team Penske.
"It's a lot of fun to drive the Penske car," Pagenaud said Tuesday afternoon after finishing the second-fastest in 500 practice. "Working with Rick Mears has been a real help. We put some things on that I really like, we were really good in traffic.
"Rick thinks so much about how it's doing it, why it's doing it. I don't have much experience yet at this place. He's a very good mentor. (He's helped me) manipulate the car, and it's working really well in traffic. Looking at Helio has (also) been a good help."
Pagenaud is off to a good start in his Team Penske tenure. In the first five races of 2015, he has two top-five and one other top-10 finish.
Now it's time to see what he can do in the biggest race in the world.
Pagenaud was second-fastest in Tuesday's practice at 227.382 mph, just a few ticks behind the fastest driver of the day, his Team Penske teammate, Castroneves, at 227.514 mph.
That's certainly a precursor of even better things to come for Pagenaud, especially on race day.
"On an oval it's not like a road course, accelerating and decelerating," Pagenaud said. "We have on-board cameras we can look at. I'm opening doors every half hour on things I never knew."
And Mears is right there with him, helping him every step and mile of the way.
Follow @JerryBonkowski