NBCSN Verizon IndyCar Series analyst Townsend Bell will be writing a series of blogs for NBCSports.com this month. Here's his second entry, filed after the first full week of practice in the No. 24 Robert Graham Special Chevrolet for Dreyer & Reinbold – Kingdom Racing. His first blog of the month is linked here. 
—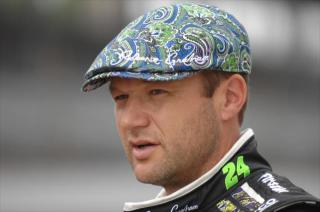 Hi again from the Indianapolis Motor Speedway, this is Townsend Bell. And I'll be honest with you, I'm both tired and excited for Saturday and Sunday's qualification runs for the 99th Indianapolis 500. It's been a long week of practice. And now it's time for the toughest four-laps in racing, qualifying for the Indy 500.
In my last writing, it was only after my first day in the Robert Graham Special. I was just getting back up to speed in an IndyCar and it is like getting in an F-16 fighter jet after driving a Lear Jet regularly. Jumping from my Ferrari in the TUDOR United Sports Car Series to the 700-horsepower IndyCar does take an adjustment.
But by Tuesday this week, things seemed back to normal. The first day you can go fast, but you hold your breath a lot and grip the steering wheel a little too tight. Now, on Tuesday, we had another good day for our Dreyer & Reinbold – Kingdom Racing team. I felt like we were in a window where we had a feel for what we might want on race day. And it was nice to get in some pit stop practice too. The Robert Graham Special felt very good and we were moving through our engineering checklist. But we were still learning. Those were still early days in practice and we were trying to understand all of the aero data. We have a great group of guys who know how to get through that data. We did a good job of that on Wednesday and produced a 228.969 mile per hour lap.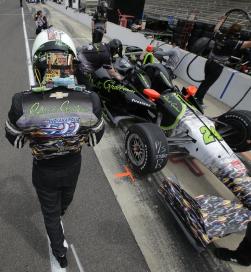 I really don't see a big difference from last year's chassis handling to this year's with the new body kits. For the Chevy, the new body kit is very streamlined and I felt that the car was easier to drive on Wednesday when the wind was up. Chevy has done an incredible job in being prepared coming to Indy this year. Chevy is giving us plenty of data to work with so far and it is never easy at this place. But the car has been predictable and that is a big plus.
Thursday was the first day that we tried some different Chevy aero bits with the Robert Graham Special. We were gathering as much information as we can on Thursday since we gained additional engine boost on Friday. It's about 40 more horsepower. We wanted to be a little ahead of the game for Fast Friday. It's nice to get a head start on Thursday as you always seem to run out of time closer to qualifying. With the added boost, it seems to be a little more electric in the car due to additional speed. It definitely increases the buzz factor for a driver.
As a one-car team going against the "super" teams like Penske, Ganassi and Andretti as well as the very good multi-car squads like CFH Racing, Foyt, Schmidt, KV Racing and others, you would think that our team would be behind since we only run once a year. But at the Dreyer & Reinbold – Kingdom Racing team, it starts with the people and the team has a strong reputation for having a solid operation. Dennis (Reinbold) sets up a competitive but family-type vibe that goes through his entire business model. He takes great care of his people as you can see in his other businesses. He has a strong core group who he employs full-time despite just running the Indy 500. Team manager Chase Selman has this team so well-prepared that they don't miss a beat when we get to the Speedway.
We have had a good week of practice in gathering information for race day as well as running in traffic. And parallel with that, we have worked on our pit stops every day. Now, it's Friday and time to worry about getting the car ready for qualifying. We have been gaining more data for the fastest four laps we can put together. Qualifying on Saturday really depends on track temperatures and conditions.
You have to remember that the qualifying speed is the average of four laps and that is the challenge everyone is facing right now. Are you a little soft on lap one and pick up speed for the rest of the run or do you have a fastest one first and then fall off for the final three laps? The driver will have to be very important this year in qualifying. It's a tap dance to get your tires just right throughout the four laps. This Dreyer & Reinbold – Kingdom team is a great group and they have put together a solid and strong program this week. Now, it's up to me to execute on Saturday.
My prediction for the pole….. at first, I thought 233. But after Friday's hot, humid and windy conditions, I'm not so sure of that number. Ed Carpenter won the pole at 231 last year, so you would think two or three miles per hour faster in 2015. As I said previously, it's all about the weather conditions. And I think we can be in the thick of things on Saturday.