Racing is Chip Ganassi's business. Winning is part of Chip Ganassi's business.
Winning regularly has become a staple for his teams in the Verizon IndyCar Series, TUDOR United SportsCar Championship and NASCAR Sprint Cup Series.
But in Red Bull Global Rallycross, Chip Ganassi Racing is starting from ground zero, with two brand new Ford Fiestas and a hungry pairing of Steve Arpin and Brian Deegan as drivers.
The program was only announced in March, during the race week for the Mobil 1 Twelve Hours of Sebring for Ganassi's TUDOR program, immediately after IndyCar testing at Barber, and before the NASCAR weekend at Auto Club Speedway.
Ganassi is not underestimating the challenge ahead of him, as he begins the quest for success in his newest chapter of motorsports this season.
"I'm the person that likes to come in and under promise and over deliver," Ganassi told MotorSportsTalk in an interview at Red Bull GRC media day in Long Beach. "I'm not all flashy with the big splash and come in and say, 'We'll do this.' We're here to compete and learn, but we're here to win races."
Ganassi's team has gained traction with several youth-oriented and targeted events the last few years, notably the Ganassi Sound Garage event held last September.
Getting into Red Bull GRC, Ganassi said, is proof positive of looking towards the next generation of racing fans.
"It's no secret we all want the younger demographic," Ganassi said. "We like to think as a team we're leading that perspective. Coming here we have a lot to learn.
"Our expectations are tempered by the realities of physical aspects of the sport we have to overcome yet. But we feel pretty good. We're looking forward to it."
In Arpin and Deegan, Ganassi has found two rally veterans, even if Deegan's flat brim hat and tattoos don't fit the traditional mold of a Ganassi driver.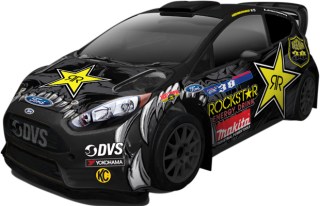 Deegan, an action sports legend primarily in Freestyle Motocross, has since shifted into off-road truck racing and rally racing. Last year Deegan finished 12th in points with two podiums in only five starts, as he raced only half the 10-race schedule.
But while Ganassi may be downplaying expectations, Deegan certainly isn't.
"I've got in a rally car, won some races, and I never felt I was with the right equipment," Deegan told MotorSportsTalk. "Now getting with Chip Ganassi Racing, it should be unlimited. We don't want to just win races, but we want to be a dominant team. I'm excited."
Deegan says the area of the game he needs to improve is on pavement; he said he needs to become a better pavement driver.
As for hooking the youth? "The car racing world has aged. Between skate BMX and moto, getting kids over to car racing isn't easy. Getting them in GRC has helped a lot. We still have a ways to go. But we keep it exciting."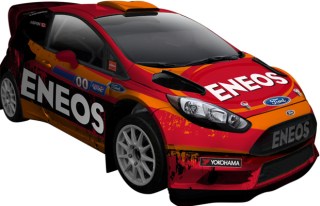 Arpin ended seventh in points a year ago, with one podium in 10 starts. More often than not, poor luck struck him during weekends.
"We started strong at the beginning; halfway through we were still third in points," Arpin told MotorSportsTalk. "We just ran into mechanical after mechanical. I only had one crash. But I learned a bunch of things not to do and to do."
He's praised both Ganassi and Deegan as they look ahead to the year.
"We'll be in top-notch equipment. I have the best of best with Deegan as my teammate, given his perspective and his view. We have such polar opposite backgrounds. We have such a different view of looking at things; on how to attack each corner. With that being said, winning is nothing less than the goal.
"Realistically, it's a set of doors I have tried to get through since '09-'10 in NASCAR. It's a first class organization. To race like someone with Mr. Ganassi, not to take away from others, but racing is his thing. It's not other programs.
"For me as a racer growing up, to race with someone like that, it becomes that much more special. Walking in those doors, into that kingdom they call a race shop it's the most beautiful thing in a world."
Mr. Ganassi, again, just wants the thing the late Rodney Dangerfield always said in stand-up acts he never got.
"Again I hope to earn everyone's respect, and build a solid team foundation for going forward," Ganassi said.
The season opens May 31 in Fort Lauderdale, Fla.