INDIANAPOLIS – Given how busy a day this Friday is for Carb Day, there's a lot to keep tabs on both at the track and off-track.
Here's some notes thus far.
—
Honda Performance Development President Art St. Cyr held a press conference earlier Friday, and primarily noted how much testing it had done on its aero kits. St. Cyr didn't feel the manufacturer was able to take enough credit for the work it had done in the lead-up to the race, given the number of accidents that had taken place. St. Cyr also confirmed to MotorSportsTalk that he doesn't have any further updates on Honda's renewal status with INDYCAR, although he said talks continue as part of the company's overall program. The goal, St. Cyr said, is to continue to promote open-wheel racing in North America.
—
The last official bit of confirmation on the Tristan Vautier in the Indianapolis 500 news came from Dale Coyne Racing, via its Twitter account.
—
From Carb Day coverage on NBCSN, here's Ryan Briscoe on his last-minute call-up at Schmidt Peterson Motorsports, talking to Kelli Stavast.
Meanwhile here's Sage Karam of Chip Ganassi Racing with Jon Beekhuis on why he's ending his day early.
—
Will Power and Scott Dixon went 1-2 in the Indianapolis 500 final practice in Carb Day. There were three caution periods for 16 minutes and 59 seconds, but there were no major incidents; all yellows were for debris or track inspection. Tristan Vautier was P18 in the No. 18 Dale Coyne Racing Honda with a best speed of 225.687 mph.
Speeds are below: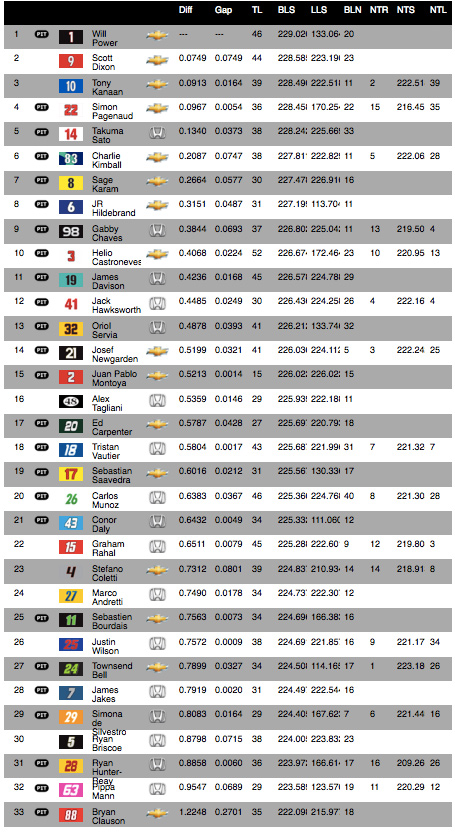 —
The "line change" is next with the Indy Lights Presented by Cooper Tires race next, the Freedom 100. Kevin Lee, Anders Krohn and Katie Hargitt will have the coverage.
—
Schmidt Peterson Motorsports' quartet has gone 1-4 in the Indy Lights race, with Jack Harvey winning ahead of teammate Ethan Ringel under yellow flag conditions. Scott Anderson also has his first podium of the year, and RC Enerson ends P4. The full report is linked here. IndyCar's pit stop competition is up next.
—
Three new liveries made their debut in Indianapolis 500 Carb Day practice.
Here's Justin Wilson's new Rolling Stones livery for Andretti Autosport, which is adorned in ZIP CODE tour theme. It kicks off its 15-city North American tour in San Diego.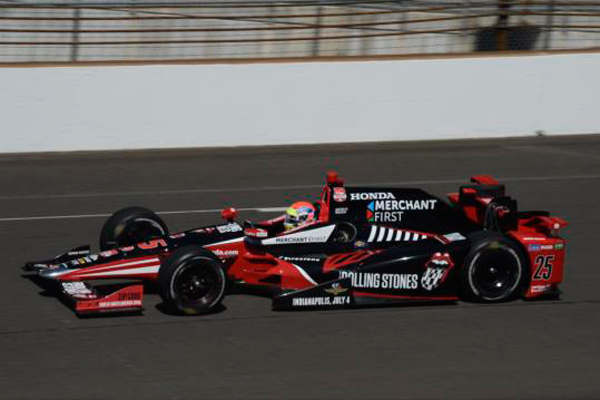 James Davison's No. 19 Dale Coyne Racing Honda has, as expected, taken on the aqua and black of his sports car partner Always Evolving. It's a variant of the car he drove last year for KV Racing Technology.
James Jakes' silver No. 7 Schmidt Peterson Motorsports car has also had a livery change. The aqua number has shifted to orange, and team co-owner Ric Peterson's trucking company Oculus Transport Ltd. is now on the sidepods. No picture is available yet but it will be identical to the version linked below.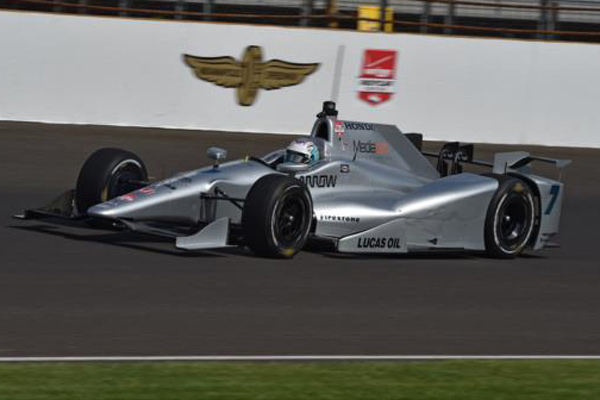 —
Helio Castroneves' No. 3 Shell V-Power Nitro+ Team Penske Chevrolet team won the TAG Heuer Pit Stop Challenge. The release from IndyCar is below:
—
Helio Castroneves hopes that winning the TAG Heuer Pit Stop Challenge could be a good omen for the team.
Castroneves, driving the No. 3 Shell V-Power Nitro+ Chevrolet, defeated Charlie Kimball of Novo Nordisk Chip Ganassi Racing in the championship round. His pit crew received the $50,000 first-place prize for its speed, precision and accuracy.
The winner of the competition has gone on to win the Indianapolis 500 six times, most recently with Castroneves in 2009. It was the seventh win for Castroneves and the 15th for Team Penske in the pit stop competition.