NBCSN Verizon IndyCar Series analyst Townsend Bell will be writing a series of blogs for NBCSports.com this month. Here's his fourth entry, filed after a busy, busy Carb Day.
The driver of the No. 24 Robert Graham Special Chevrolet for Dreyer & Reinbold – Kingdom Racing was on track for practice  in the TAG Heuer Pit Stop Challenge with his crew, then back on TV for live hits for NBCSN's NASCAR AMERICA Motorsports Special. 
Past blogs of the month are linked here (first blog, second blog, third blog, cockpit analysis).
—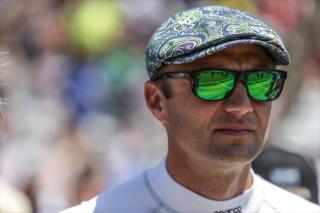 Hi again, it's Townsend Bell, and we are a day away from the 99th running of the Indy 500, the biggest race in the world.
After qualifying last Sunday, it's been like a whirlwind of events and activities. But first, last Monday, one of our fellow racers and good friend, James Hinchcliffe, was in a horrific crash in practice.
The right front suspension broke on the No. 5 car and Hinch had nowhere to go except into the wall at a violent rate. The G load was 125 and the suspension went through the car and caused Hinch some incredible injuries.
It wasn't until later in the day that we found that James nearly died on the track. The Holmatro Safety Team literally saved Hinch's life. We must salute those guys for their spectacular efforts throughout the Verizon IndyCar Series. What a great crew!
I was able to fly to New York City Monday night for an Indy 500 Media Day with my primary partner this year, Robert Graham. We toured the Robert Graham showroom and saw some of their new line of men's clothing. We did a few interviews including with Forbes Magazine and flew back to Indy on Tuesday night.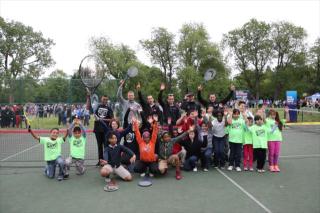 Even though we don't have cars on the track from Tuesday through Thursday of race week, we still participate in a variety of events to promote the 500.
On Wednesday, I went to the Children's Museum of Indianapolis which is one of the top five children's museums in the world. Just a sensational place for kids. The museum has a special Hot Wheels exhibit this summer and I was able to race Hot Wheels cars against some kids, sign some autographs and take photos with many of the children.
Later in the day, all 33 drivers went to the Forever Fit Park for a fitness and game day with 9,000 Indianapolis Public Schools children. What a crowd.
Thursday at Indy is usually a day for the drivers to meet with a host of media members. Each driver has their own table and the media walk up and ask questions individually. Similar to media day at the Super Bowl, it's funny what type of questions you have thrown at you that day.
In addition, I had some phone-in radio interviews and a live television spot with Fox Business network. It's always important to get media exposure for your partners like Robert Graham, Royal Purple, Chevrolet, Loftus Robinson, American Wheels and others.
Later Thursday night, we attended the "Yellow Party," a great charity cancer event developed by the defending Indy 500 champion Ryan Hunter-Reay and his wife, Beccy. Just a tremendous cause.
Of course, Friday at the Indianapolis Motor Speedway is "Carb Day." That title goes back to when the engine ran carburetors and the crews would dial in the engines for the race. Now, the Carb Day event is one-hour final practice for the 33 drivers and a ton of other activities including the TAG Heuer Pit Stop Challenge as well as several top bands in concert including OAR, 38 Special and Jane's Addiction.
There was a huge crowd (over 75,000) at the Speedway Friday and it is like a rite of Spring for the locals. Partying is part of the tradition at Carb Day.
For me, it was a busy day, but it was exciting too. Our Robert Graham Special Chevy race car felt pretty good in race trim Friday. We'll make a couple of adjustments to improve the car for Sunday's race. We have been very quick on our pit stops all month and I feel confident about our chances in the race.
In the pit stop challenge, I thought we had an excellent chance to advance to the final. We set the quickest time of the entire Pit Stop Challenge in the first round at 12.144 seconds to defeat James Jakes' team. But we didn't get the solid stop we wanted against Will Power's team in the second round. And we lost with a 13.336 to Will's 12.755. We'll improve on that aspect too and have strong stops in the race.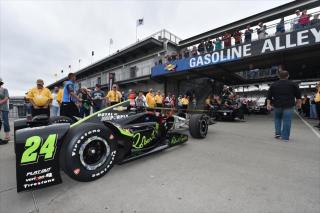 Following the Pit Stop Challenge, I went immediately to the IMS winner's circle where the NBC Sports Network crew was setting up the booth for the Friday afternoon telecast. I was there in my driving suit and my Robert Graham hat and ready for my other job as race analyst.
I really enjoy talking about the races with my colleagues Paul Tracy and Leigh Diffey. But this weekend, Leigh is calling the Formula One race in Monaco for NBC Sports. Marty Snider, Kelli Stavast and Kevin Lee were on hand here in Indy for NBC Sports too.
On Saturday, we have a fan autograph session, a public driver's meeting and the annual 500 Festival parade in downtown Indianapolis. That is always fun for my family – wife Heather and my sons, Jaxon and Jensen.
Overall, we have had a good month here at Indy and, on Sunday, we have to be patient and pick our spots in traffic to have a good performance. I hope you enjoy the "Greatest Spectacle in Racing."
Follow @TownsendBell
Follow @DRRIndyCar
Follow @RobertGrahamNYC