INDIANAPOLIS – There's times when you look at Sage Karam and forget he's only 20, given his maturity level improvement compared to his rookie year in the Indianapolis 500 some 12 months ago.
And then there are other times you listen to him talk and realize he is every bit of 20; when youthful impetuosity gets the better of him.
It's at this point he is asked about his decision to hand over the keys to his new Chevrolet Camaro to Chip Ganassi Racing teammate Tony Kanaan, and how it was not a money move for the driver some call "S-K-money."
"My teammates. Oh my gosh. I should have never given my car to TK," Karam said Thursday, with a laugh and a sigh at the same time.
It made the rounds earlier this week that Karam was presented with a newly wrapped pink Chevrolet Camaro, nicknamed the "Karamo," as a play-on-words of his surname.
It was Kanaan, along with fellow veterans and Indianapolis 500 winners and champions Scott Dixon and Dario Franchitti, who successfully pranked their significantly younger teammate.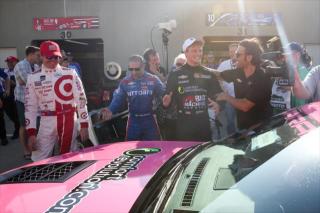 "I thought he was gonna do something nice for me," Karam said. "There was a scratch on the hood when I got it from the dealer. So I think 'I need to get this thing fixed.'
"Tony's like, 'I've got a detailer in town. Come by, drop the car off. I'll get the car fixed for you. I'll have another Chevy you can drive until then.' I gave it to him that night came back the next morning. And dropped the car back off.
"So I ran around, got the car back after practice and it was pink. And… um… what are you gonna do about that."
Through Sunday at least, Karam still has to drive the pink Camaro to work. That's team boss Chip Ganassi's orders, Karam said.
But it may be his only faux pas in a month that has featured a number of highlights, and a wealth of improved confidence compared to this time 12 months ago.
Karam wowed many observers with his IndyCar debut a year ago, working with Dreyer & Reinbold-Kingdom Racing and with some additional Ganassi support.
He had a phenomenal Carb Day when he completed an incredible save exiting Turn 4 during practice, and then played to the crowd with extra enthusiasm during the TAG Heuer Pit Stop Challenge.
On race day, he carved his way from 31st to ninth, and could have earned Sunoco Rookie-of-the-Year honors.
This year's tested Karam in the three IndyCar races he has done (he missed Long Beach and the Grand Prix of Indianapolis). He's had a number of incidents and other spins that should have, in theory, stunted his progress.
But for May, he's approached his running with a methodical focus mature beyond his years. It's obvious the coaching from Franchitti, the team's advisor and mentor, is rubbing off on him as he looks to deliver a result to match his promise shown in practice.
"Sometimes you get too much confidence your sophomore year," Karam admitted. "Things may not go the way you want them to. But you have to stay as relaxed as possible.
"It's been a really productive month. We qualified a bit better than last year (Karam will start 21st). It's going to make it a little easier. I'm excited to be back."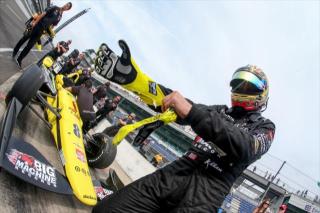 Karam's No. 8 Comfort Revolution/Big Machine Chip Ganassi Racing Chevrolet has been particularly strong in race trim, which has been his and the team's primary focus.
"I'm very confident in the race car," Karam said. "It's about who's getting the closest without getting too much aero tight."
At 20 – and with Ganassi opting to focus on developing the next generation of talent – Karam is being targeted for Ganassi's long-term IndyCar plans.
Both driver and team understand the importance of attracting Millennials. Karam could be that talent needed to bring in a younger audience.
"You need to have popular Millennials like Justin Bieber performing," Karam said. "You've been seeing how the Snake Pit has changed a bit, and it's been going toward the younger generation with these new DJs coming out, and these are very popular people that they're having play. And you're seeing so many high school and college kids going there now.
"You need to get something like that every race. Which we don't have. This is the only race we do. You see how much attention it brings. If you get something like that every race, I guarantee you'll see improvement."
Asked whether he'd be open to be the "Bieber of this sport," Karam said yes, but with a caveat.
"I'm trying to be. I'm trying to keep my nose clean."
As for the "Karamo?" Sage is rolling with the punches.
"I've been driving it around, making the most of it, and I've been rocking it.
"It's a looker. It's a statement maker. Everyone knows where I'm at."
He'll be hoping the place everyone knows where he's at Sunday is victory lane at roughly 3:30 p.m. ET, drinking some milk.
Nate Ryan contributed to this report