INDIANAPOLIS – One of the biggest elements of the Indianapolis 500 since the introduction of the Dallara DW12 chassis in 2012 has been the tow effect, which was even more prevalent with the new car compared to the old car used through 2011.
That determined how big of a run someone could get in a draft and how they would be able to catch up, and/or pass someone going into the corner.
With the introduction of manufacturer aero kits this year, and with the super speedway version of the kits making their debut on Sunday, drivers explained the terms of the effect that the kits have in terms of dirty air and turbulence.
In many respects, it appears the air isn't as dirty as anticipated for cars in traffic. But there doesn't seem to be as big of a tow, and passing hasn't looked to be as easy as it has been in recent years – particularly the slingshot-heavy 2013 race that featured a record 68 lead changes.
Jack Hawksworth, driver of the No. 41 ABC Supply Co. Honda, told MotorSportsTalk earlier this year that on a street course, when you're behind multiple cars, the dirty air is quite prevalent. But at the Indianapolis Motor Speedway oval, it hasn't been that bad.
"I'm actually pretty comfortable now," Hawksworth said during IMS media day on Thursday. "In a big train, 10-15 cars, it's a bit tricky. You've got vortexes going everywhere! But two to three in front of you is pretty straightforward."
While Hawksworth is making his second '500 start from 28th, Oriol Servia will make his seventh start from 13th in the No. 32 Rahal Letterman Lanigan Racing Honda.
Servia is a veteran in either CART or IndyCar dating to 2000 and as such, has driven a variety of different chassis, engine, and tire combinations, with different horsepower levels and aerodynamic configurations.
This car, he said, isn't as bad in dirty air but is more difficult to pass with at times.
"Actually you can get close to the cars pretty good. But I'm finding it harder to complete the pass," Servia said. "It seems like you 'suck' less. There's less of a tow and maybe you cannot finish the pass like you did last year. It's gonna be hotter and who knows how that will change it."
Servia has started higher in the race – he rolled off third in his final start with Newman/Haas Racing in 2011 – but feels better about his chances on Sunday regardless of how the car feels in turbulence.
"I actually feel better even in the race situation than qualifying," he said. "So I'm so excited now. It's the best shot I've had. The car felt great from day one. It feels really good on the ground."
Those two are Honda drivers. A pair of Chevrolet drivers – and CFH Racing teammates in Josef Newgarden and JR Hildebrand – also think the aero effect of the new kits in dirty air hasn't been as bad as feared.
"They feel about the same… really similar to last year," said Newgarden, who will start ninth in the No. 21 Century 21 CFH Racing Chevrolet, and had one of the month's airborne accidents.
"If anything it seems some guys can follow closer. I think overall it's about the same in terms of how they race from my perception of what I notice."
Newgarden confirmed the aero kits had nothing to do with his accident. He said while it's good there's been extra attention on the race this month, it's also added some undue drama, which isn't particularly needed.
Hildebrand – who's a scientific whiz with his work doing STEM education for young fans at schools, deferred acceptance to MIT and will start 10th in the No. 6 Preferred Freezer CFH Racing Chevrolet – provided the most technical explanation of the air effect on this year's cars.
"I was anticipating it would be harder to be closer to other cars as compared to last year," he explained. "For a lot of the week we did think that. It speaks to the sensitivity of the package. Assuming it doesn't rain, you'll see as close as racing as you've ever seen. It's not a big pack of cars, but a lot of guys can run quite close."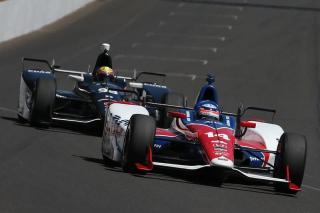 Lastly from a year-to-year, Indy Lights to IndyCar perspective, Bryan Herta Autosport's Gabby Chaves explained how different it is running in these cars in dirty air compared to the tighter groups that punctuated the Freedom 100 races.
"It's a lot harder at the greater speeds and greater downforce," said Chaves, driver of the No. 98 Bowers & Wilkins/Curb Honda, who will make his race debut from 26th on the grid.
"It creates this domino effect where the guy in front, he's gotta back up. It's much harder to race and you're setting up a pass every corner. As opposed to Indy Lights where if you get really close, sure. But you can essentially run two-wide and be anywhere on the track."
Both Monday's second practice and Friday's one-hour final practice have witnessed close racing, and a suitable amount of "suck up" in dirty air, without passing being as relatively easy – at least from the outside – as it has appeared in recent years.
It will be fascinating to watch how the cars handle this year, to see what position is best to be in as drivers carve through the field in the first race with the new manufacturer super speedway aero kits.