NBCSN Verizon IndyCar Series analyst Townsend Bell will be writing a series of blogs for NBCSports.com this month. Here's his fifth and final entry, filed after a 14th place finish in the No. 24 Robert Graham Special Chevrolet for Dreyer & Reinbold – Kingdom Racing.
Bell's day began with a chance to meet Jeff Gordon, who Bell was honoring with the No. 24 car selection choice, and then featured a wild ride as he avoided several accidents and gained spots thanks to great pit work. 
Past blogs of the month are linked here (first blog, second blog, third blog, fourth blog, cockpit analysis).
—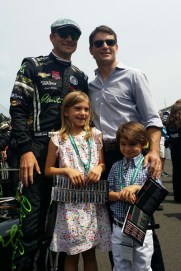 Hey there, it's Townsend Bell with my final chapter from the 2015 Indy 500.
It's been a pretty long couple of weeks at the Indianapolis Motor Speedway with a variety of interesting aspects.
We were very pleased with our Dreyer & Reinbold – Kingdom Racing team's race setup on the No. 24 Robert Graham Special Chevrolet. I felt good about how the race car worked in traffic and with a lot of fuel in the tanks. In the first week of action, we were in the top-10 (and second once) almost every day of practice runs. Then Chevrolet brought in the qualifying body kits and our car wasn't as good, to be honest. At least, that was the case with our car.
But we still felt good going into qualifying last Sunday. But, after Ed Carpenter's violent crash on Sunday morning, the Verizon IndyCar Series officials decided to change the turbo boost readings and go with race trim body kits. We were pleased with that decision. Okay, we feel good about that call and our settings.
Unfortunately, we had some type of issue in qualifying and I was upset that we were 26th on grid. I knew we had a better car than 26th. It felt pretty on Friday's Carb Day too.
After the parade and various appearances on Saturday, I focused on moving through the field in Sunday's 99th Indy 500. Our team is sensational on pit stops and the engineering staff led by Jeff Britton was confident we could move into the top-ten by the middle of the race. I know Dennis Reinbold, our team owner, felt we had a very good race car and told the team that before the race.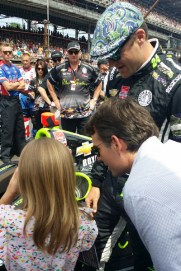 One of the highlights of the day came before the start of the race when five-time Brickyard 400 champion Jeff Gordon, serving as the Indy 500 pace car driver, brought his family by our Robert Graham Special.
I was always a big fan of Jeff's. It was his style and how he handled himself. When Dennis (Reinbold) asked what number I wanted for the Indy 500, I ran through some numbers but said stop at 24. I want to do a tribute to Jeff at the Brickyard. He is a legend there.
So we picked the No. 24 in the same script as Jeff's Chevy stock car. And we also took all of his winning Brickyard photos and made a montage in our cockpit for this year's race. We didn't know he would drive the Corvette pace car too. It was a great tie-in. And very nice to chat with him and his family before the race today.
As I climbed in the race car for the start of my ninth Indy 500, I still get a little bit of butterflies in the stomach, but I do feel good sitting the cockpit with the helmet on. I kinda go into a little zone. I knew I needed to be patient start in the back of the 33-car field. We actually started 23rd due to drivers being injured and switching cars.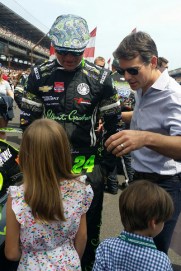 The race got weird immediately when I looked left of me and Conor Daly's car was fire on the pace laps. I tried to wave to him to pull off and he finally did it. I felt very badly for Conor as we were neighbors when my family lived in Indy quite a while ago. In fact, I think Conor was nine year old. Gee, I feel older when I see him now driving in the Indy 500.
At the start of the race, I saw that Sage Karam and Takuma Sato got together on the outside of the turn short chute. I was sure that Sato was going to hit my right rear tire when he came off the wall. I had to do a big swerve to the inside to avoid him. Now that got my attention.
My first stint Sunday was pretty shaky as the car was pushing (understeer) badly. But we took on a half-turn of front wing on our first pit stop and the Robert Graham Special really came alive. I think I passed like nine cars in the next stint. We really didn't make too many changes throughout the race after that. We were running in the top-10 by lap 100. That was our goal.
But it was a wild race in the middle of the field. I thought there was going to be a couple of big crashes on the back straight. I'm not sure how everyone made it through some of that stuff. At times, there were people on the inside in the grass and in the gray stuff near the wall. It was just pretty crazy. I'm not sure of the television viewers saw that on the telecast but it was very wild from my seat.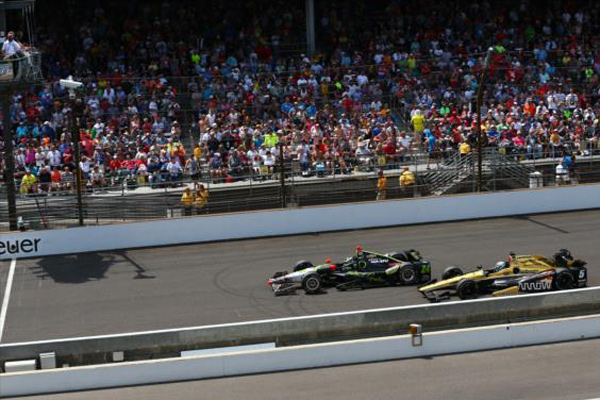 The last stint wasn't the best but our Dreyer & Reinbold – Kingdom Racing crew was spectacular on the last pit stop. In fact, they were outstanding all day with the pit stops. Overall, the conditions were difficult at the end and we didn't have the setup to stay in the top-ten. Graham (Rahal) took fifth and I raced with him a lot today. I passed Marco (Andretti) several times and he place sixth. We just were a little light in downforce later in the race.
I'm happy to take it to the checkered flag. Just wish we would have finished further up on the scoring pylon. Taking 14th is a tough with all of the hard work our team put in this month at Indy.
But as a single-car team, I think we proved that our team could be a contender in the Indy 500. I'm anxious to get back to the "Greatest Spectacle in Racing" next year.
I want to congratulate Juan Pablo Montoya and his Penske team for winning the 99th Indy 500 in a sensational duel with fellow Chevrolet racers Will Power, Charlie Kimball and Scott Dixon. Juan is a great champion.
Now, it's off to Detroit this coming weekend for me. I'm racing in the TUDOR United Sports Car Championship this Saturday and then flying directly to Le Mans, France Saturday night to test for the 24 Hours of Le Mans.
In less than a month, I'll will have competed in the two biggest auto racing events in the world, the Indy 500 and the 24 Hours of Le Mans. That is a thrill.
Thanks so much for following us at the Indy 500. See you again soon.
Follow @TownsendBell
Follow @DRRIndyCar
Follow @RobertGrahamNYC