INDIANAPOLIS – The day before he and Roger Penske turned the Indianapolis 500 into a two-man chess match with nine 230-mph pawns, Chip Ganassi was asked about his primary rival's depth.
How concerned was Ganassi now that Penske had four full-time championship-contending Chevrolets?
Standing on the yard of bricks where he'd won two Indianapolis 500s and a Brickyard 400 since Penske's most recent Indy triumph, Ganassi flashed his Cheshire cat grin.
"You know," he said. "If he wins the Indy 500, he'll be the second guy in the club who wins Daytona and Indy in the same year."
End of answer.
There was no need to leaf through a tome on racing history to know that Ganassi's response was self-referential. In 2010, Ganassi won the Daytona 500 with Jamie McMurray and the Indy 500 with Dario Franchitti.
With Juan Pablo Montoya's second Indy 500 win Sunday, the list now includes Penske, whose Sprint Cup team captured Daytona with Joey Logano three months ago.
"(Ganassi) wouldn't let me in the club," joked Penske, who has a record 16 wins in the Indy 500. "I finally got in. He sent me a note earlier, he said, 'Welcome to the club.'  I said, 'Thanks for the invite.' "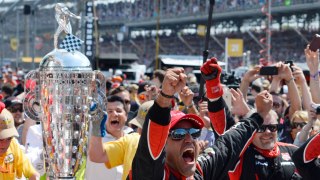 The statistical nugget embodied the theme of the 99th running of the Indianapolis 500-Mile Race. Of the 200 laps around the 2.5-mile layout, 193 were led by either Penske or Ganassi drivers.
Ganassi led 124 laps between pole-sitter Scott Dixon (race-high 84), Tony Kanaan (30) and Charlie Kimball (10), and Penske paced 69 circuits between Simon Pagenaud (35), Will Power (23), Montoya (9) and Helio Castroneves (2).
Montoya is the common denominator between the powerhouse organizations, having won his first Indy 500 in 2000 with Ganassi. Underscoring the respect of the rivalry, Montoya was stopped before beginning the winner's convertible victory lap for a hug and hearty congratulations from his former car owner (who also fielded a Sprint Cup car from 2007-13 before he joined Penske).
"We're still good friends," Montoya said of Ganassi. "He made a business decision. That's what it was. He brought his 'A' game. We did, as well. I think the big difference is Roger has four bullets to win.  Honestly, he really does.  I think Chip has two, maybe, where we have four."
Ganassi fields full-time Chevys for Dixon, Kanaan and Kimball but also entered Sebastian Saavedra and Sage Karam at Indy.
"I told Chip I knew if I ran four (cars), he'd run five," Penske said with a laugh last week.
Ganassi and Penske, who have combined to win eight of the past nine championships, have the top four drivers (Montoya, Power, Dixon, Castroneves) in the points standings through six races.