Following her second year in the Susan G. Komen car in the Indianapolis 500, Pippa Mann's campaign to raise money and awareness via the #GetInvolved campaign this month more than exceeded all goals. The total amount raised was $61,150, beating the goal by $11,150.
Mann finished 22nd in the No. 63 Honda for Dale Coyne Racing this year but the story of her month was about the campaign, details of which are listed below:
—
The Pink "Get Involved" campaign 2015 around the No. 63 Dale Coyne Racing car Supporting Susan G. Komen at the Indianapolis 500 raised a total of $61,150 this May with 624 contributions from 9 different countries. This was 22% above the original goal of $50,000.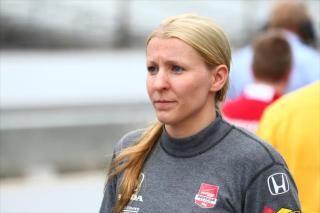 The project started in December, and the fundraising site took roughly 60 days to build. The first day of the campaign raised over $12,000, and the last 3 days of the campaign through Carb Day and Indianapolis 500 Race Day raised over $19,000 towards the total.
Contributions from the USA totaled $51,195, from 568 contributors. The UK was the second highest contributing country with over $8,500 raised (37 contributors), followed by Australia and then Canada.
"Turn the Cockpit Pink," where we placed the names of honorees of those who either have fought, or are fighting cancer in the cockpit of the race car turned out to be our most shared, and most popular perk. 80 names were carried on race day, raising a total of $8,000 towards the total.
Exclusive Doug Garrison Proof Prints of the pink racing car on track raised over $6,500 towards our total, and in addition 3 large prints sold, plus the original artwork itself.
Bell Mini Helmets, hand painted by Pippa's helmet painter, Rockstar Paint, raised $3,500 towards the campaign total, and 1/18th scale diecast cars raised nearly $4,000.
Other Popular perks included signed Firestone and Honda Caps, signed pink Pippa caps, signed campaign posters, and the Race with Pippa Night at Fastimes. These combined to raise over $5,500.
The biggest ticket item on the site was Pippa's Indy 500 race worn fire suit. This was purchased from an individual involved with Racing for Cancer for $7,000 in an effort to show support between anti-cancer charities.
Overall the campaign pages had 20,405 visits, with over 1,500 unique referrals. Over $24,000 of the total was raised through the campaign being shared via social media, mainly through Facebook and Twitter.

Quotes
"Pippa's commitment to our mission to end breast cancer, both on and off the track, has made an iconic event like the Indianapolis 500 even more meaningful to individuals facing breast cancer around the globe. Her strength, determination, generosity and hard work inspire us daily, and have brought us closer to our finish line – a world without breast cancer."
Nancy G. Brinker, Komen Founder and Chair, Global Strategy
"This month, managing a crowd-funding campaign for a cause alongside being a racing driver at times challenging, tiring, and at other times immensely rewarding. It was incredible to see so many fans talking about our #GetInvolved campaign on Indiegogo on social media, and I am immensely grateful to many of the vendors who chose to get involved themselves via donating product, time or services to us. Halfway through the month and also halfway through the campaign, I wondered whether we would actually make our goal, and each day I set myself a target for where I wanted to try and push the total amount raised to that evening. Then to hit our goal before race day itself was incredible, and a weight off my shoulders going into the event, allowing me to shift more focus on being a racing river again for the biggest race of the year. To blow through our goal and actually raise over $60,000 was amazing.
"The most personal 'perk' for me was actually having those names in the cockpit with me. I always felt that this idea had the potential to turn into something special, but I don't think I really realized how special it was going to be until I started putting those names actually into the cockpit. It gave me goosebumps. After that, people started sharing their stories of why the names were there with me. I even heard from people who didn't expect to get emotional, and just thought it was something 'cool' to do to help raise money for research, but then found themselves choking up when they saw the name of their loved one inside the cockpit. To strap in with those names alongside me on the Indy 500 race day, was a very special experience."
Pippa Mann, #63 Dale Coyne Racing in Support of Susan G. Komen