Sarah Cornett-Ching knows all about building things. Even though she's only 24 years old, for several years she was an in-demand union welder in her native Canada.
It's not been unusual for the Summerland, British Columbia native to go deep in the Canadian wilderness and work outside, working her welding craft in temperatures of 30-below.
But if she continues driving the way she has in the ARCA Series, Cornett-Ching may soon be turning in her union card for a steering wheel permanently.
Cornett-Ching has become one of the most-watched drivers in ARCA, and seems to continue to improve with each passing race.
Earlier this month, she finished a career-best eighth in the ARCA race at Talladega Superspeedway.
She then followed that up with a ninth-place finish on the road course at New Jersey Motorsports Park. In so doing she became the highest finishing female on a road course – in her first-ever road course race, mind you – in ARCA's 57-year history.
Currently seventh in ARCA's standings, Cornett-Ching is looking forward to continue her progress in her next race two weeks from now at Michigan International Speedway.
While she's taking it race by race, she already has a lofty goal of how she hopes to finish this season.
"I believe we definitely have a shot at a top-five, and we'll keep pushing for that," Cornett-Ching said in an ARCA media release.
If she achieves that goal, she'll set yet another ARCA record as the first female driver to finish in the top-five year-end standings. Former driver Shawna Robinson holds the mark for the highest finishing female driver in a single ARCA season, ending up sixth in 2000.
"I really think we can do it the way our runs have been going," Cornett-Ching said. "If we can just keep finishing races without tearing up cars, and as long as we finish, we've got a realistic shot. The key is finishing everywhere. Tearing up cars is hard on the crew, and puts everything behind."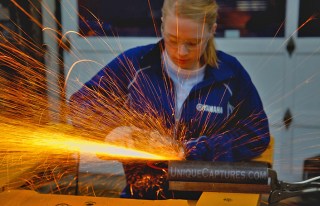 But if she tears up a car, Cornett-Ching has the ability to put it back together with her welding and fabrication skills.
How many other drivers in ARCA or NASCAR can boast the same thing?
Because of limited funding and testing time, Cornett-Ching has taken to some unusual measures to learn about the tracks she will compete upon, including perusing overhead views of those tracks from Google Maps, as well as taking part in online racing.
"I haven't been to any of these tracks in ARCA," she said. "They're all new to me. I've never been to Michigan, and I really know nothing about the place.
"I'm not going to get the chance to test, so I'll get on and do the iRacing (online reality game) thing. But it's hard to get a real grasp on anything if you haven't done it. It's like drafting at Daytona or Talladega. Someone can explain it to me a million times on how to draft, but until you actually experience it, you really have no idea of what's coming.
"IRacing) does give you some clues … the shape of the track, the lift points. You actually feel the bumps in each track, so it's good for programming your brain when you're trying to hit your marks lap after lap. But, I'm finding out that it's really tough to get a grasp on any track until you've actually done it."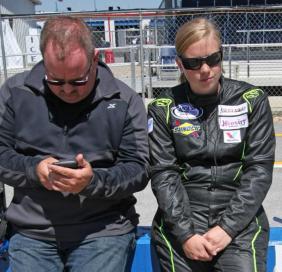 Cornett-Ching now lives just outside Charlotte in Denver, N.C., where team owner (and her crew chief) Tony Blanchard is based.
And instead of welding, she's racing the full 2015 ARCA schedule with hopes that it leads to even greater racing challenges going forward.
"Sarah is unique in the world of motorsports," Blanchard said. "There are plenty of good drivers, but Sarah's ability to race, fabricate components on the race car and stand in front of a camera and represent herself and her team as well as she does is rare.
"I want this year's racing season to be the start of something big for this young lady. She deserves every bit of the success I know she's got coming."
Follow @JerryBonkowski