With the completion of the Kansas Nationals this past Sunday, the NHRA Mello Yello Drag Racing Series has reached the one-third point of the 2015 season.
Not surprisingly after eight races on the 24-race schedule, there have been some significant surprises and disappointments.
With this weekend off before the middle part of the season begins June 4-7 with the Toyota Summernationals at one of the most popular tracks on the circuit, Old Bridge Township Raceway Park in Englishtown, N.J., let's break down the four major pro classes to see who's hot and who's not.
Top Fuel: Don Schumacher Racing has made a big statement in the first eight races. Teammates Antron Brown (1st), defending 2014 champ and eight-time champ Tony Schumacher (2nd) and Spencer Massey (4th) have been leading the way.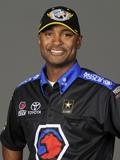 One of the biggest surprises is the driver sandwiched among the three DSR drivers, namely Australian native Richie Crampton. With his win at Kansas, Crampton is now up to 3rd in the standings.
Crampton (Las Vegas, Topeka) and Brown (Charlotte, Atlanta) are the only two-time winners thus far this season.
Shawn Langdon, racing for Alan Johnson Racing, is a respectable seventh in the standings, despite the fact the team had its sponsorship pulled by former benefactor Al-Anabi just a month before the start of the season. Langdon won the season-opening Circle K Winternationals in storybook fashion, but has trailed off of late.
As for drivers who have struggled, Brittany Force, who signed with Monster Energy three weeks ago, is sitting 11th and continues in search of her first career Top Fuel win.
And Dave Connolly and Terry McMillen are 13th and 14th respectively, certainly not off to the kind of season start either expected.
Race winners thus far this season:
Pomona: Shawn Langdon
Phoenix: Tony Schumacher
Gainesville: Spencer Massey
Charlotte: Antron Brown
Las Vegas: Richie Crampton
Houston: Doug Kalitta
Atlanta: Antron Brown
Topeka: Richie Crampton
Top Fuel standings
(Following event 8 of 24 events)
(Includes events through Topeka, Kan.)
Funny Car: It's a very tight battle in the Funny Car ranks as we head into the middle third of the season.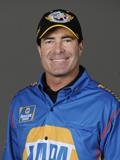 Three drivers have won six of the first eight races – two each: Defending 2014 champ Matt Hagan (Pomona, Phoenix), Jack Beckman (Charlotte, Topeka) and Ron Capps (Gainesville, Houston).
The resurgent Capps is off to one of the best season starts of his career and holds the points lead in the standings. But Hagan is only five points back and Beckman, with former John Force crew chief Jimmy Prock, is 49 points behind Capps.
Perhaps the biggest positive surprise is series veteran Del Worsham. Even though he hasn't won a race yet in 2015, Worsham is in fourth place in the standings, 73 points behind Capps and just five points ahead of fifth-ranked and 16-time Funny Car champ John Force, who has just one win this season (Las Vegas) thus far.
Force's daughter, Courtney, is having a difficult time of it this season, currently ranked 11th. But perhaps having the toughest time among the top 15 drivers in the Funny Car ranks is former champion Tony Pedregon, who is 14th in the standings, already a massive 325 points behind Capps.
Race winners thus far this season:
Pomona: Matt Hagan
Phoenix: Matt Hagan
Gainesville: Ron Capps
Charlotte: Jack Beckman
Las Vegas: John Force
Houston: Ron Capps
Atlanta: Tim Wilkerson
Topeka: Jack Beckman
Funny Car standings:
Position
 Driver
  Points
  PB
  Change
Make

1

   Ron Capps 
580
0
–

2

   Matt Hagan 
575
-5
–

3

   Jack Beckman 
531
-49
–

4

   Del Worsham 
507
-73
–

5

   John Force 
502
-78
–

6

   Robert Hight 
460
-120
–

7

   Tommy Johnson 
456
-124
–

8

   Tim Wilkerson 
447
-133
–

9

   Alexis De Joria 
395
-185
–

9

   Cruz Pedregon 
395
-185
–
 Drivers that have struggled thus far this season:
11
   Courtney Force
388
-192
–
12
   John Hale
369
-211
–
13
   Chad Head
347
-233
–
14
   Tony Pedregon
255
-325
–
15
   Jeffrey Diehl
82
-498
–
Pro Stock: Although she got off to a slow start at the beginning of the season, 2014 Pro Stock champ Erica Enders has rallied back to become the hottest driver not just in Pro Stock of late, but in all four major NHRA pro categories.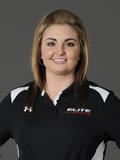 Enders (who recently shortened her name from Enders-Stevens for business reasons) has won three of the last four Pro Stock national events (Las Vegas, Houston and Topeka).
As a result, she's taken a commanding lead over 2nd-ranked Jason Line (58 points back) and 3rd-ranked Greg Anderson (65 points back).
After that, Enders spread over the rest of the field gets massive: 4th-ranked Chris McGaha is 177 points back, while 5th-ranked and Phoenix winner Rodger Brogdon is 226 points in arrears.
It's good to see veteran drivers like Anderson and Larry Morgan having comeback seasons. Both earned victories this season (Anderson at Gainesville, Morgan at Charlotte) after long dry spells in their careers.
One big name missing from the Pro Stock class is five-time champion Jeg Coughlin, who announced earlier this year that he will not compete on a full-time basis.
This is the second time Coughlin has taken a hiatus from NHRA racing, having sat out the entire 2011 season, as well.
As for drivers who have struggled thus far in 2015, the most notable names are 11th-ranked Jonathan Gray (364 points behind Enders) and 12th-ranked V Gaines (425 points back).
Race winners thus far this season:
Pomona: Jason Line
Phoenix: Rodger Brogdon
Gainesville: Greg Anderson
Charlotte: Larry Morgan
Las Vegas: Erica Enders
Houston: Erica Enders
Atlanta: Jason Line
Topeka: Erica Enders
Pro Stock standings:
Position
 Driver
  Points
  PB
  Change
Make

1

   Erica Enders 
719
0
–

2

   Jason Line 
661
-58
–

3

   Greg Anderson 
654
-65
–

4

   Chris McGaha 
542
-177
–

5

   Rodger Brogdon 
493
-226
–

6

   Larry Morgan 
452
-267
–

7

   Drew Skillman 
424
-295
–

8

   Vincent Nobile 
421
-298
–

9

   Shane Gray 
401
-318
–

10

   Allen Johnson 
369
-350
–
 Drivers that have struggled thus far this season:
11
   Jonathan Gray
355
-364
–
12
   V Gaines
294
-425
–
13
   Jimmy Alund
250
-469
–
14
   Deric Kramer
155
-564
–
15
   John Gaydosh
93
-626
–
15
   Joey Grose
93
-626
–
15
   Matthew Hartford
93
-626
–
Pro Stock Motorcycle: Because PSM riders compete in a 16-race schedule, there have only been three races to date. The majority of events (13 will be contested at all but three of the remaining NHRA national event weekends) start with next week's Summernationals.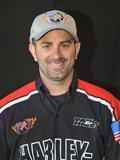 Thus far, the competition has been spread fairly even, with different winners in each of the first three races.
Not surprisingly, those three winners are all in the top five in the PSM points standings.
Former champ Eddie Krawiec, who won at Charlotte in late March holds a 74-point lead over defending series champ Andrew Hines. Hines has yet to win an event this season.
Veteran driver Hector Arana Sr., who is ranked third, 85 points behind Krawiec, won his first race since 2009 at Atlanta. Six points behind the senior Arana is his son, Hector Arana Jr., who like Hines is also seeking his first win of 2015.
Rounding out the top five is Karen Stoffer, who shocked the category by winning the season-opening race at Gainesville in March.
Race winners thus far this season:
Gainesville: Karen Stoffer
Charlotte: Eddie Krawiec
Atlanta: Hector Arana Sr.
Pro Stock Motorcycle standings:
Follow @JerryBonkowski