Blink and it's over. At least that's how it feels thus far after just two months for the Verizon IndyCar Series since the season opener March 29 in St. Petersburg.
Barely two months after the first green flag of the season flew, the 2015 season is already half over, following the completion of Round 8 in Detroit on Sunday.
Here's been the stories thus far:
MONTOYA IS WELL AND TRULY BACK
If last year was the re-acclimation year for Juan Pablo Montoya, then 2015 is the re-assertion year.
As in, the dude is well and truly at the top of his game, operating at the peak of his powers, and fully in championship form.
His qualifying has been the key. In the first eight races in 2014, Montoya's starting average was 10.6, and he posted only three top-10 finishes (all top-fives). Texas was the eighth race last year, and where he began to turn his season around.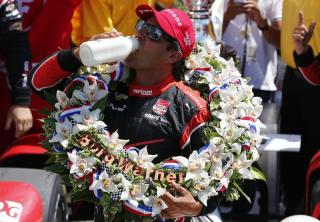 However this year, that starting average has improved a full five positions, to 5.6. He has posted five top-fives, seven top-10s and two wins – he's the only driver in the field with multiple wins, and leading the field in podiums with four.
Team Penske teammate Will Power led the championship at the halfway point last year and brought it home, while prior to that the eventual champion was fourth (Scott Dixon in 2013) and seventh (Ryan Hunter-Reay in 2012, and h/t to @TracksideOnline for that one).
Montoya is well-positioned to win his second open-wheel championship provided he matches his consistency in the second half. The burning desire to win is obvious. He was elated and euphoric after his Indianapolis 500 win; irate and incensed after losing at Detroit this weekend. The passion is clearly evident.
CHEVY'S DOMINANCE AS AERO KITS MAKE DEBUT
There are many stats that prove Chevrolet's dominance this year, but I'll point to one that isn't widely said: Firestone Fast Six appearances.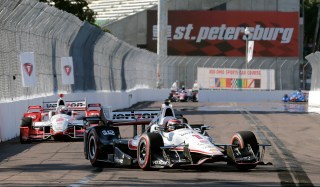 Seven of the first eight races have been on road or street courses, which means there should have been six Fast Six sessions. One, at NOLA, was rained out and the second race qualifying at Detroit featured just two groups, not the standard Fast Six format.
But in the five standard qualifying sessions, it leaves 30 available spots – six drivers apiece for five races.
And of those 30 available spots, Chevrolet has secured 27 of those 30. The only Honda appearances in the Fast Six this year have been Takuma Sato at St. Petersburg and Detroit race one, and Ryan Hunter-Reay in Long Beach.
Otherwise, it's been all-Chevrolet. Team Penske itself has 18 of those 27 spots for Chevrolet; Power at Long Beach and Montoya at Barber have been the only two drivers for Penske to not make a Fast Six session and make it all four Penske cars in the Fast Six.
The Chevrolet qualifying dominance inevitably means they'll have the track position edge on race day, and be able to control the race up front. And while Honda has overachieved on either strategy or fuel mileage, they simply haven't had the pace to contend – yet – through the opening stanza of the season.
RAHAL'S RESURGENCE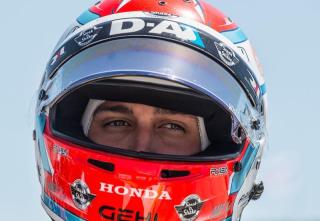 There was an air of confidence emerging from Graham Rahal and the Rahal Letterman Lanigan Racing team this preseason – almost a swagger – that didn't seem entirely realistic to the paddock given both driver and team's performance the last two years.
However, given both pair's phenomenal start to 2015, I can't help but wonder if a Humble Pie Shake will be appearing on a Steak 'n Shake menu anytime soon.
It's been a welcome surprise to see Rahal and the RLL organization firing on all cylinders as they have, with three podiums and seven top-11 finishes in eight races.
It's obvious the chemistry is improved; Graham himself has made no secret of his belief in Eddie Jones, Martin Pare and Mike Talbott, who have aided the direction of the team's setup and engineering. The secret weapon? Stuart Kenworthy is the team's new shock specialist, having had been with Dale Coyne Racing previous to that.
However it's all working, it's working, and the single-car team that could has been Honda's leading light to open 2015.
PENSKE GREAT, GANASSI GOOD, ANDRETTI HANGING IN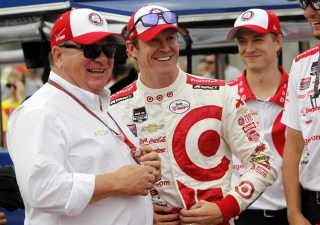 Team Penske, as an organization, has been the class of the field. Besides Montoya, Power and Helio Castroneves  are still firing on nearly all cylinders, and Simon Pagenaud has slotted in nicely as fourth driver, although his luck has been rough in the first half.
Of the other two "power teams," Chip Ganassi Racing has been good but not great, and Andretti Autosport has endured something of a roller coaster as they've struggled for outright pace and results this year.
Ganassi has followed the form book. Scott Dixon has been "the guy" and remains the team's only realistic title contender at half distance. Tony Kanaan started strong but has hit a slight midseason bobble here in the last month, with a crash at the Indianapolis 500 and a tough Detroit now in the past. Charlie Kimball races better than he qualifies; the reverse seems to be true for rookie Sage Karam who has simply made too many mistakes to this point. Karam has a high ceiling but remains a raw first-year driver at this stage.
Andretti, meanwhile, hasn't had the balance or setup right. Marco Andretti has quietly impressed, Ryan Hunter-Reay has struggled and oddly its Carlos Munoz of the team's three full-time drivers who has a win to date. You'd hope they're better – as you'd hope Honda is better – for the second half of the year.
TO QUOTE PAUL HARVEY, THE REST OF THE STORY
Beyond those four teams, CFH Racing, KVSH Racing and Schmidt Peterson Motorsports (SPM) – battle of the acronyms – are the three other race-winning teams this year.
One hopes Josef Newgarden's (CFH) early-season consistency doesn't fade away after a tough Detroit weekend, while Sebastien Bourdais (KVSH) continues to get better with age. Youngsters Luca Filippi (CFH) and Stefano Coletti (KV) have had more moments of frustration than glory thus far.
SPM's year has been a tough one. Their new team leader James Hinchcliffe brought a win home at NOLA and remains one of IndyCar's most popular drivers… but he won't be driving until he's medically cleared to do so after a devastating injury incurred at Indianapolis. Still, the fact he's been released and was treated so well, so quickly by the Holmatro Safety Team, speaks volumes. Other than his third place at NOLA, James Jakes has been consistently anonymous while Ryan Briscoe and Conor Daly look to fill Hinch's stead in glory.
A.J. Foyt Enterprises remains IndyCar's team enigma. You never know with Sato or new teammate Jack Hawksworth whether they'll be top-five on pace or near the bottom of the charts. Their ceilings are high, but the pendulum swing week-to-week is as wide.
As for Bryan Herta Autosport and Dale Coyne Racing, the song remains the same as they're now the two teams without a podium this year.
At BHA, Gabby Chaves is again doing what he can as a rookie on a single-car team but like Hawksworth a year ago, he can only do so much. Still, he'll all but certainly take home rookie-of-the-year honors, which would be deserved.
Coyne's year has been undeniably tough, often down to a rotating driver lineup and with three crew members being hurt this year. For them, a less fluid lineup should provide greater consistency in the second half.