Defending Firestone 600 race winner Ed Carpenter kicked off the weekend in Dallas aboard a street-legal two-seater IndyCar. Here's the release below, via Texas Motor Speedway:
—
Verizon IndyCar Series driver Ed Carpenter, the defending Firestone 600 champion, is accustomed to driving in traffic and making quick pit stops, but not exactly in the fashion he did both Wednesday in Dallas.
Carpenter hopped into the Verizon IndyCar Series street-legal, open-cockpit two-seater with media personalities in tow throughout the day as he battled lunch-time traffic on the 75 Central Expressway and made the ultimate pit stop by rolling through an In-N-Out Burger drive-thru for a lunch order.
The result was Carpenter turning a lot of heads throughout the Metroplex and he hopes to turn a few more come Saturday night when he defends his Firestone 600 title at Texas Motor Speedway.
The ninth race of the Verizon IndyCar Series season and first night event will begin at 7:30 p.m. CTand be televised live on the NBC Sports Network. The event also will be broadcast on INDYCAR Radio, Sirius XM Radio, IMS Radio Network and locally on KRLD-FM 105.3 The Fan.
"I think there were a lot of people who were driving today in Dallas that had to take a double take to make sure what they were seeing was real," said Carpenter, driver of the No. 20 Fuzzy's Vodka Chevrolet for CFH Racing. "Whenever I get a chance to drive the street-legal two-seater it is always fun to see the reactions of everyone."
His first stop was at KRLD-FM 105.3 The Fan, the official radio station of Texas Motor Speedway. He was joined by G-Bag Nation co-host Jeff Cavanaugh on a quick errand as they jumped on the 75 Central Expressway to make a quick lunch run for the show and pick up some hamburgers at In-N-Out before returning to the station.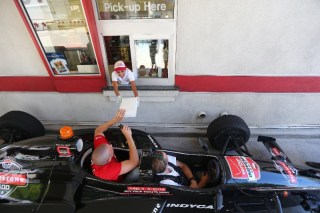 "I know there were lots of people taking pictures as I saw cars slowing down to take pictures as they drove by," Carpenter said. "That was fun to take it through the drive-thru. I'm sure the people inside were surprised when they saw it pulling in for an order."
"That was an amazing ride," Cavanaugh added. "Ed did a great job of getting the car into the drive-thru and it was fun to see the looks of everyone as we waited for our food and as we drove down 75. … Ed Carpenter is our new favorite driver and everyone should go out to see him, and the rest of drivers, this Saturday at Texas Motor Speedway."
The caravan then traveled to Victory Plaza in Dallas where Carpenter made an appearance on WFAA-Channel 8's Midday News broadcast with anchorman Marcus Moore. Following the interview, Carpenter took Moore for a quick tour of that part of Dallas that, in some respects, resembled a mini-road course even though all of the turns where to the left just like the 1.5-mile oval at Texas Motor Speedway.
"I was able to take the turns a little faster because all of the lights were green," Carpenter said with a smile. "That made for a better ride."
Carpenter also took Fort Worth Star-Telegram sports columnist Mac Engel for a quick ride around the American Airlines Center.
"As a kid who grew up near the Indianapolis Motor Speedway who attended countless Indy Car practices, Pole Days, Bump Days and Indy 500s, and will forever remain a fan of open-wheel racing, the chance to ride in the back of an Indy Car with Ed Carpenter was a genuine thrill," Engel said. "I have a new appreciation for the noise, acceleration and power of an Indy Car. Now I want one for myself."
Despite not running at 220 miles per hour like he traditionally does at Texas Motor Speedway, Carpenter also enjoyed the experience by providing media with a different perspective and bringing awareness to the general public in one of the nation's largest cities.
"This two-seater gives people a great insight of what it is like to drive a real Indy car," Carpenter said. "The amount of people that took pictures or stopped to look at the car was tremendous. It seems there are plenty of Indy-car fans here in Dallas."