It was supposed to be my favorite race weekend I'd ever been to in person, as a young kid finally getting to live out a dream and attend a Formula 1 race on the ground, the 2005 United States Grand Prix at Indianapolis, held 10 years ago today on June 19.
It wound up ending with a colossal thud, with reverberations that have lasted until this day.
—
FIRST GRAND PRIX EXCITEMENT
The genesis of my motorsports journalism career began exactly this weekend 10 years ago, when I was then a wide-eyed 15-year-old who was one of three winners of a national motorsports writing contest sponsored by Red Bull, and judged by the "Dean of American motorsports journalism," the late, great Chris Economaki.
Having been to a handful of CART races in the seven or eight years previous, I had some idea of what to expect in an on-the-ground format. But nothing could have prepared me for the sheer opulence of what was coming at the Indianapolis Motor Speedway, as Formula 1 took over the place.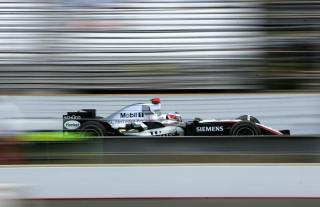 The first thing I remember was the noise. While CART's turbocharged Hondas, Toyotas, Ford Cosworths and Mercedes engines were an excellent hook, the sheer shriek of the screaming V10s launching through Turn 13 (oval Turn 1) onto the front straight was something that sent chills down the spine… and still does all these years later even just writing this sentence.
The second was the exclusivity. It was the introduction of passes, and which pass you need to get to which zone. My cousin and I had managed to finagle our way into the media center early in the weekend by way of a mutual, well-connected friend, but it felt as though we were playing with fire.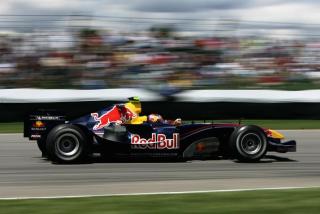 Later in the weekend though, when Red Bull hooked us up with temporary paddock passes – and my cousin and I engaged in a full-on sprint from the grandstands into the infield to make it in time – the dream was real. Here we were, staring full-on at David Coulthard's Red Bull chassis, the team's first in its first season having bought the Jaguar squad.
Later that night, we were introduced to Red Bull's American hope Scott Speed at a dinner with Economaki. Speed had run in Friday practice and the team was fast-tracking him some laps in hopes of his F1 race debut in 2006 (which happened by way of Red Bull buying Minardi and giving birth to Toro Rosso).
That night, Economaki told me a line I've never forgotten and still live by to this day. When I said I was done with my most recent year in school, he replied with that twinkle in his eye and thick New Jersey accent and volume and said, "You're never done. Done is what a turkey is on Thanksgiving."
To this point, nothing during the weekend seemed real.
Nor did the sequence of events that continued to follow during the weekend on-track.
—
BUILD-UP TO CHAOS
Earlier on Friday, Ralf Schumacher's crash in Turn 13 – his second in that corner in as many years – knocked him out of the race. The fun trivia fact here is Ricardo Zonta replaced him for the rest of the weekend, but the Brazilian never competed in another F1 weekend again after this.
Overall, it was the tires that suddenly became the story, with the higher-than-normal loads potentially proving unsafe for the Michelin runners.
You'll remember at this point that 2005 was an odd year in F1 annals, where there were no in-race tire changes and teams had to make their tires last a full distance. It cost Kimi Raikkonen the European Grand Prix at the Nurburgring two races earlier when his suspension failed as a result of highly degraded tires.
There was one other key point – IMS had been repaved earlier in the year with a new diamond-ground surface. Bridgestone, by way of sister brand Firestone, had had the built-in track time advantage with the IndyCars and the Indianapolis 500 a month earlier. Michelin hadn't.
It was quickly becoming the talking point of the weekend, where if Michelin couldn't prove its tires were safe, there'd be some serious repercussions.
So Michelin called for backup. Michelin's replacement tires – as Michelin and Bridgestone had to select tires in advance of the two back-to-back flyaway races in Montreal and Indianapolis – appeared to have the same problem. This was not a cheap exercise.
Saturday practice followed with minimal running by the Michelin runners, and although Jarno Trulli swept through to the pole in the afternoon for Toyota's first pole position, there was little confidence that the Michelins could last more than a certain number of laps.
I remember a dinner on the Saturday where the talk wasn't of excitement for Sunday. It was of the potential magnitude of what would be felt if a cluster happened on Sunday. It proved prescient…
—
THE RACE DAY DEBACLE
Sunday dawned with, fittingly, clouds overhead. There was talk of adding a chicane, or talk of making this a non-championship race. Neither occurred.
As a fan, you were almost left in the dark with what was going on, but it was obvious this was not going to be a normal Grand Prix Sunday.
And certainly, it wasn't.
Here was the SPEED broadcast, which featured the well justified incredulity of the broadcast team of Bob Varsha, David Hobbs and Steve Matchett. Peter Windsor and Derek Daly in the pit lane were stupefied.
The field rolled out to the grid, still 20 cars strong. They left for the reconnaissance lap…
And then they started peeling off. One by one. Team by team.
The Michelin runners were all headed for pit lane. They were retiring before the race had even begun.
The lights went out with two Ferraris… two Jordans… and two Minardis.
Was this real life?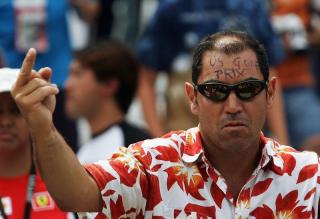 Certainly the situation didn't call for fans actually throwing debris onto the track, as that would have affected the remaining runners. It was shameful, but justified in theory if not in actuality.
The paying customers – and in particular, the fans who may have been attending their first Grand Prix as I was – had a right to feel aggrieved. Most of all, they had a right to feel informed and understand what the heck actually triggered this mess.
Yes, Michael Schumacher won from Rubens Barrichello but it hardly mattered. It was Schumacher's only win of the year. The fact they ran off the podium as quickly as they did post-race still sticks out in the mind.
On the bright side, third-placed driver Tiago Monteiro at least managed to make something of his moment in the sun in his only career podium, and the last for the Jordan team.
Minardi's Paul Stoddart also had this memorable rant, below.
—
THE AFTERMATH
The post-race post-mortem was intense. This race, of course, did irreparable harm for F1 at Indianapolis, and it was the latest – and probably biggest – dent in F1's on-again, off-again history in the United States.
Michelin suffered a blow in the PR perspective even though they were not the sole culprits, in this writer's opinion. Michelin made good by issuing refunds and purchased tickets for fans for the 2006 race at the track. Fans with tickets could use them to attend the Champ Car race at Cleveland a couple weeks later.
Michelin was out of F1 at the end of 2006, although it may one day return. Indianapolis was gone at the end of 2007, and no race in the U.S. occurred until 2012 at Austin's Circuit of the Americas, the purpose-built F1 facility this country had always deserved.
A year later, I had my first real writing gig in the sport, and that weekend helped propel me to where I am today, thanks to so many people.
But the biggest lesson I learned that weekend was invaluable.
F1's political football is as much a part of the paddock as the on-track competition.
Ten years later, that remains truer than ever.