With Honda's future involvement in IndyCar a hot topic of discussion this summer, it's worth noting how much at-track activation they do as it is – proof positive that Honda has so much more invested in IndyCar beyond the on-track product.
From the pace car program to the IndyCar fan village, the new Safety Car to on-site hospitality, it's apparent that Honda does so much on a typical race weekend that you need to factor in enough time to see all the programs on the ground.
One of the areas where Honda is involved is with the two-seater rides, dubbed the Fastest Seat in Sports, where invited guests and fans have the opportunity to ride in a two-seater with either one of North America's greatest ever drivers, Mario Andretti, or a recent open-wheel veteran.
Conor Daly and Martin Plowman also serve as Honda Fastest Seat in Sports two-seater drivers, with Zach Veach also on-board in the older Firestone two-seater via the Two-Seater Experience.
Whoever the Fastest Seat in Sports driver is that weekend will be scheduled to come to Fan Village and make appearances/Q&As and autograph signings.
I had the opportunity to ride in a two-seater during the weekend at Barber Motorsports Park a couple months ago, and if you're wondering why I'm just getting to this post now, it's due to the fact that IndyCar hasn't had a week to breathe since two weeks before Barber in April, and it would invariably get lost in the shuffle.
Or that the ride itself does a good enough job of taking your breath away.
When you've had other two-seater rides before, in sports cars, you at least have a reference point. Riding shotgun in the passenger's seat alongside at tracks such as Mazda Raceway Laguna Seca, Miller Motorsports Park or Sonoma Raceway provide good examples of the sense of G-loading, speed, braking and elevation changes that drivers go through.
I'd had a ride-along at Barber before, and with arguably one of sports car racing's most successful drivers in Hurley Haywood. The difference was, that occurred in a Porsche 911 on a damp track, and while Hurley undoubtedly could have pushed it, he opted not to for safety purposes. Good man, I said.
Race morning at Barber on this occasion dawned under similar conditions – overcast skies, a damp but drying track and the triumvirate of Daly, Plowman and Veach preparing for the hot laps.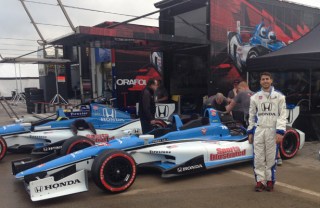 First off, you get properly suited and booted when you're going through the check-in at the Honda Fastest Seat in Sports transporter.
There's an allure the first time you put a firesuit on anyway, particularly if you're not a full-time driver or crewmember, so actually seeing yourself in gear getting ready to go is the first cool moment.
Then, Daly arrives. The 23-year-old Noblesville, Ind. native was a week removed from arguably the greatest 17th-place finish in recent memory. He got drafted in to race the No. 18 Dale Coyne Racing Honda in Long Beach in the middle of eating breakfast at Honda hospitality Saturday morning, with almost no practice time to prepare.
"Now I'm back to my day job," he jokes.
The process is then about anticipation. Get your firesuit all set to go, get your headsock, gloves and helmet on and prepare to launch.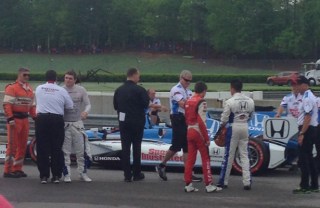 I'd figured I'd be in the back of Daly's car but as we were all moved into position once through, I wound up staging to ride in Veach's car.
Still good to go. And then we were off.
First up, your legs are in close and pressed up against the cockpit sides as you sink into the seat. If it's relatively uncomfortable for a lap and a half, imagine how uncomfortable it is for two to three hours.
Second, the noise isn't nearly as loud as I thought it would be. You're not issued any earplugs but the noise doesn't drown out the whole experience – with the engine behind you and the gearshifts going up and down as planned, it's a normal ride.
From there, commence roller coaster. It's down through Turn 1, up through 2, back down through 3 and then full-on, power-down, head thrown back and hang on through the rise in 4 before the full acceleration and dive into 5, the tight left-hand hairpin that serves as Barber's most prominent passing point.
The back portion of the track is awesome once you've cleared the double-apex right hander through Turns 7, 8 and 9. The 10/11 and 12/13 pair of left/right, left/right full-on shifts are just mega – you're wowed at the change of direction and the G's as they hit.
Again, this was in the older car, so the Honda two-seater is almost certainly even quicker and fractionally more stable through this section.
Veach completed the final rise, fall and rise again back through the final corners and into pit lane. It had only been one lap, but it's truly a rush.
"I have a lot of fun driving the two-seater," Veach told me after the ride. "The crew is so awesome. I've had such a good time working with them.
"Conor Daly and I make the joke, it's the first time we've been paid to drive a race car! Giving people a ride they'll remember is special."
Veach, who has raced a Prototype Challenge car once this year and has several prior Barber starts in Indy Lights and Pro Mazda, reflected on the Barber track.
"You either have people, where they are really stoked to do it, really scared, or really sick. You try to not get many sick people; you don't want to get thrown up on! Luckily they're behind you.
"Barber is one of those places, with the G-loads, you can have a good time. People get an idea what we go through in a real race car.
"The most common reaction I get is how much more they understand what we go through and appreciate what we do now."
Indeed. As if I needed another reason to remember why I write about this sport instead of drive in it…