Lost in all the post-race hoopla of what the MAVTV 500 race was like, and the dissenting camps on whether it was too dangerous or overly exciting, was the fact Graham Rahal actually won the damn thing.
Yes, the guy folks have been asking since that glorious first win in the rain in St. Petersburg, 2008, when was he going to win his second race, finally won his second race in the No. 15 Mi-Jack/Steak 'n Shake Honda.
And it's been a shame it's been as overlooked as it has in the grand scheme of things.
It's been obvious to anyone paying attention in the Verizon IndyCar Series this year since as early as NOLA Motorsports Park, the second race of the year, that Rahal and the revamped, reorganized Rahal Letterman Lanigan Racing team have been operating at another level this season.
You can't build chemistry, and the fact Rahal is enjoying a career season with individuals like Mike Talbott, Martin Pare and Eddie Jones speaks to how well they're all gelling as a collective unit.
This eventual win has been building for months.
Rahal was borderline top-five in St. Petersburg before a penalty issued for avoidable contact, which was questionable at best as other drivers made contact with other cars but avoided penalty. He was running top-five at NOLA before the pit stop strategy gamble made by others shuffled him back.
Long Beach was OK, but Barber was his breakout. If he had another two or three laps, Rahal might have caught eventual winner Josef Newgarden, or to another point, Newgarden might have ran out of fuel.
His second straight runner-up in the Grand Prix of Indianapolis came courtesy of a dynamite first lap to avoid the first corner chaos. The fifth place in the Indianapolis 500 a few weeks later came with the Hondas notably down on overall performance compared to the Chevrolets.
Only at Detroit race one, where he was wrecked out at Turn 1, was the early season momentum halted. But another podium followed in Detroit race two.
Consecutive tough results in Texas and Toronto, 15th and ninth, threatened to derail the progress but Rahal rebounded in a big way this Saturday in Fontana.
Was there controversy over the fuel buckeye issue and subsequent caution? Sure there was. But, as noted, INDYCAR has changed the rule this year to where pit road infractions are subject to post-race penalties. So Rahal's not being penalized in-race is consistent with the other 11 instances this season.
But at the end of the day, Rahal won. It didn't matter how. He was due. The team was due.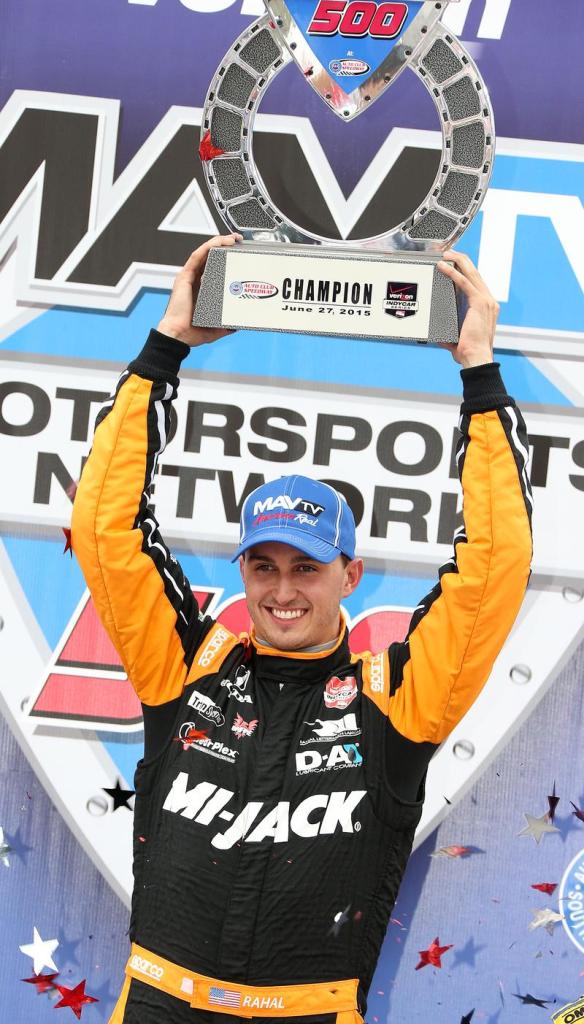 "It feels good. I mean, you know, I'm most happy for my dad and Dave and Mike and all our sponsors that kind of came back and gave us some life this year," Rahal said during the post-race press conference.
"This is a big, big deal for us. You know, there's a lot of people that made a lot of comments about myself and about our team and about our owners and everything else that weren't fair to be quite frank, so to kind of rebound the way we have all season, I mean, this feels good to win for sure, and I'm definitely looking forward to tonight, I can tell you that.
"It's been a good year, and we've shown that it wasn't like a one‑hit wonder that we were good at ‑‑ I don't even know, Barber or something. I feel like we're starting to find our form everywhere a little bit, and I think that's helping us in the big picture, and I told my guys, you know, I mean, my sights are still set on finishing in the top-five in points. I don't know that we can win it, I really don't, but top-five in points I think is achievable."
Rahal wasn't a pre-race favorite Saturday on paper, starting 19th, but as he told his team pre-race, with 500 miles to go and passing opportunities plentiful, they still had a great shot.
"This morning we got together, and I said, guys, yeah, we start 19th, but this is our best opportunity right now," he said.
"It starts here. These next three races are where we've been weak the last three years, and the next couple races are where we need to improve, and I think everybody did a good job, and seriously, enough can't be said for this team."
Rahal described what it means to have had this success as a one-car team, up against the mights – and staffs – of three- or four-car powerhouse operations.
"I mean, you've got to understand, we're understaffed by a couple people, where we've never done a wind tunnel day. We've done one shaker rig deal. We don't have the resources others do, and these guys put their heads down, and they work damned hard, and I'm really proud of them."
Rahal, now 26 and engaged to NHRA star Funny Car driver Courtney Force, is also a more mature driver, more appreciative of his moment this time around.
"I think I've always been a firm believer in everything in life happens for a reason, and I think it's really caused me to grow up, and I feel fortunate that today is the day that I got it," he said. "Hopefully we can move on from here and not make it another seven years."
The Rahal/Force engagement has been something of an off-track, consistent story for IndyCar throughout the year.
But what "G" and RLL have done on-track this year on the whole is so, so, incredibly worthy of widespread, national media praise and attention.