Lewis Hamilton was delighted to score his third pole position for the British Grand Prix on Saturday at Silverstone, calling it "a special day."
Hamilton edged out Mercedes teammate Nico Rosberg by just 0.113 seconds in the final stage of qualifying to score the 46th pole of his Formula 1 career, taking him clear of Sebastian Vettel for third place in the all-time standings.
The British driver has now claimed eight pole positions from nine races in 2015, but felt that this one was particularly important given that it came in front of his home fans.
"It's a special day," Hamilton said. "It's special when you get the pole here on your home turf and when you see all those fans out there.
"So many people have come today and this weekend and they really do motivate me through the weekend. It's particularly special when you do get the pole."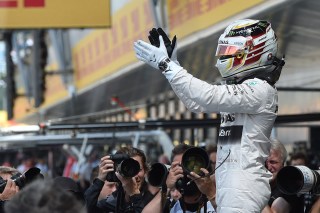 Hamilton had been struggling for pace during practice on Friday, and admitted that his setup was still not completely to his liking during qualifying.
However, the Briton hopes that it will suit him better in the race as he goes in search of a third victory at his home grand prix.
"Generally it's not been the smoothest of weekends," Hamilton admitted. "It's been a bit up and down in terms of setup and balance and getting laps.
"I made some changes to the car ahead of qualifying which was perhaps not spectacular for a qualy lap, but hopefully will be good for the race.
"But I'm really, really happy. Once I got to Q3 I could just go all out and get that lap in. Incredibly happy. My brother's here with me as well which is great, so a big thank you to everyone for the support."
The British Grand Prix is live on CNBC and Live Extra from 7:30am ET on Sunday.