Daniel Ricciardo was disappointed to have some of his lap times deleted during qualifying for the British Grand Prix on Saturday after being deemed to have exceeded track limits.
Ahead of qualifying at Silverstone, the FIA stewards sent out a memo to all of the teams warning that a zero-tolerance approach would be taken to cars going off track and gaining an advantage.
Eleven drivers fell foul of this during qualifying by running wide at turn nine and the final corner, resulting in the deletion of a number of times.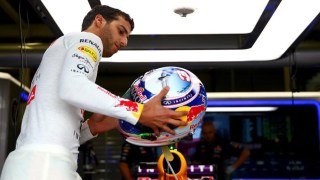 Ricciardo saw his quickest time in Q3 get deleted after the stewards deemed him to have run wide, leaving him tenth on the grid for tomorrow's British Grand Prix.
"It was a mixed qualifying for me," Ricciardo said. "My fastest time was deleted and it's something we have to review as I don't think I went off, we'll check the video and see.
"The car felt really nice in the high-speed corners, it was a lot of fun to drive, but we have been struggling through the low-speed corners and I think that's where we have been losing most of our time, along with the straights."
Red Bull teammate Daniil Kvyat led the team's charge by qualifying seventh on Saturday, believing it to be the maximum result that could have been achieved at Silverstone.
"Our starting position is the maximum we could have achieved for today," Kvyat said. "I drove everything out of the car, I don't think there was anything left to extract.
"We came here without any big expectations and the car is handling really well this weekend. I have a good feeling about this track and looking forward to the race tomorrow.
"The race conditions can be quite challenging but we are hoping to get some good points."
The British Grand Prix is live on CNBC and Live Extra from 7:30am ET on Sunday.