Lewis Hamilton had a tear in his eye on the final lap of the British Grand Prix on Sunday as he weathered a late storm to clinch his third victory on home soil.
Over 140,000 fans came out at Silverstone on Sunday to see the defending world champion claim his fifth win of the season after making an inspired pit call when a rain shower arrived late on.
Hamilton chose to make the switch to intermediate tires one lap before Mercedes teammate Nico Rosberg, and it proved vital in allowing him to win the race by 11 seconds.
"I think for the first time probably in my career I made the perfect choice tire-wise," Hamilton said on the podium after the race.
"I'm really, really happy with that. Just managed to keep the car going. I think I lost a lot of temperature in my slicks. You guys are the best, I love you guys."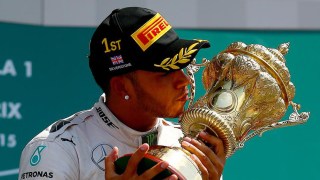 Hamilton paid tribute to his fans at Silverstone on the podium after the race, admitting that he felt a tear in his eye on the final lap as he saw all of the British flags and banners.
"I was gunning the whole way, and I really just wanted to do it for you guys," Hamilton said. "We did it. I'm so thankful for all the support, and I couldn't have done it without you guys.
"Every lap, I can see you in the corner of my eye, and I felt you spurring me along so thank you so much. I'm so elated, you can't imagine how happy I am.
"I started to tear up on the last lap just really hoping that I could hold on to it for you guys. I felt you all the way.
"I hope we can come back next year. I'm gonna keep pushing for this championship, thank you for all the support, now let's party."
Hamilton now leads the drivers' championship by 17 points from Rosberg ahead of the Hungarian Grand Prix in three weeks' time.