Nico Rosberg managed to recover from a poor start to finish second in the British Grand Prix on Sunday, but was quick to praise Mercedes teammate Lewis Hamilton for his victory at Silverstone.
Starting second, Rosberg made a poor start to drop behind both Williams drivers into fourth place where he remained for much of the race.
A late rain shower allowed him to scythe past Valtteri Bottas and Felipe Massa to move into second place before catching Hamilton at a considerable rate, cutting the gap to just two seconds at one point.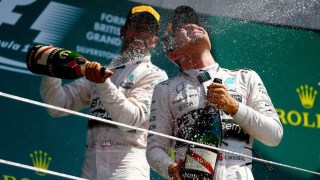 Hamilton appeared to have thrown away the race win when he pitted for intermediates on lap 43, but it proved to be the perfect call as the rain grew stronger and forced Rosberg to pit just one lap later.
When Rosberg emerged from the pit lane, his deficit to Hamilton now stood at nine seconds. He would eventually finish 10.9 seconds behind his teammate at the flag.
"It was a good race," Rosberg said on the podium. "I was pushing hard to try and catch Lewis under the difficult conditions, but he just made the better call with the pit stop, that's where I lost it.
"Fair play to him, he did a great job all weekend."
Like Hamilton, Rosberg also thanked the fans that had turned out at Silverstone as over 140,000 came through the gates on Sunday.
"You've been amazing, really absolutely unbelievable," Rosberg said. "Great atmosphere here, really a pleasure to drive in front of all of you."
With this defeat, Rosberg trails Hamilton by 17 points at the top of the drivers' championship once again.