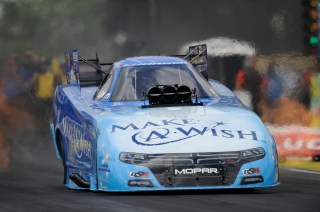 JOLIET, Il. – For the nearly five years he was away from drag racing as an active driver, Tommy Johnson Jr. had the same recurring wish: that he'd find his way back behind the wheel some day.
In February 2014, legendary team owner Don Schumacher threw Johnson a lifeline, bringing the Ottumwa, Iowa native into the Don Schumacher Racing fold as one of four DSR Funny Car drivers.
MORE: Tommy Johnson Jr. back to fulltime NHRA drag racing after five-year layoff
Ironically enough, Johnson's sponsor upon his return to the 1,000-foot sport was the well-known charity "Make-A-Wish."
Sunday in the Lucas Oil Route 66 Nationals at Route 66 Raceway, another of Johnson's dreams came true, winning for the first time in 2015, capturing the Funny Car crown. In doing so, Johnson moved into sixth place in the standings and qualifies him for the $100,000 Traxxas Shootout, to be held during the U.S. Nationals in Indianapolis on Labor Day weekend.
MORE: NHRA: Final finishing order, results, round-by-round and standings after Lucas Oil Route 66 Nationals
In a rematch of last year's Funny Car final at Route 66 – but with a totally different outcome – Johnson defeated DSR teammate and defending Funny Car champ Matt Hagan to take Sunday's top prize.
"It's very gratifying now, you appreciate it more," Johnson said. "You race all those years, you win races, you're out here, you don't really grasp what you're doing and maybe don't savor the moment as much.
"Last year and this year, I know I'm doing, I get it and cherish every moment. To win races like this, it really means something. They're very special to me. You don't know how long you'll do this, you just try as hard as you can while you're here and enjoy the moment."
It was Johnson's 11th career NHRA win, split between Funny Car and Top Fuel, as well as his first win ever at Route 66.
"The days you win, you get up and you just feel it, you're going to win," Johnson said after Sunday's win. "I woke up this morning and thought we had the car to beat, we're going to win this race, I feel like it."
It was Johnson's second final round appearance of the season. This is his second Funny Car win since returning to the NHRA fold, his first win coming last year at Bristol (Tenn.).
"We've had a really good car, we just couldn't get the breaks to go our way," Johnson said. "We kinda beat ourselves a couple times with mistakes.
"I have to hand it to the guys, they kept working, nobody got discouraged. We had team meetings and said we had to step it up and every one of them did."
Johnson becomes the final of the seven DSR drivers to win a race in 2015. Johnson also earned some bragging rights of sorts: he became the first driver to hand Hagan, a four-time winner this season, his first final-round loss of the year.
"You've got to do your own thing, just do what you can do," Johnson said of facing Hagan. "I knew it was Matt, but I really didn't care who it was. They're No. 1, their tough and you knew you had a challenge, but I just felt my guys could do it."
Johnson then added, "I make a lot of wishes. I'm glad this one came true."
Follow @JerryBonkowski