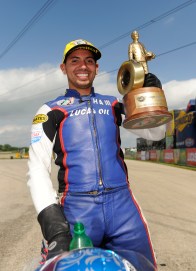 JOLIET, Il. – For Pro Stock Motorcycle rider Hector Arana Jr., Sunday's finals of the Lucas Oil Route 66 Nationals was déjà vu.
For veteran Pro Stock driver Allen Johnson, it was the first time – and also the 25th time at the same time.
Such was the way things played out in the two classes.
Arana won for the second straight year at Route 66, defeating Matt Smith for his 10th career win in the two-wheel ranks.
"Definitely, this is one of my favorite tracks," Arana said. "It's a great track, I love the facility.
"They've got a nice fishing hole out back, so every night we go fishing and then we go racing. It's a blast."
Arana defeated his father, Hector Arana Sr., in last year's final round at Route 66 for his first win of the season.
While his opponent Sunday was not his father, it again was the younger Arana's first win of 2015.
"We knew we had the bike (to win)," he said. "I wish my dad could have made it to the finals with me again. We were able to get another Lucas Oil bike (he and his father are sponsored by the company) into the final round, and especially at a Lucas Oil event, that's all that matters."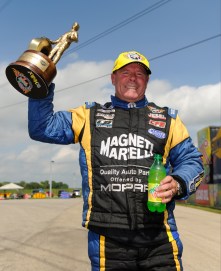 MORE: NHRA: Final finishing order, results, round-by-round and standings after Lucas Oil Route 66 Nationals
Johnson, meanwhile, finally broke through for his first win ever at Route 66, defeating fellow Pro Stock veteran Larry Morgan. It was also Johnson's first win of 2015.
But the victory was made even more special by the fact it was a significant milestone in Johnson's career: his 25th career Pro Stock national event victory.
"Today, the team went out and really dug in and was able to make consistent runs … and pull off the win," Johnson said. "I had confidence coming into here, and this will give us a little more confidence.
"Twenty-five wins, that's just unbelievable. It puts me in the record books with some of the top racers forever."
Follow @JerryBonkowski