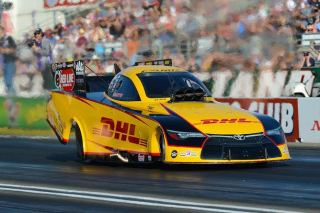 While he failed to leave Chicago with his fifth career win at Route 66 Raceway this weekend, Del Worsham is still in very good standing.
Worsham, who lost in the second round of Sunday's final eliminations of the Lucas Oil Route 66 Nationals in suburban Joliet, Il., is tied for third with Jack Beckman in the NHRA Funny Car standings.
Defending Funny Car champ Matt Hagan remains No. 1, followed by Ron Capps and then the Worsham/Beckman tandem.
With five races to go to NHRA's Countdown to the Championship playoffs, Worsham should be able to make the six-race event on points alone.
But winning at least one race in the next five coming up would essentially lock himself into the Countdown with a guaranteed berth.
"The season's been great," Worsham told NBCSports.com's MotorSportsTalk. "I really couldn't ask for anything more other than maybe a win. We haven't got a win yet.
"But if you look at every single race and qualifying and the way we race, we race hard and have qualified well and made great runs.
"Somewhere along the way, someone's popped up with a national event record run or close to it, or we've had one bad run at the wrong time. But all-in-all, I'd give this season an 'A' thus far, aside from not having a win at this point.
"I just hope we keep on the path we're on. I think we're on a pretty good path here, but I'd really like to get that win."
In addition to hopefully earning a win, Worsham also has his eyes on capturing the $100,000 first prize for the upcoming Traxxas Shootout, which will be held during the U.S. Nationals in Indianapolis on the Labor Day weekend.
A win before Indy would guarantee him a berth in the Shootout. But even if he remains the top scoring winless driver over the next four races, Worsham likely will still make the Shootout.
"I'd like to be part of the Traxxas Shootout that's coming up in Indy," Worsham said. "I've doubled up before and won the NHRA Showdown and U.S. Nationals at Indy (2005), so I know what it's like to win both.
"It'd be nice to win a race for our sponsors, our team, for morale, kind of take an extra step forward. But if we don't, either way, I think our car runs well enough. If things work out just right, our DHL Toyota Camry can race for the championship."
It's been an interesting road for Worsham, who won the 2011 NHRA Top Fuel championship for Al-Anabi Racing, and then promptly stepped out of his dragster to become crew chief for Funny Car driver Alexis DeJoria.
That change of scenery lasted just one season before he became teammates with DeJoria at Kalitta Racing, piloting the DHL Funny Car.
"I never retired," Worsham said. "All I did was I said I was taking some time off. I was looking at different opportunities and for a new job. But I also was tired. I had been doing this for 23, 24 years at that point.
"We had just won the championship and Alexis was coming along and she wanted a crew chief, and that was something I really thought I needed to do at that point.
"I had a new job, a new outlook, a different perspective, I was excited about it. I just needed a year off from driving. I really did. I didn't even know if I'd ever drive again.
"I remember backing up on my final burnout in the last round at Pomona at the end of the 2011 season in the dragster against Tony Schumacher. I had already won the championship. I thought to myself, 'You know, this could be the last time I ever look at racing from this point of view ever again, and I was good with that.
"I had a great elapsed time, won the race and then things came around and I had the chance to drive this car. It all made sense."
Funny Cars are where Worsham made the biggest impact in his career, with 26 of his 34 total wins (the other eight are in Top Fuel) coming in the so-called "flopper" class.
If he wins a Funny Car championship, Worsham would become only the third driver in NHRA history to win championships in both Top Fuel and Funny Car (others are Kenny Bernstein and Gary Scelzi).
"I came back to driving because I had a little bit of unfinished business, in that I never won a Funny Car championship," Worsham said. "I feel that things now are a lot more equal, maybe equal talent and money and crews, and I would love to have a shot at it."
"Just winning a Funny Car title would be great. I'm not going to say if I don't win it, it's going to ruin my career or harm me in any way. I just want to come to Pomona (Calif.), let it come down to the final race of the year and have a shot at it like I did in Top Fuel. I think that would be really exciting, and that's my goal."
Follow @JerryBonkowski