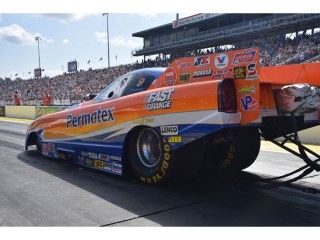 When Jay Blake said prior to the season that 2015 could be the best season ever for his Follow-A-Dream team, it was a prediction based upon hope and optimism.
But following this past weekend's Lucas Oil Route 66 Nationals in Joliet, Il., Blake's prediction is coming true in reality and performance.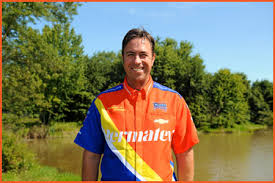 Blake and driver Todd Veney are on the team's biggest roll ever. They've won three of their last five Top Alcohol Funny Car races – at Richmond (Va.), Lebanon Valley (Pa.) and a week ago at Norwalk (Ohio) – along with semi-final finishes at Maple Grove (Pa.) and this past Sunday at Route 66.
"We are definitely on a roll," said Blake, whose team is based out of Marston Mills, Mass. "Things have really come together, the team has never given up and has worked really hard and it's finally showing us promise and happiness.
"We're very excited to be No. 1 in regional points and No. 2 in national points and it's July, so things are good. We've made some changes and adjustments, and all the little things we did just all came together at the right time and it's happened."
Veney, of Indianapolis, is ranked a career-best second in the national TAFC standings, just 10 points out of first place.
"I've never been part of a team where we've had top speed at half the races we've been to this year," Veney said. "Doing 264 mph consistently is really getting with the program.
"This car can make a lot of power. … There's a lot of really good cars (in TAFC) that have never gone that fast, so it's nice to be part of it."
Compared to where the team was after the first few races of the season, its overall fortunes have done a complete 180-degree turnaround.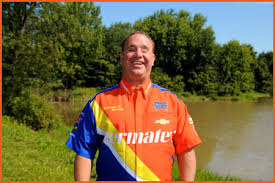 "I never really thought of it as a slow start, things happen," Veney said. "We had breaks in some of the races we've won that we couldn't have counted on. If just one of those wouldn't have happened, then we wouldn't have won.
"We lost in the first race to a guy who, after he got out of his car, and he said, 'I can't believe I beat you. I don't know what to say.' I just shook his hand and said congratulations.
"Then, we broke something at Charlotte, so we never even came and ran in the first round – so it's not like we got beat there. Something that should never break broke; we couldn't fix it in time. And there's been five races since then and we've won three of them.
"So, I don't look at it as a slow start. Things happen to everybody. … The last five races have been real good. If we get some breaks in the next (national event), we could be No. 1 (nationally)."
The team has six races left and is hoping its good luck of late will continue all the way to its first-ever NHRA TAFC championship, something Blake has been chasing for well over a decade.
"This is a very, very humbling sport," said Blake, who is the only blind crew chief and team owner in a major motorsports series in the U.S. "You can win one weekend and not qualify the next. One of the great things right now is Todd is doing a great job and has a lot of confidence in himself and in the race car.
"When he's up there, that gives him peace of mind to relax and do his job. That's a big part of it, plus the team is feeling great. We always felt we had all the pieces and just have to hope the breaks go your way and you have to be prepared. We're prepared and we're just going for it."
Follow @JerryBonkowski