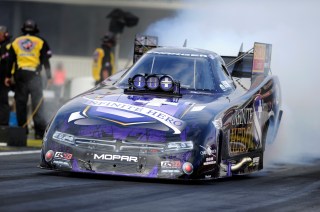 In the course of two seasons, Jack Beckman went from NHRA Funny Car champ to a virtual "Whatever happened to?" query.
After roaring back to win the 2012 Funny Car championship, the Southern California native's performance fell off-track like the elevators he used to repair before becoming a full-time drag racer.
No one could diagnose what went wrong. It wasn't like Beckman forgot how to drive a race car. But as 2013 and especially 2014 played out, Beckman went from his nickname of "Fast Jack" to "Whatever happened to Jack?"
The harder he tried, the worst his overall performance became.
"I can't put my finger on why we performed poorly relative to our expectations," Beckman told MotorSportsTalk in an exclusive interview. "That frustrates me, because if you can find the smoking gun, you can eliminate the problems.
"That was probably the most frustrating thing, that I thought we had all the ingredients for a successful combination. We just didn't find those results."
Then, late in the 2014 season, team owner Don Schumacher pulled off one of the biggest thefts in drag racing history, luring Jimmy Prock away from his longtime home at John Force Racing and his role as crew chief for 16-time Funny Car champ John Force.
As 2015 debuted, things were once again a bit shaky on Team Beckman. He failed to qualify in the season-opening Winternationals and it was starting to look like more of the same, a carryover from last year.
"I knew we were better than that," Beckman said. "In fact, I wasn't as upset at that as I thought I might be. I knew we were going to turn things around – and we have, in a big way.
Indeed, Beckman has.
As the NHRA begins its vaunted three-race "Western Swing" this weekend with the Mile-High Nationals in suburban Denver, Beckman has won three of the last 12 races (along with a runner-up finish), is tied for third in the standings and is eyeing a second title by season's end.
"I've never had a year since 1989 that I didn't win at least one race in a season, until 2014, and that's a tough pill to swallow, to not win a single race," Beckman said. "If you ask somebody who's done something long enough, you're going to see highs and lows, but things eventually balance out and the pendulum swings the other way.
"We're enjoying a great deal of success right now, and I don't see any reason to expect that to slow down any time soon. Funny Cars are inherently unpredictable, but its gratifying to know you drive for a team and drive a car that can win every race you pull into.
"That's the frustrating part of 2014. We had everything we needed: we had the talent, the parts and the people. We just didn't get it done. What made the pill even more bitter is not only didn't we win a race, we didn't finish in the top 10 after finishing in the top-five every other year."
Beckman, who turned 49 last month, even began to second-guess himself and his ability last season.
"I've always said that you never know if your last win will really be your last win," Beckman said. "That's not a fatalist viewpoint. I'm a cancer survivor. It's a matter of perspective.
"Sure, you question yourself. You can have the second-fastest car and lose in the first round at one of these places. Or, you can have a mediocre car and luck your way into the final round, although that's tough to do in Funny Car.
"So, yeah, you start to wonder, 'Is it just not going to happen for me ever again?' But the bigger picture is not just if I'm capable of winning other races, but will I have a job next year. There's not a lot of job security."
He then added with a laugh, "If you're the team owner and a Mega Lotto winner, you've got job security."
But when Prock jumped Force's ship and came onboard with Beckman, and The Infinite Hero Foundation stepped up to sponsor Beckman's Funny Car this season, things took off in the right direction Beckman had been hoping for.
"Had it not been for Terry Chandler (who finances both Beckman's Infinite Hero Foundation race car, as well as the Make-A-Wish ride of teammate Tommy Johnson Jr.) putting her checkbook where her heart is, I'm sure I'd be back fixing elevators or doing something else.
"As far as I'm concerned, Terry saved my career."
And how long will that career go? After all, one of Beckman's top rivals, John Force, is 65 years old and still at the top of his game.
"I have an 8- and 4-year-old, and I'm a cancer survivor," Beckman said. "I think my perspective as an older father and going through the health issues I did, whatever happens, happens.
"I have 18 wins in a nitro Funny Car and a championship. I never thought I'd be here. I want to win every day I go out there. I'd love to keep doing this for 10 more years. I know that someday it'll end. You'd love to be in control of when it ends, but the reality is almost when the money goes away, not when the desire goes away.
"My short term goal is I want to continue with this job, because if I continue doing that, the winning the races and everything else will come with it. I think we're going to be as tough as any other car out there."
Follow me @JerryBonkowski