One of the best stories of the 2015 Verizon IndyCar Series season has been the year-to-year gains of the overall KVSH Racing unit with Sebastien Bourdais, which has shown more consistently all season.
Bourdais is fully enjoying the moment, currently sixth in the championship with two wins.
It's really been a year defined by several parts for the driver of the No. 11 Hydroxycut/Mistic KVSH Racing Chevrolet.
YEAR-TO-YEAR IMPROVEMENT
The improvement year-to-year from 2014 is night and day, Bourdais said in a phone interview with MotorSportsTalk.
"It's been immense, obviously," he said. "Our success, our races, the way they've gone and panned out is night and day compared to last year.
"Last year was frustrating at times. We had great potential and couldn't seem to make it work. In the meantime, when we did, we have some glimpses of greatness, but it didn't seem to happen often enough.
"The second year under our belt, with the consistency and be stronger on all kinds of tracks, short ovals, superspeedways, road course and street course, we've been more accurate on our setups.
"It's thumbs up to the guys to make it happen. I can only give my feedback. It's definitely worked a lot better. We've had a great time altogether, and the results are following."
SHORT OVAL SUCCESSES
The can of "Seabass Whoop-ass" unleashed at Milwaukee was tainted, somewhat, by the ruling from INDYCAR that the car was underweight in post-race technical inspection. However, a series spokesperson indicated it wasn't enough to change the outcome, and the likely reason for the weight loss came when Bourdais practically burned down the house with the best open-wheel burnout and donuts display in years. There was also the humorous coincidence the weight loss occurred with Hydroxycut adorning the sidepods…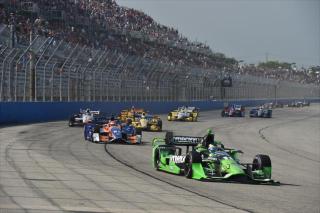 Alas, that shouldn't detract from what was arguably one of the drives of the year, and one of the drives of Bourdais' career. The Frenchman was in the zone that day, and embraced every moment.
"It was a lot of fun. When the car is that much fun on the ovals, you want to replicate it," Bourdais said.
Yet last week at Iowa Speedway, Bourdais was almost as impressive, if not more so. From the rear of the field after a rare misstep in qualifying, Bourdais got up to sixth, but lost out in the final stint to others on newer tires, ending ninth.
"You kind of fight your way until the last stages of the race," he said. "We didn't have the luxury for new tires. Graham, Marco and Ryan came through. We'd gone 24th to sixth and we got the short end of it. I'm sure we were OK with that, but it was frustrating. We had built for that result for the race, getting the position. That's the way it goes.
"When you look at it, it was really good in Iowa too. We screwed up a bit in qualifying. We ended up with way too much too wing. For once, we had a good quali sim in last practice, and the small changes we had made would be minor.
"We went out there and then I was like six mph going down into Turn 1, the car compresses like crazy, then I'm sideways before I blink and it's like, 'What the hell!' But after that, sixth initially, it felt pretty good. Hopefully we keep on turning the whip."
RIVALRY WITH PT? WHAT RIVALRY?
One of the talking points going into Iowa, post-Milwaukee, was once again the Bourdais and Paul Tracy rivalry from the Champ Car days. Tracy, now an NBCSN IndyCar analyst, called Bourdais earlier this year to bury whatever hatchet was left, then congratulated Bourdais directly in victory lane after admiring his run during the race.
Naturally, this led to the pre-race segment last week where Bourdais and Tracy spent time together in an old Corvette, talking things out, reflecting a bit on the old days.
"(The segment) was great. Honestly all the air was cleared a couple weeks before when he called me and thanked me," Bourdais said. "We talked and went over the reasons behind everything that had happened between us.
"I told him I was really impressed for him to take the time, and I wasn't mad at him. I had a great time racing 'PT,' but sometimes you turn into disaster and it's a really complicated situation. But we had some great times."
The 2011 IndyCar season, more than the go-for-broke Champ Car days from 2003 to 2007, actually stands out because it marked the metamorphosis in both drivers' careers.
Bourdais had returned to IndyCar after his Formula 1 and sports car sojourn in a part-time role with Dale Coyne Racing, while Tracy made his final few starts behind the wheel with Dragon Racing, which had gone through an ownership shakeup. The battles then were in the mid-teens, rather than for wins, but were no less intense.
"For me, as a competitor, I still tried to remember. When I saw him when I came back to the U.S., for those couple races of '11, we still managed to find each other on track. There was no feud. It was not like in the old days. The hatchet was really buried, then."
What Bourdais said next tells the tale, and goes hand-in-hand with Tracy's past comments that he always respected Bourdais' talent, but tried to get inside his head as a way of beating him.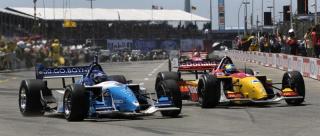 "I didn't hold grudges against Paul. To be honest with you, the press turned it into something bigger than it was," Bourdais said.
"The Canadians were really digging it, as 'He said this, so what do you think?' It was very much used and promoted as far as what really happened on the track.
"It was probably a good thing for Champ Car at the time. Now we can just talk about things much more openly, without feeling uncomfortable."
Would Bourdais want to insert himself back into a "face of the series" rivalry as it appeared then?
"I don't know. I'm no promoter genius. I'm not well-placed for that," Bourdais admitted. "Some might turn on TV for that. It depends on who wants to see what.
"But I'm a racer first. If it happens for the sport, great, but as long as I'm not involved."
DRIVING STANDARDS STILL IN CROSSHAIRS
Bourdais singles out Fontana in the last three races where driving standards needed to be improved.
"The one that was really bad was Fontana," he said.
"In terms of driver conduct, oh yeah, some said, 'It's the nature of pack racing.' Bullshit.
"There have to be limits on what you can do. Whether it's messages from spotters or whatever, it's not OK. It's immensely dangerous, and it's not OK.
"We've had examples before of how wrong things can go when we are wheel-to-wheel at these speeds. Fontana was the drivers' responsibility. I was at the back. I didn't participate up front, as we had issues and other problems.
"But the stuff I saw from the back was just scary. I was almost glad we couldn't get in there. It was bad."
SECOND CAR STRUGGLES
One of the oddities that has occurred for Bourdais since his aforementioned North American return in 2011 is that he's had a teammate every year, but the second car has never fully been able to match up.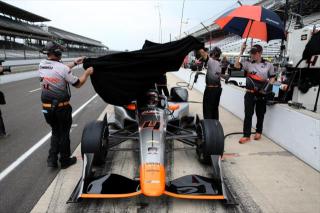 Whether it was James Jakes, Katherine Legge, Sebastian Saavedra (with two different teams) or now rookie Stefano Coletti (right), none lacks talent but for whatever reason none seems to produce results on par with what Bourdais has been able to do.
From Bourdais' perspective, the lateness of all those programs appears the culprit.
"I tried to explain it to the team at the start of the year, but having a rookie is a challenge, and with limited testing these days, making good use of a rookie is almost impossible," Bourdais said. "Unfortunately, we are getting to that conclusion as a group now. If we really want to have help from a teammate, it has to be someone with experience.
"It's so hard to make it happen on a race weekend, when you've not been to Toronto or wherever. They're so specific moving over here from European racetracks. Even the greatest guy is going to struggle to show up and make it work straightaway."
Bourdais, who took Champ Car by storm in 2003 as a rookie, admitted he was in a fortuitous position by way of having arguably the best cars in the field with Newman/Haas Racing.
"I remember my first year in 03, I had great cars. But going to Long Beach, Toronto the first time, it was just not easy. This place really tests you."
Since both Saavedra (2014) and Coletti (2015) have had their programs come together in February, while Bourdais' was announced in the fall both years since his move at the end of 2013, that's hindered progress.
"If it had been a program announced the end of last year, you can go all winter. But it all started very late," he said. "The second program, it becomes difficult for them to help us build something stronger.
"Like you said, for me, it's been two-car… almost a two-team entity since I've come back. I'm on my island doing my own thing, and waiting to get stuff from the other program."
RENEWAL TALKS WITH KVSH
Despite whatever the second car program may be, Bourdais wants to continue with KVSH Racing into 2016 and beyond.
His second year has paid off as the same core group of crewmembers, led by engineer Olivier Boisson, has been retained and gelled better this year than last.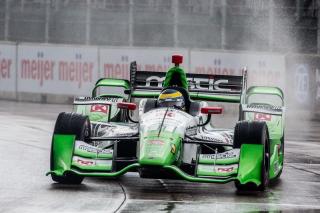 "I'm really happy with what I've got right now at KVSH," Bourdais said. "The goal is try to build what we've started. Everyone's happy with what we got.
"It's really gonna depend on what the circumstances are. We're all trying. 'Sulli,' particularly with Kevin and everyone involved are working to keep the train rolling.
"The one thing that the big teams have that we have to take a couple years is the continuity and consistency in the organization. This year is the perfect example.
"We finally got a first year under our belt, so we're much more effective at work. It doesn't take a crazy scientist to figure out what needs to be done. It takes time to be successful."
LOOKING TO CLOSE STRONG
With just three races left in 2015, Bourdais sits sixth in points, 24 behind fifth-placed Will Power but only 37 behind second-placed Graham Rahal.
A top-five points finish is certainly within reach for the driver who finished 10th a year ago, and with double points at the Sonoma season finale it's not inconceivable he could end top-three.
Bourdais, of course, isn't resting on his laurels even though it's been a great season.
"It is a success. We fixed most of the problems we needed to fix, we're more consistent, we've capitalized on the work done last year. Definitely we can say it's been a big improvement," he said.
"Obviously if we get in a position to fight for podium in championship, why not? We're not gonna stop there because we feel content with ourselves. If we can make it happen and get a podium in the championship, why not?"