Butterflies filled the stomach of Sage Karam.
The 20-year-old driver wasn't on a first date or being berated by Ed Carpenter. That was still three weeks away.
The rookie was leading his first career lap in the IndyCar Series.
Twenty-four laps into the MAVTV 500, Karam drove his white and red No. 8 Chevrolet out of Turn 4 of Auto Club Speedway.
In pursuit were his Chip Ganassi Racing teammate Tony Kanaan and 21 other IndyCar drivers. They would chase him for four of the next five laps.
While it had been only 155 days since he led 141 laps in the Rolex 24 at Daytona, it had been almost two years since had led a lap of open-wheel competition, in the Indy Lights Series.
"It was a really, really cool feeling," Karam said in a media teleconference Wednesday. "It was the first time in a race this year where I actually had, you know, that kind of feeling of butterflies back in the stomach in the late stages of the race because you have an opportunity to win the race."
Karam was speaking four days after earning his first career podium at Iowa Speedway, a fact overshadowed by Carpenter's post-race lecture for what he considered unsafe driving.
"You're kind of just totally after it. You're on edge. I haven't had that feeling all season," Karam said. "When you can run up front with these guys that you used to watch every Sunday growing up, it's a really cool feeling. I think Iowa and Fontana were probably two of the most fun races I ever done. I credit that mostly to being up front."
Karam said he had the fastest car at Iowa, but Karam finished third and felt sore arms instead of a fluttering stomach after one of the most physical races of his young career.
Only 11 races into his IndyCar experience, Karam says he's been surprised by "how hard you actually need to race to be up front.
"I was racing hard in the beginning of the season, but I wasn't pushing as hard as I should have been," says Karam. "Then once I started figuring it out a bit more, that's when I started running up front, the speed started to come."
Before there was speed, there had to be recovery on multiple levels.
"At the beginning of the season, I don't think people realize this was almost completely new to me," says Karam, whose only IndyCar start prior to 2015 was last year's Indianapolis 500. "I was coming into a really great team at such a young age, with almost virtually no testing basically, and (being) hurt."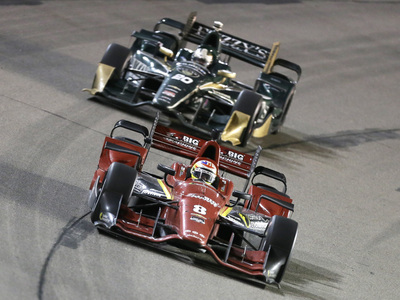 Karam broke his wrist in crash during preseason testing at Barber Motorsports Park, resulting in a loss of valuable seat time and a physical and mental recovery that lasted into the season.
"I started out the season on a totally low note, probably the lowest I've ever been mentally going into a season," says Karam.
"I was actually really high going in, and then once you broke my wrist … I think once we got past the injury, I got a little bit more seat time, thinking now the speed is starting to show, we're showing that we can run up front."
But there was still bad luck and mistakes. Avoidable contact penalties, rained out qualifying sessions and probation defined the first part of the season. But the lowest point was likely crashing on the first turn of the first lap in the Indy 500.
"That's where I think I started to find myself, was Indianapolis," Karam said. "I was running up front the whole month basically. Then another bad-luck situation, we get taken out. It's pretty much been the story of bad luck this year."
While he's learned from teammates Kanaan, Scott Dixon and Charlie Kimball, it's former Ganassi driver Dario Franchitti that's helped guide Karam and open his eyes to what it takes to be at the front.
Karam says the three-time Indy 500 winner and four-time series champion, a constant presence on his pit box, "laid into" him around the time of the Texas and Detroit races over mistakes he made.
"I think that's when I had a real attitude change as far as how much I need to take this seriously," says Karam. "After that, the results started to come. I've been taking it a lot more serious. I've been working out a lot harder. I've been spending more time with the engineers and stuff. Dario has taught me a lot about that."
From Franchitti's lessons and his own experiences, Karam has embraced that it takes risks to get to front as he did at Fontana and was close to doing at Iowa.
"You got to take calculated risks," Karam says. "I think if you're taking calculated risks, you're driving with confidence, and you're taking risks. But when you're not taking calculated risks, you're doing it week in, week out, causing accidents, running into cars, you're being reckless, and no one wants to be reckless."
Karam's surprise has now given way to understanding.
"Once I found out how hard I needed to push, how much risk you needed to take, I think that was the biggest wakeup call for me," Karam said. "I think if I were to go back and start the season over, the beginning of the season would be a heck of a lot different than it was."
But Karam wouldn't change the final 20 laps at Iowa, where he restarted third, but wasn't content on staying there.
Not being content will likely lead to more success, scrutiny and pressure in a sport that sees the him as part of its future.
"I still like to be a humble kid." Karam says. "I think people sometimes forget that I'm only 20 years old. I like to be just a normal kid. I'll go home after I go to the race shop, I'll play XBOX the rest of the night, just hang out with friends. I like to do things that a regular 20-year-old kid would do."
One of those things is taking risks, calculated or not.
It's the only way he knows how to chase butterflies.