Lewis Hamilton believes that Mercedes is looking strong ahead of this weekend's Hungarian Grand Prix after he finished fastest in both of Friday's practice sessions.
Hamilton headed up a Mercedes one-two during FP1 at the Hungaroring before beating Red Bull's Daniil Kvyat to top spot in second practice in the afternoon.
The Briton is chasing a record fifth victory in Hungary this weekend, making it one of his favorite places to race in F1 in spite of the sweltering heat on Friday afternoon.
"It was really good fun out there today," Hamilton said. "I'm starting to think this might be my favourite track. It's so fun to drive with the combination of corners and undulations.
"The way it all flows together just feels old school. It's incredibly hot, though – like driving in a sauna! You're drenched in sweat before you even get in the car with all the thermals on and I lost about half a kilo just in that session.
"It's a big challenge to get a good lap here in these conditions and I think everyone has struggled a bit. It's meant to be a bit cooler on Sunday which will be easier to cope with physically but will obviously change the balance a bit, so it should be interesting.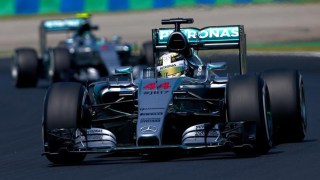 "Our car feels strong here though and I'm very happy with it so far."
Hamilton's positivity was not shared by Rosberg in the sister W06 Hybrid, though, as the German struggled to match his teammate for pace on Friday.
"Today was a difficult day for me," Rosberg admitted. "I didn't ever really find the right balance, moving from oversteer to understeer.
"The long run pace was okay, so I can build on that. But I definitely have some work to do to improve my setup before tomorrow morning and get some practice in for qualifying during P3.
"It's really hot out there. In the car you are sitting almost on the asphalt, so you can feel the heat very much. It will be a demanding race on Sunday."
Mercedes' biggest challenge on Friday came courtesy of Red Bull as Daniil Kvyat and Daniel Ricciardo split the Silver Arrows in FP2, and it will be intriguing to see how the fight at the front unfolds in qualifying on Saturday.