Anytime a series adds an official partner it's a good thing, and even though "Official Paint and Finishing Partner" doesn't necessarily roll off the tongue it's still an important thing for the bottom line.
Thus, Sherwin-Williams has been announced today in that role for INDYCAR and the Indianapolis Motor Speedway, among other entities.
One other thing to note about this deal. Sherwin-Williams' corporate headquarters are in Cleveland. Fans and series insiders have long desired a return to Cleveland, which has been off the North American open-wheel schedule since 2007 and while off again for 2016, is still possible for 2017.
I'm not a mathematician by trade even though it was one of my stronger subjects in school, but I know 1+1=2, and seeing this deal announced is one of those things that makes you go hmm…
See the full release from IMS and INDYCAR, below:
—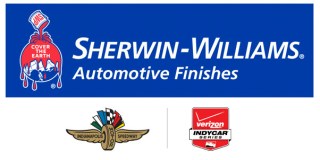 Sherwin-Williams, an industry leader in paint and coatings, will serve as the Official Paint and Finishing Partner of the Indianapolis Motor Speedway, INDYCAR, the Verizon IndyCar Series, Indianapolis 500 Mile Race, Angie's List Grand Prix of Indianapolis and the NASCAR Sprint Cup Series Crown Royal 400 at the Brickyard as part of a multi-year partnership agreement.
"Sherwin-Williams is extremely excited for this new relationship with INDYCAR and the Indianapolis Motor Speedway," said Bobby Moody, Director of Motorsports, Sherwin-Williams. "We're looking forward to everything this new partnership entails, including celebrating the 100th Running of the Indianapolis 500 next May."
The company will have branding integrated into IMS during its spotlight events in the Month of May, including the Indianapolis 500 Mile Race and the Angie's List Grand Prix of Indianapolis; as well as inclusion from a paint and finishing perspective, in Project 100, the collaboration between the Indiana state government and the Indiana Motorsports Commission creating a $100 million bond issue to raise money for improvements to IMS.
Full-time teams in the Verizon IndyCar Series have the opportunity to use paint and finishing products under terms of the agreement. Sherwin-Williams will also offer unique customer experiences to enhance business-to-business programs.
"We're extremely proud to announce this partnership with Sherwin-Williams and confident it will be a tremendous asset for both the Indianapolis Motor Speedway and INDYCAR," said Mark Miles, CEO of Hulman & Company, the parent of INDYCAR and the Indianapolis Motor Speedway.
"Sherwin-Williams' support of both brands, in addition to many of our events at IMS, is obviously valuable – but we're also very excited for the opportunity to integrate their paint and finishing products into the facility itself, including many projects we have planned for Project 100. We look forward to a very successful partnership and are thankful to Sherwin-Williams for the support."