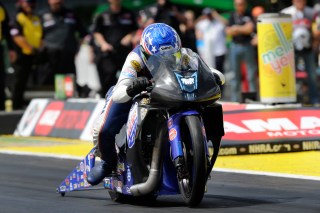 Hector Arana Jr. hopes 2015 is about time to finally be his time.
After finishing second (as a rookie), third, fourth and third in the last four seasons, the Miami native has his sights set on winning his first NHRA Pro Stock Motorcycle championship in 2015.
He's well on his way to doing just that.
Following his runner-up finish this past Sunday at Denver's Bandimere Speedway, which followed his first win of the season a week earlier at Route 66 Raceway in Joliet, Ill., Arana is one of the hottest things on two wheels in NHRA competition this season.
Not only that, he's just 36 points out of first place, trailing points leader Eddie Krawiec, who defeated Arana in Sunday's final round at Bandimere.
"When you start doing well, your confidence increases," Arana said in a NHRA media release. "You're able to relax a little more and focus on your riding so you can get better lights."
The younger Arana is the son of veteran PSM rider Hector Arana Sr. His win at Joliet not only was his second in a row at the suburban Chicago track (he defeated his father in the 2014 final there), it was also his 10th win in 4 ½ seasons, an admirable achievement considering how difficult the PSM series is.
"I needed that win," said Arana, who also has two No. 1 qualifying spots this season. "I felt like I had a lot of pressure built up, and I was finally able to get the monkey off my back.
"I knew we were going to win, but sometimes, for whatever reason, you push yourself too hard and put too much pressure on yourself. In Chicago I tried to lay back and relax, and it worked. I went back to what I used to always say, 'One round at a time,' and it paid off."
In addition to the Chicago win and runner-up at Denver, Arana also has three other semifinal showings (in the first four races) this season.
"It's really awesome," Arana Jr. said. "To be able to have 10 wins in four years is great. I'm sure there are a lot of people who can't say that. It's pretty exciting to have that even number now. Now we've just got to go for 11."
And then there's the six-race Countdown to the Championship, which begins following the U.S. Nationals at Indianapolis on Labor Day Weekend. If Arana can get through that the way he's gone through the first 14 races this season, that dream of a first-ever PSM championship just may come true after all.
"All that matters is that we get the bike ready for the Countdown," Arana Jr. "We got at least one victory this year, and hopefully there's many more to come."
Follow @JerryBonkowski