LEXINGTON, Ohio – The single busiest weekend of the year for the Mazda Road to Indy is on tap this weekend at the Mid-Ohio Sports Car Course.
Here's quick digests of what to expect in the Indy Lights Presented by Cooper Tires, Pro Mazda Championship Presented by Cooper Tires and Cooper Tires USF2000 Championship Powered by Mazda seven-pack of races.
Indy Lights and Pro Mazda have two races apiece and USF2000 three at Mid-Ohio. This is the penultimate round of the season for the Mazda Road to Indy before the season finale weekend at Mazda Raceway Laguna Seca in September.
INDY LIGHTS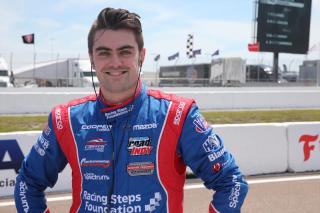 The Milwaukee and Iowa oval races interrupted the formbook in the Indy Lights season, where two first-time winners emerged in the form of Felix Serralles and Max Chilton, respectively. Meanwhile, the only driver who scored podiums in both races was RC Enerson, rebounding quite nicely after his horrific Toronto accident in June.
Oddly that's all taken the onus off the championship battle between Jack Harvey, Spencer Pigot and Ed Jones. Harvey has survived more than strived in the last two weekends, but fourth and fifth to Pigot's seventh and eighth and Jones' eighth and second have seen the Englishman extend his points lead to 18 points.
It seems there's no better place for Harvey (pictured above) to come than the track where he utterly whooped the field last year, Mid-Ohio. Schmidt Peterson's Harvey scored his first two career wins at Mid-Ohio last year.
Yet Pigot has been the man to beat on road and street courses this season. The young American, the Rising Star Racing-backed driver for Juncos Racing, has two road course weekend sweeps at Barber and Toronto, although he endured a nightmare weekend in the two races at the Indianapolis GP.
It's Jones, of Carlin, who needs the biggest weekend. Jones has two podiums and five top-fives in the last six road and street course events, but no wins since banking the first three in a row to open the 2015 season.
The championship battle (Harvey 278, Pigot 260, Jones 258) is the primary storyline this weekend but there are others. Enerson has been desperately close to his first career win and sits a solid fourth in points. Meanwhile just five points separate fifth-placed Serralles from ninth-placed Scott Anderson. Indy GP race two winner Sean Rayhall also makes a welcome return with 8Star Motorsports after missing the races since the Freedom 100.
PRO MAZDA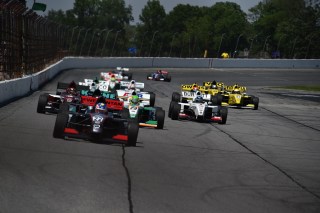 If the Pro Mazda championship was all about ovals, it would be Weiron Tan's world and the rest of the field would just be living in it.
It isn't, of course, and Andretti Autosport's Tan needs another big weekend to close a 27-point gap to Team Pelfrey's Santiago Urrutia, who has been the most consistent if not the outright fastest driver in 2015.
Urrutia hasn't podiumed since the Grand Prix of Indianapolis weekend but with finishes of seventh, fourth and fifth in the last three races, he's also limited mistakes.
This brings us then to a driver who is in desperate need of a good weekend, another of the Rising Star Racing drivers in Neil Alberico of Cape Motorsports with Wayne Taylor Racing. Finishes of 14th, 17th and seventh in the last three races have knocked the likeable Californian back to third in points, 33 back of Urrutia.
Arguably the driver to watch this weekend is Canadian Garett Grist, who has won each of the last two years for Andretti Autosport in USF2000 and Pro Mazda. Grist seeks his second win of 2015 with Juncos Racing this weekend.
The other major storyline is the return of JDC Motorsports' Michael Johnson, following his injuries sustained at St. Petersburg.
USF2000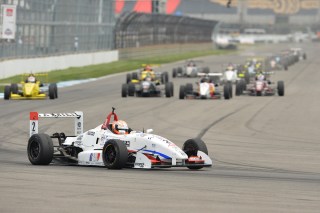 With four wins and two runner-up finishes in the last six races, Frenchman Nico Jamin has placed a firm grasp on the USF2000 championship lead.
It isn't out of the realm for title rivals Jake Eidson (17 back) and Aaron Telitz (57 back), but these two will need big results in the three USF2000 races at Mid-Ohio this weekend in order to have realistic championship hopes at Mazda Raceway.
Besides the proverbial top three, watch for Australian rookie Anthony Martin and Canadian rookie Parker Thompson, each in search of their first win as they complete the top five in points. There are also four new drivers on the entry list, to create a bumper grid of 18 cars.