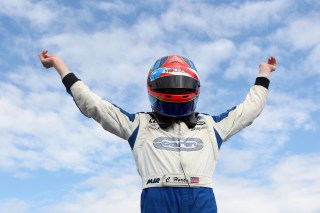 At the age of 15 you probably weren't doing what Colton Herta is doing.
I know I wasn't.
On Sunday, the son of IndyCar owner and former driver Bryan Herta went out and swept two MSA Formula races at Snetterton Circuit in Norwhich, Norfolk in the United Kingdom. They were his first wins in the series in which he is the youngest competitor.
Colton, driving for Trevor Carlin's team, won the first race of the early in the day before leading every lap from the pole in the second race. Herta was followed by teammate Lando Norris.
"It felt good to get my first win of the season his morning, and that made it a bit easier this afternoon," Herta said in a team release. "I think we'll do well from now on, we've shown all season we have the speed but it has all come together now. Thanks to Carlin for giving me a great car."
Herta, who had five wins in the Skip Barber Racing Summer Series in 2013 and has championships in the IKF KPV2 and Pacific F1600 series, is currently sixth in the points standings. He is also the only American in the field.
Herta also competed last season in the Cooper Tires USF2000 Championship Powered by Mazda, prior to moving to Europe, where he has spent the 2015 campaign.
"I was 18 when I took my Skip Barber Driving School and that was the first time I'd ever sat in a car," Bryan Herta told Racer.com. "Right now he's living as a professional race driver at 15. It's amazing.