Versatility in terms of competing in different forms of motorsport, and learning once you're in a new one, are keys to success in modern racing.
This is, in a sentence, the description that sums up Nur Ali's first season in the Red Bull Global Rallycross GRC Lites division.
Ali, now 40, is embarking on his first season in the rally championship after a diverse career that has included past stints in A1GP, NASCAR and ARCA.
The atmosphere and adaptation to the world of GRC has been an eye-opening experience, which is saying something since Ali's originally from Pakistan, moved to Germany as a youth where he got bitten by the racing bug and then moved to Texas (as an eight-year-old in 1983).
That blended experience ties in nicely as Red Bull GRC heads to Washington, D.C., this weekend, which serves as something of a homecoming for the Texan, who drives the No. 42 AF Racing entry with support from Valvoline and Tweaker Energy Shot.
Ali interned under U.S. Rep. Joe Barton (R-Texas) and besides racing, has been a diehard political junkie. He got his bachelor's degree in International Relations from American University.
"Yeah I'm looking forward to D.C. – it's my second home. I was fortunate enough to live there as a student," Ali told MotorSportsTalk.
"My dad has been involved in local politics since I moved. I was 8 years old and intrigued on what my dad was doing, whether it was events, functions, or other things. I remember he was a polling judge at elections. He was fully involved.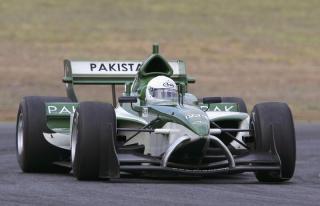 "Growing up in U.S., but having been born in Pakistan, lived in Germany, then adapted to the American system – not instantaneously – he fell in love with the system in the U.S. I started going to polling systems and I got interested in the political system.
"In some sense, yeah I'm a political junkie. I'd be doing something in D.C. if I wasn't racing. To work with Congressman Barton showed me how it works. We may not have a perfect system, but in my estimation it's the best one around."
Politics may be the side job but in terms of the day job, Ali's numbers are trending upward as he enters the second half of the season.
He'd finished sixth in the first two races but after a series of three tough races, recorded a season-best fourth in the most recent round at Detroit Belle Isle, race two. He now sits seventh in points.
Having only had a brief preseason test to acclimate to racing on dirt, Ali has spent the first half of the year learning, while being optimistic of better results in the second half.
"Halfway through the season, with Detroit past and heading to Washington next weekend, I feel a lot more comfortable," he said. "The first weekend, luckily the dirt portion was really small there. It wasn't too difficult.
"I've had some coaching and testing in Austin at some facilities there. By New River, I felt a lot more comfortable. At one point I pulled the hand brake/e-brake too early in the race. I wish it would have happened in practice. But I've gotten comfortable; I'm not 100 percent there yet but much more compared to where it was."
Besides driving, Ali also spoke highly of the GRC open paddock and overall atmosphere. It was one of the elements that attracted him and his partners to the series.
As a tentative plan, Ali is looking to do a second season in GRC Lites before any jump to Supercars, which could come as early as 2017.
As a whole though, having been in open-wheel cars and stock cars, adding rally cars only adds to his career record.
And being from Pakistan originally, being able to embark on a full career is something Ali fully appreciates since it's a rarity.
"I feel very humbled honestly; I come from a culture without race car drivers. I only had a passion," Ali said.
"I was very fortunate I had supportive parents, so long as I got my education. I wanted to race cars. I grew up in Germany watching Formula 1. I was a student of the Autobahn, my father drove on it, it was instilled or built in me as a young child.
"It was difficult but having had 17 years in the industry, 17 years as a driver, I'm humbled and fortunate to do A1, small stint in NASCAR, ARCA, some Indy Ligths testing.
"Now it's a new challenge. I never thought I'd be driving on dirt. But circumstances have brought us here.
"Without even thinking, this is the most fun I've had this year. The paddock is wide open and the races aren't that long. I can get the result in 10 minutes! Don't have to wait three to four hours. We've done six races, had five or six different winners, and many are rookies. There's an opportunity to podium or even win this year. It makes it an equal level playing field.
"A1 was fun, NASCAR fun, but this has been awesome. Today I can tell you wholeheartedly I'm having a blast. I hope it grows from year-to-year."