Without Mark Donohue, there may not have been a Roger Penske – at least in the context of a reverential, "greatest motorsports team owner of all-time" conversation.
Donohue was Penske's first ace, and an absolute star in the 1960s and 1970s. He died on this day 40 years ago.
Donohue joined with Penske's team in 1966, shortly after that year's 24 Hours of Le Mans, which saw an iconic Ford GT40 podium sweep (Donohue's Ford retired after 12 laps).
Of course Donohue went on to far greater success in Trans-Am, with Penske's Chevrolet Camaros. It was there the seeds were sown of Penske's legendary "unfair advantage" in the Z/28s at the time in the late 1960s and early 1970s.
Donohue went on to win the 1972 Indianapolis 500, Penske's first of now 16 '500 race wins.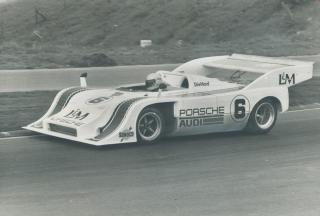 The Porsche 917-10 was one incredible car and then with the Porsche 917-30, the car dubbed the "Can-Am Killer," Donohue and Penske went onto even greater success. The 1973 Can-Am championship saw the 917-30 win all but one race on the schedule.
The winning continued in IROC the following year; Donohue was the first champion in the International Race of Champions.
However his career and life came to an abrupt, way-too-early halt following his accident in practice for the Austrian Grand Prix at the Osterreichring in 1975. After falling into a coma from a cerebral hemorrhage, Donohue died this day 40 years ago.
Donohue's 1972 Indianapolis 500 winner, a McLaren-Offenhauser, is the car that put the team on the map. Alex Lloyd of Yahoo Autos got to drive it recently, and that video link is posted below.
Donohue's legend lives on, all these years later.