You often hear the term "double duty" in racing, particularly when it's a driver or crewmember competing in two races on the same weekend.
You don't often hear it in relation to broadcasting.
Yet that is exactly what's ahead for NBC Sports Group broadcasters Leigh Diffey and Steve Matchett this weekend, who will call both the 11th round of the FIA Formula 1 World Championship, the Belgian Grand Prix (7:30 a.m. ET, Sunday, NBCSN), and the 15th round of the Verizon IndyCar Series season, the ABC Supply 500 at Pocono Raceway (2 p.m. ET, Sunday, NBCSN).
The weekend is something of a calendar nightmare from a logistical and staffing standpoint. Usual IndyCar analyst Townsend Bell and Brian Till, who'd filled in for Diffey at three prior F1/IndyCar direct head-to-head conflicts this year, are both on assignment at Virginia International Raceway for the TUDOR Championship event.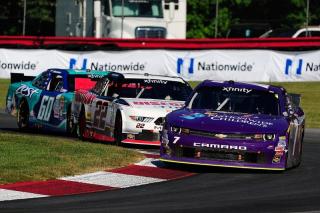 So what's occurred is rather than bringing in another crew – as Diffey led from the broadcast side on NBC's second NASCAR crew at the Mid-Ohio Sports Car Course last weekend – a logistical plan has been established for both Diffey and Matchett to head from Stamford direct to Pocono and join the usual IndyCar broadcast and production crew at Pocono after finishing up with the F1 on NBC team.
After a week of venturing into the unknown with NASCAR, but providing extra enthusiasm to an already exciting Xfinity race at Mid-Ohio, Diffey is heading back home with both F1 and IndyCar.
"I feel incredibly privileged," Diffey told MotorSportsTalk in a phone interview this week.
"This is my 20th year in television, and I have been given the opportunity to do a variety of things. I appreciate the faith from Sam Flood and Rich O'Connor to allow me to do this.
"NASCAR last weekend working alongside Dale Jarrett was such a thrill, since it was a crazy, bizarre finish. I've been a NASCAR fan and dabbled in it, and for that to be my first race was something else.
"But this weekend is like an old pair of jeans."
The double broadcast, with travel, in the same day is a first for Diffey, but not the first time he's done two events in the same day.
There were multiple times during his sports car broadcasting career, then with SPEED Channel, where Continental Tire SportsCar Challenge and GRAND-AM Rolex Series races occurred on the same day.
Then there was a one-off occasion in his native Australia, where Diffey called the Australian round of the IndyCar championship at the Gold Coast in Surfers' Paradise, then he and Neil Crompton took a helicopter to Brisbane, then a commercial jet to Sydney, to studio host the Brazilian Formula 1 race. BBC provided the F1 commentary while Diffey and Crompton were in the Network 10 studios.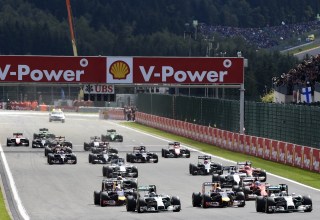 From a preparation standpoint, getting everything ready for both F1 and IndyCar requires keeping the details separate. But the different stages in the respective championships should make things easier.
"You have to treat them as they are. What you don't want to do is have one lose out to another," Diffey explained.
"Because they're two completely different things… in many ways, that isolation is helped being in distinctly different positions within the season. IndyCar is building to a championship climax while F1 is building to the second half of the season."
Adding to the challenge of this day, on paper, is the fact Diffey will have separate commentary crews, but that's hardly an issue. One of Diffey's top skills has been his malleability – his meshing with whoever the analyst is. And that's been evident across not just his motorsports broadcasting, but also in his role at the 2014 Olympic Winter Games at Sochi in Russia.
While the F1 booth of Diffey, Matchett and David Hobbs remains unchanged, with Will Buxton adding insights from the pits, Diffey has worked with any of Matchett, Hobbs, Bell, Paul Tracy and others on the IndyCar side, depending on conflicts.
"As play-by-play I have to be the traffic cop so to speak," Diffey said. "What you have to do is understand your mates in the booth, how they like to work. You try to facilitate that.
"The best thing that's allowed me to do that is I've always worked with so many different people. At Russia for instance, I had three different disciplines with three different co-commentators!
"For me the big thing is making sure you get on, off air. If you get on well off air, say enjoy a beer and dinner the night before a race, or the days before a race, it transfers well to on-air commentary. I respect and cherish that."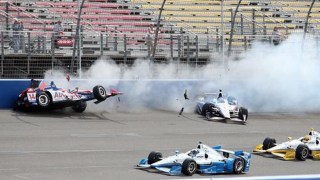 Diffey, Matchett and Tracy will be back together as a trio for the first time since the thrilling MAVTV 500 at Auto Club Speedway in June, a race Diffey calls one of his career highlights.
"The last time it was 'PT,' Steve and I, it was the most exciting race I've ever called at Fontana," Diffey said.
Matchett's omnipresent "WOAH!" lines have been a staple of his IndyCar calls this year, but the former Benetton mechanic has also appreciated every opportunity he's had to experience the IndyCar paddock.
Where Diffey has been able to assist is in making intros, so Matchett can add his typical technical insights to the broadcast from an IndyCar perspective.
"Certainly I don't need to help him as a broadcaster," Diffey said. "We get on very well as friends beyond our on air commitments.
"The biggest help for him is getting down to the paddock, meeting the engineers and team managers. He has such an inquisitive mind, and he wants to understand how it works, what it's made out of.
"At Fontana, I'd introduced him to Kyle Moyer (of Team Penske) and left him alone. Kyle walked with him alone, and that really satisfied his inquisitive nature.
"F1 he knows inside and out, IndyCar he's been watching but it's relatively new. It's something he's enjoying the change."
The day will be a marathon. The first production meeting is at 4 a.m. ET in Stamford before rehearsal, then on air at 7:30 a.m. ET for pre-race from Spa. A charter flight is set for 10:30 a.m. ET from White Plains in Westchester County, N.Y., to get to Pocono, with roughly 90 minutes until the broadcast goes on air from Pocono at 2 p.m. ET (both are on NBCSN and NBC Sports Live Extra).
"To call two races in one day is not new," Diffey said. "All my years of endurance sports car racing prepared me well.
"You'll have to try and relax (on the plane), even if it's just half an hour. The group is all so good at keeping us in the loop so we should be good to go."
By 6 p.m. ET when the Pocono broadcast is done, Diffey and Matchett will have done their own 14 hours of broadcasting – albeit not on air for 14 straight hours – in two locations, across two series.
It will rank as one of the endurance feats of the year, and ideally, a highlight for viewers of both races on NBCSN.
DIFFEY AND MATCHETT'S SUNDAY SCHEDULE
Lead F1 and IndyCar race-caller Leigh Diffey and F1 and IndyCar analyst Steve Matchett will pull a broadcasting doubleheader this Sunday, calling the F1 Belgian Grand Prix on Sunday morning at 7:30 a.m. ET and the IndyCar ABC Supply 500 at Pocono Raceway at 2:30 p.m. ET.
Diffey and Matchett will arrive at NBC Sports Group's International Broadcast Center in Stamford, Conn. on Sunday morning prior to their 4 a.m. ET production meeting. Following the F1 race, the duo will depart from Stamford at 10:30 a.m. ET, take a charter flight, and arrive at Pocono Raceway in time to call the IndyCar race on NBCSN at 2 p.m. ET.
Following is the schedule for Diffey and Matchett for Sunday's broadcast doubleheader:
4 a.m. ET

 – Production meeting at NBC Sports Group's International Broadcast Center in Stamford, Conn.

5:30 a.m. ET

 – F1 Rehearsal

7:30 a.m. ET

 – F1 Belgian Grand Prix on NBCSN

10:30 a.m. ET

 – Depart Stamford for charter flight to Pocono
Approx. 

12:30 p.m. ET

 – Arrive at Pocono Raceway

1 p.m. ET

 – IndyCar Rehearsal

2 p.m. ET

 – IndyCar ABC Supply 500 at Pocono

6 p.m. ET

 – Off-air