It's more than an hour after the checkered flag at this year's Milwaukee IndyFest. It's been even longer since Justin Wilson's engine went up in flames, with a late-race mechanical failure sabotaging what could have been a runner-up finish to old Champ Car sparring partner Sebastien Bourdais at the classic one-mile Milwaukee Mile.
Most drivers would have been out of the premises by then. But not IndyCar's gentle giant, fast giraffe, and benevolent badass. Pick your nickname de jour.
Wilson, who's still there at the Andretti Autosport transporter and still in his firesuit, tells me he'll get to my relatively inane and pointless questions about the race as soon as he fulfills the wishes of a couple kids standing outside awaiting an autograph and a picture.
He walks outside and the smiles surpass the sunshine on that Sunday afternoon.
He makes their day, and I'm happy to wait the extra few minutes for him to answer my questions.
"So, the sad saga of Justin Wilson's 2015 rolls on, because it's Bourdais-Wilson 1-2 like old times and of course the motor seizes up. What was it exactly that knocked you out?" I ask, as Wilson laughs and chuckles noting how he's happy to be in this position even after a failure to finish.
The DNF comes as a microcosm of Wilson's 2015 season.
Wilson's 2015 season comes as a microcosm of Wilson's North American open wheel career.
Opportunities dashed throughout, but still with an enduring smile and a persistent positivity that provides an uplifting spirit in the paddock.
HUMBLE BEGINNINGS IN EUROPE
You see, Wilson was never meant to become a star in North America to begin with. The Sheffield, England native could have emulated some of his countrymen as Formula 1 stars, as eventual World Champions.
He emerged as champion of a crowded F3000 field in 2001 that also included these names: Mark Webber, Tomas Enge, Sebastien Bourdais, Antonio Pizzonia, Giorgio Pantano, Patrick Friesacher, Stephane Sarrazin and Zsolt Baumgartner. And those were just the eight other drivers on that year's grid who made it to F1.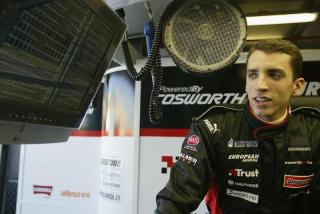 Wilson did too, but only after investors pulled out the stops to ensure the lanky 6-foot-4 driver would eventually have a seat on the grid.
When he did, it was with Minardi, the team with the fewest level of resources on the grid.
The legend of Justin Wilson was born from the moment he made his Grand Prix debut in 2003.
Wilson's on-track trademark carried throughout the last dozen years was his tendency to outperform less than stellar machinery. His only point? It came with Jaguar, the team now known as Red Bull.
Throughout it all, he never made excuses, never threw his team under the bus, and yet always persevered.
RISING STAR IN CHAMP CAR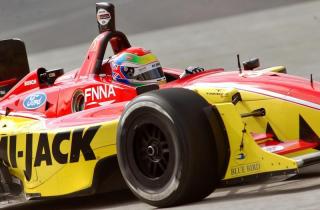 He did it in Champ Car from his arrival in 2004, with a similar underdog in Conquest Racing. Armed with a less-than-stellar package, Wilson was qualifying in the top-five on a regular basis. The fact he only had two top-five finishes wasn't an indictment of his ability; it just spoke to bad luck.
Once at the better-financed RuSPORT team in 2005, the results finally came. His first podium was a win at Toronto that year, which was somewhat overshadowed in the face of an on-track dustup (one of many at the time) between Bourdais and Paul Tracy. He added a dominant win from pole at Mexico City ahead of teammate AJ Allmendinger to cap off the season.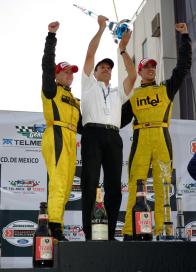 Wilson and Allmendinger could have made a reality show or sitcom in their own right: Allmendinger as the diminutive but dynamic Californian, with Wilson playing the all-too-kind and yet significantly taller Brit.
While Allmendinger was jettisoned from RuSPORT after four races the following year and went onto his best open-wheel success with another team, Wilson continued on as RuSPORT's team leader.
He kept the team focused and kept morale high after a severe accident for "Dinger's" replacement Cristiano da Matta in a testing shunt at Road America, when the likable Brazilian known as "Shorty" hit a deer.
Wilson's most heroic drive likely came in the 2006 season finale at Mexico City. Despite breaking a small bone in his right wrist, Wilson left would-be substitute Adam Carroll waiting in the wings and made a triumphant, surprise return. He damn near beat Bourdais with one hand, losing out only by several tenths at race's end.
He won only once in 2007 after successive runner-up championship finishes, but with Bourdais off to Formula 1 in 2008, Wilson was the natural – and perfect – replacement for him at Newman/Haas Racing.
A STAR IN THE RIGHT CAR, BUT AT THE WRONG TIME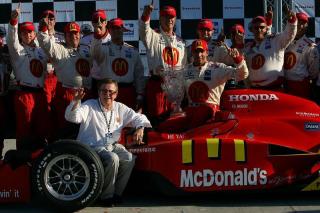 As ever, Wilson's timing was the opposite of impeccable. He finally got the best ride, and of course it came when Champ Car folded and the Indy Racing League (now INDYCAR) acquired its assets.
As a so-called "transition driver," Wilson had to make due with a car that his team had five years fewer experience with than the Penskes and Ganassis of the world. The one time he had the best car, the Champ Car finale at Long Beach in the turbocharged Panoz DP01-Cosworth, his engine blew after 12 laps.
But a win at Detroit in the Dallara-Honda was no less than he and the team deserved, and ultimately proved the last in Newman/Haas' incredible history. Paul Newman died the next month, September 2008.
MULTIPLE COYNE FLIPS
Budgets being what they were, Wilson found himself sidelined when Robert Doornbos replaced him at NHR in 2009. Wilson though found his way to Dale Coyne Racing, and delivered IndyCar's biggest underdog its first ever win at Watkins Glen. It stands in IndyCar annals as one of the biggest upsets, as it was the only non-Penske/Ganassi win of the year.
Successive struggling seasons with Dreyer & Reinbold Racing in 2010 and 2011 didn't produce any wins, while a back injury from a practice accident at Mid-Ohio cost Wilson the second half of 2011.
Back at Coyne in 2012, Wilson delivered a popular win at Texas, and then produced a series of giant-killing performances in 2013 – arguably his best season ever – to enter the final race in Fontana fourth in points. But Wilson endured yet another injury to cap off 2013, when he sustained pelvic fractures and a pulmonary contusion in an accident there. It was typical Wilson – courageous but luckless.
His 2014 season was an odd one, without any podiums and an odd balance of luck in races where speed was required, and speed when luck was needed. Typical Justin being Justin though, he remained introspective and focused – even if internally, he wanted a new direction.
THE SAGA OF JUSTIN WILSON'S 2015, PRE-POCONO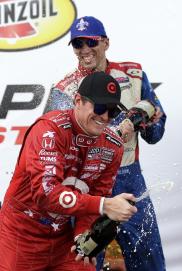 Where Wilson was most incredible – in a career where he had been incredible – was this year. Even though the results showed it as statistically, one of his worst years.
Wilson and Coyne had done what they could together over parts of four years but realistically, both needed to break. Wilson needed a team worthy of his talent and Coyne needed to give Wilson the freedom to find one.
The team targeted all winter was Andretti Autosport. Yet as Wilson related to me in a November 2014 interview, it was always going to be a question of when.
"Dale's a great guy, and the team has made some nice improvements," Wilson said then. "But I have to see what's best for my future and what works for me. It's one of those things, where I could find out tomorrow, or it could be in another month or two months."
It wound up being four-plus months. Wilson didn't have a ride – any ride – until mid-March, when he was confirmed back with Michael Shank's team aboard the team's new Ligier JS P2 Honda as a third driver for the Mobil 1 Twelve Hours of Sebring.
Ozz Negri crashed out of the race in the opening hours. Wilson never got to drive.
Only at St. Petersburg was Wilson confirmed at Andretti, and even then only for two races – the month of May with the Angie's List Grand Prix of Indianapolis and the 99th Indianapolis 500.
I bumped into Wilson in pit lane right before race start.
"I'm bummed you're not out there, man," I said.
"Me too. But it'll be soon enough, and I can't wait," he replied, still smiling.
We get to the month of May. Wilson's first race, despite qualifying best of the four Andretti cars, is sabotaged by a damaged front wing at the Turn 1 mess, a bad pit stop and a mechanical woe that put him out.
His Indy 500 sees him now adorned in a special one-off Rolling Stones livery ahead of Mick and the gang's upcoming July 4 concert at the Speedway.
"It has to be pretty cool being a Brit, promoting the Stones, ahead of their concert here," I said.
Wilson smiles, and I think he may have stuck his tongue out in the quick interaction before he put his helmet on and prepared for the Carb Day practice.
He leads the race in the final laps courtesy of a fuel gamble. He is unable to make the finish without a splash and ends 21st.
"I want to thank Andretti Autosport for this opportunity, looking forward to hopefully working with them again," he said, graciously, not knowing his next race.
It comes in an Andretti FIA Formula E car in Moscow in early June.
His next race attempt was supposed to be in the HPD ARX-04b prototype at Pikes Peak. True to form, something went wrong. Turbocharger issues prevent Wilson and the HPD from a crack at the mountain.
The smile still lives.
Finally, the news comes he's back in an IndyCar – with Andretti Autosport – for the rest of the season.
He returns at Milwaukee. I ask how nice it feels to actually have five days before his next race weekend, instead of this year-long question of wondering when exactly it's going to be.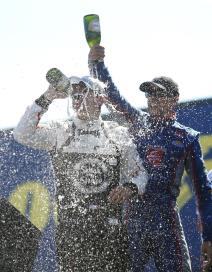 "It's nice! It's nice to know you're working towards something," Wilson told me. "So next weekend, let's go faster. Let's sort it out and make it better.
"The balance is everything. Getting the right balance, is so, so sensitive. I can't explain how sensitive these aero kits are, and how extreme it is. You say it's sensitive and if you miss by just a fraction, you're a second off. Maybe it's not quite that extreme but that's how it feels. It's crazy!"
The passion is clearly there.
On August 2, the result he'd been working all year finally comes. Wilson made one spirited passing attempt for the win on Graham Rahal, but came up short.
A day where he could have won sees him happily take second, knowing it was the best possible result for Honda behind its lone IndyCar championship contender.
Wilson is at peace, and back on the podium where he rightfully should be.
THE MOMENTS WE'VE SHARED
It's at this point in this missive where I note that Wilson played an integral part of my own career, dating to my first season in motorsports journalism in 2006.
I didn't cover a ton of races on site between 2006 and 2009, and Wilson's 2006 Champ Car race win at Edmonton was among those I followed remotely and wound up writing a report on.
Work like that laid the groundwork for an incredibly healthy and positive working, professional relationship, which I have to say was nothing but class, all the time.
After a tough Road America weekend the following year, my dad and I wound up seated only a few tables away from him at a Cheesecake Factory. Ordinarily a driver would not be pleased by a kid approaching him when he's "off hours" but Wilson was so polite, so gracious even from my saying hi to him at that location.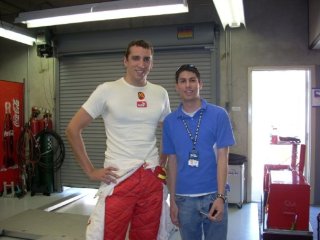 As I quickly found out, you don't take pics with racing drivers once you're covering them… but as he and I went through our first Indianapolis 500 experience together in 2008, he was all too happy to take a quick photo with me that year. Yes, this was pre-selfies.
There were moments where Wilson acknowledged a frustrating race yet was gracious enough to chat about it, notably after Long Beach in 2012, when he felt slighted by an awkward pit strategy. A solid 20-minute phone conversation later, he'd been as insightful as ever in explaining what happened that took him out of winning contention.
Then there were the times where it was just us simply laughing about our height disparity. Every "Hi, Justin!" I offered saw me kink my head and neck back in the process, to ensure I could properly make eye contact with him. I'm not that short, but the 5-foot-9 to 6-foot-4 disparity is a solid seven inches.
Whether it was an interview I wanted, a smile in the paddock I sought or an inevitable quip about how he was doing the best he could, regardless of the circumstances, I knew Justin Wilson was someone special.
He brought joy and light to everyone he touched. He made an indelible impression on the paddock. He was a tireless advocate for charity, and he never let his dyslexia affect him outwardly. Never once did he offer a bad word about anyone.
He was truly a special individual, one who like some others in racing, we've lost all too soon.
I pray for his kid brother Stefan – may he continue the legacy of the "bromates" behind the wheel.
I pray for his wife Julia, their two daughters, Justin's parents Keith and Lynne and the rest of their family.
Rest in peace, Justin Wilson. May heaven be better – and taller – upon your arrival.