NAPA, Calif. – In more than 100 years dating to 1886, the tasting room at what has become the Trefethen Family Vineyards has stood unblemished, unaffected and as a symbol of pride for what has become one of America's standout wineries.
On August 24, 2014, things changed.
The 6.0 earthquake that rocked Napa Valley that Saturday night/early Sunday morning shook the building, which seriously damaged the exterior and also affected some of the supply.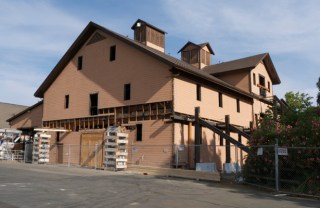 But it also planted the seed of recovery that has borne itself out on race tracks for the 2015 Pirelli World Challenge season.
"If that was going to happen, it happened at the best possible time," says Lorenzo Trefethen, whose grandfather Eugene founded the winery in 1968 and who is embarking on his maiden season driving in PWC, bearing the family's winery signage on his ANSA Motorsports No. 13 Porsche 911 GT3 Cup car in the GT Cup class.
"It happened in the middle of the night, when there was no one here. And it happened in the calendar year, when we could still do something to rebuild awareness for the following year."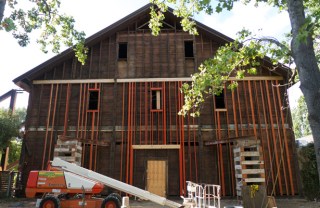 While wineries are a dime a dozen in Napa Valley – there's nearly 500 in and around the area in Sonoma – Trefethen's is one of the first.
In the late 1960s and early 1970s, there were fewer than 25. But with a visionary plan for the area beyond just the near 600 acres of land at what had been the 19th century Eschol Winery, the Trefethen Family Vineyards grew into the place it is today.
It was in the late 1970s, only a handful of years after 1973 when the vineyard's first commercial wine was produced, when Trefethen's wines began to make their mark on the world stage.
Its 1976 Chardonnay earned "Best Chardonnay in the World" honors at the 1979 Gault Millau World Wine Olympics in Paris.
It came as a shock to the French-dominated world of wine at the time and as Lorenzo explains, it did to the family as well.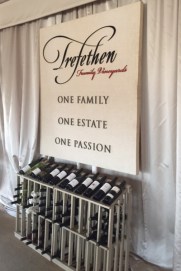 "When that won best in the world in Paris, no one could believe it when we won," he said.
"My parents (John and Janet) got phone calls from journalists… and they were surprised because they didn't even know it was entered in the contest!
"My mom thought it was my dad's friends calling us. It was essentially a practical joke.
"We only had six people in the winery at the time versus about 100-plus now.
"So alas, they all agreed to a rematch in 1980. It was a French home game, and we won again."
To this day the Trefethen Chardonnay is the only wine to have won that award twice, no less than in back-to-back years.
The seeds of the award-winner were planted years earlier with Lorenzo's grandfather's vision. He explains how it all came to be, as they made sure to keep the reclaimed land entirely agricultural focused.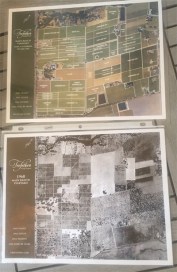 "In 1968, there was a measure put before voters to establish the first agricultural preserve in Napa Valley," he said. "There was a new set of zoning restrictions put into place, to keep any type of activity outside city centers and outside the county, ag-only.
"He wanted to preserve the structure and he would purchase eight farms. But he said, 'I won't unless this measure is passed.' That set the stage for the success of Napa Valley."
The internal success at the Trefethen has come in large part from the foresight.
Jon Ruel, Trefethen Family Vineyards CEO, described how wine making and grape growing are similar to race teams – it requires a full team effort from the roughly 115 employees.
"For us, racing is used to tell the story," Ruel said. "It's an estate winery. All controlled. Many employees are long-term, some 30-plus years.
"Asking, 'Who's your wine maker?' is like asking who's your driver. But it takes a full team.
"You have to execute your harvest, make grapes. It's harvest season right now, and thank goodness not all grapes pop at the same time."
The temperature in Napa provides a perfect balance, with hot days and cool nights allowing the grapes to keep their tartness. The berries themselves are smaller at Trefethen, which is by design because it enhances their intensity and quality.
One of the other key areas that has allowed the winery to thrive is its amount of water preservation. Since fine wine is stressed, you generally want to use less water.
At the property, water flows into reservoirs at low points in the property. It's all runoff and collected into a central sum.
These type of systems were cutting edge in the 1960s and 1970s.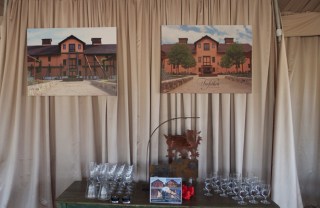 That's the groundwork. The rebuild has come this year after the earthquake, with the last-minute nature of the racing program coming together to help raise the winery's awareness once again and help increase sales. Sales have gone up in several markets where World Challenge races this year.
Trefethen's rookie season with ANSA in the No. 13 Porsche has witnessed him score 13 top-five finishes in 15 starts in class, including his first win at Canadian Tire Motorsport Park in May and three other podium finishes.
This weekend there's an IndyCar component for the Trefethens as well, with a tie-in between Schmidt Peterson Motorsports and Trefethen Family Vineyards.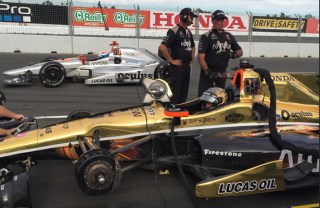 A meeting between ANSA Motorsports team manager Emmanuel Lupe and SPM team co-owner Sam Schmidt has occurred; SPM sponsor ARROW Global has at least 70 guests on hand this weekend and needing a place to entertain, the Trefethen Vineyards were available for one night this weekend.
The Trefethen logo will have a small place on the No. 5 ARROW/Lucas Oil Schmidt Peterson Honda, driven by Ryan Briscoe, this weekend.
Overall, Trefethen's relaxed nature – along with that of his sister Hailey and the rest of the family as mentioned – now makes so much more sense upon the tour of the winery, where a sampling occurred of five different wines (2014 dry Riesling, 2013 Chardonnay, 2012 Merlot, Dragon's Tooth and a Cabernet, but who's counting?).
"When people think of the mental image of a winery, we are it," he says.