Nico Hulkenberg has revealed that Force India's recovery across the course of the 2015 Formula 1 season so far helped persuade him to agree a new contract with the team.
Force India announced on Tuesday that Hulkenberg had agreed a new two-year deal to the end of 2017, ending rumors of a possible move to another team.
The German driver caught up with NBCSN's Will Buxton soon after the announcement had been made, and expressed his happiness with the new contract.
"I feel really comfortable at Force India," Hulkenberg said. "I've been with them now for many, many years. It's basically like my family by now.
"I have big faith and trust in the team and I think that from where we are now, we can get even stronger and build on the foundations that we've built up so far in the past few years and become even more competitive and go for bigger results.
"I see that potential in the team and that drove me to remain with Force India in the future."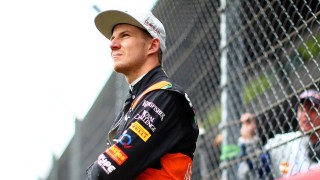 Due to an uncertain financial situation, Force India endured a difficult winter that meant the 2015 car could only debut at the final pre-season test in Barcelona, completing just two full days of running before the first race.
The team made it through the first half of the season with the A-spec car, and remained competitive before introducing the B-spec version at the British Grand Prix.
Since then, both Hulkenberg and teammate Sergio Perez have put in some impressive displays. At last weekend's Belgian Grand Prix, Perez charged to a fifth-place finish, the team's best result of the season.
Hulkenberg explained how the team's recovery and revival since the winter did play a part in his decision to sign a new contract for the next two years.
"Yes, I think you have to give credit to the team and how the team has run," he said.
"We had not the easiest winter, but we've overcome that and done very well even with a not-so-great and not-so-competitive car, and now since we've had those updates, things have really turned around and brightened up.
"We can really feel it inside the car. The atmosphere is very upbeat and very positive in the team right now, so it's good fun to work with them."
Hulkenberg had been linked with moves to Ferrari, Williams and even newcomers Haas F1 Team for 2016, and he confirmed that he did hold talks with the American outfit.
"There were definitely some talks, yes," Hulkenberg said.
"Let's not go too much into detail. I've made my decision, you are aware of it now."