Few championships have witnessed as much success for female drivers as the NHRA Mello Yello Drag Racing Series.
There are several top-level drivers currently competing in all three of the primary classes, Top Fuel, Funny Car and Pro Stock.
Courtney and Brittany Force have made their respective marks on the sport, as two of John Force's daughters. Alexis DeJoria has another famous father – John Paul DeJoria – and Patron support. Erica Enders-Stevens is racing in 2015 as the defending Pro Stock class champion.
Meanwhile Leah Pritchett, a rising star in the Top Fuel ranks, may not have the family pedigree or a name as widely known. But she is also beginning to make her mark on the nitro category in her third season in the class.
Pritchett, 27, is a California native now living in Avon, Ind., driver of the Gumout Top Fuel dragster for Dote Racing. Earlier this year, the "Solid Gold" Gumout Expert Series dragster was revealed at Bristol Dragway and was a hit for fans – the car was awarded the "Best Appearing Car" of the Thunder Valley Nationals. This week, it turns red chrome.
But there was a more important moment for her earlier this year beyond the appearance of her dragster.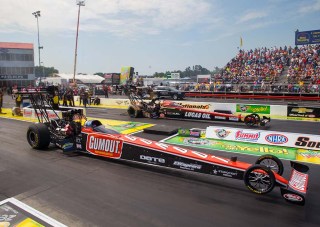 It came at Atlanta, when she made it through to her first Top Fuel final. Although she lost to Antron Brown, it marked her arrival on the class stage.
"I hadn't even been to a semifinal this year yet," Pritchett told MotorSportsTalk. "Given I'd been to a couple in last couple years, it was hard to… I guess apply the expectation management.
"Like, oh my gosh, I'm going to a final. I had to live in the moment, and don't think about it as 'What if I do win?'
"Of course it happens this way where our team owner wasn't there. A lot of our sponsors were there but had to leave early. So here we are going to the final, putting on different hats, and so I need to figure out where the car goes, the crew goes. Figure out all our sponsor hats for pictures. Do all our PR stuff.
"I know from a working standpoint, but I'm so superstitious, but you can't think about it because you haven't won yet. It was a living in the moment type of thing.
"That moment, those rounds, that day, is what propels me to get back those moment.
"I've never done drugs, but this has to be something like that."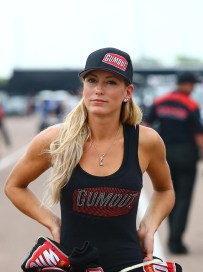 That living in the moment came after nearly 20 years of blood, sweat and tears in working up to various levels of drag racing, starting out at age 8 in Junior Dragsters.
Pritchett is one of only a handful of drivers who holds four NHRA pro licenses (Top Fuel, Funny Car, Heritage Funny Car and Pro Mod). She was a communications major at California State University, San Bernardino, and has served as an analyst for ESPN's NHRA coverage.
"One thing led to another," she said. "Whatever opportunity to open the door, push it open, it was whatever opportunity was at hand. I didn't have a set path.
"Some know they'd get to Top Fuel, or Funny Car, and take the steps needed. For me it was scratching and clawing at whatever the next step may be. It was not extremely linear."
Once she made it to Top Fuel, making her debut in 2013, there was the dual realization of making it, but also knowing she still wanted to get better and fit in among her peers in class.
"Once I got my Top Fuel license, it doesn't get any higher. It's like climbing a mountain," she said. "You get to the top, but you don't see another mountain until you're there.
"Here's this mountain, here's the top and then when you're there, there's this moment of glory for all the people that helped you get there, then there's another mountain you don't see. Another one is a win and a championship.
"Now I'm here and at this level, I'm over the moon… but it's not good enough for me. It includes being successful in Top Fuel. It's not a small steppingstone by any means. There's always going to be another mountain.
"Getting (the license) was the best feeling in the world. Almost one of those things, and you have your sights set, have my life experiences, but you have to process expectation management for the day it doesn't happen. Don't take for granted."
Pritchett noted Brown, Tony Schumacher and her own longtime competitor, Shawn Langdon, as challenging drivers to race against.
"It's pretty much anyone on a streak at any point in the year," she said.
"Sometimes it's Tony, Shawn, sometimes Antron. When I raced against Antron, he was in the beginning of a good hot streak. So I'd consider him a difficult one.
"One that is the most … not difficult, but difficult and special is Shawn Langdon. They always bring the heat. Even if they miss a step that weekend, they pick up 2-3 steps. I guess… racing Shawn is one of the most difficult.
"We started together 20 years ago. Not against each other, as we were different ages. But it's a cool moment to be on a mountain that we're climbing and look over, and see someone you knew so long ago. Makes victories that much better when you beat him."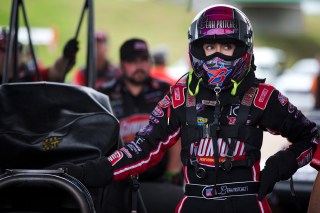 Pritchett makes no secret of the fact she's not from a racing family a la the Forces, although she does have a husband in the sport, Gary, who works on Steve Torrence's team. Her efforts to make it to NHRA took time, patience and dedication.
"A couple years ago I would let it get under my skin," Pritchett says. "Call it maybe wooden spoon vs. silver spoon, but I let it get under my skin and that was a distraction.
"I can't compare it to theirs because I don't know their struggles. I do know mine, and I would consider it to be that much better when I do get there, to winning. Getting to the first mountain, becoming an official Top Fuel driver was a victory in itself."
Pritchett heads into the U.S. Nationals this week on the back of a two-day test, and also having had four races off due to her team running a part-time schedule.
Running at the most prestigious event of the year, especially as she now lives in Indiana, only fuels her even more.
"It's everything. I already felt like Indy was here two weeks ago because of all the lead-up into it," she said.
"I hadn't raced Indy when I was living in California. It was like going to another hotel room.
"Living here, yes it adds a level of comfort to go back to your house every night, but it also adds a level of extra stress… you have friends and families here.
"I hadn't envisioned all this while I was going through the ranks. But now, I want to win."