His surgeries are done. His beard is trimmed.
His sense of humor? Still top level as ever.
So the next logical step in the return of James Hinchcliffe to driving is just that, driving and doing proper testing this offseason.
Later this month, the 28-year-old Canadian should be strapping back into his No. 5 Arrow/Lucas Oil Schmidt Peterson Honda for his first formal test since his accident in practice for the Indianapolis 500.
He had his first unofficial running when driving IndyCar's two-seater, with the Astor Cup championship trophy in the backseat, across the Golden Gate Bridge last week.
That running – since Hinchcliffe had said both on social media and in a recent Periscope with friend and teammate Conor Daly he'd shave some of his Grizzly Adams-length beard only when he got back in a car – counted as an opportunity to fulfill that promise.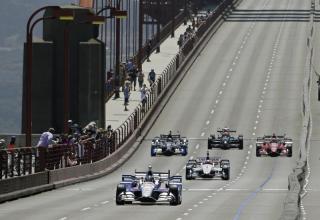 The citizens of "Hinchtown" voted whether to save or shave. More than 800 votes were tallied, and "shave" won by four votes.
"It feels nice. I'm starting to feel like myself again. Now inside and out," Hinchcliffe told MotorSportsTalk at Sonoma this weekend.
The recovery process has been the biggest part. Having had several surgeries, Hinchcliffe is now back to square one, nearly 100 percent ready to go.
"I'm doing great, man. The last surgery went really well, and the recovery is going well to go along with it," he said.
"I've been getting clearance in stages in terms of physical activity to get back in the gym. There's only one more stage left to clear, so hopefully we will begin that next week or the week after, to get properly after it.
"The team is planning to test late September, early October… so it's soon. I've got a goal. That's the plan. So hopefully we can make it work."
A likely test location for the Schmidt Peterson Motorsports team would be Road America, where several Verizon IndyCar Series teams are testing later this month.
Hinchcliffe thanked the IndyCar family for being so helpful and warm to him throughout his time sidelined.
"It's been probably the most incredible part of this whole journey I've been on since May, is seeing really how much of a community this is, and how much support there is," Hinchcliffe said.
"Unfortunately, we are seeing it again now (with the loss of Justin Wilson; Hinchcliffe's thoughts on Justin here). But it really is one of those silver linings in a bad situation.
"You appreciate the people around you so much, and you see how close-knit this industry really is. It's really special to witness that and be a recipient. Now, it's up to me to give back to everybody."
Hinchcliffe is also looking forward to a more traditional offseason of testing and development work from season-to-season, as he prepares for his second season with SPM.
Last year saw Hinchcliffe as perhaps IndyCar's star newsmaker of the offseason, when he announced his move from Andretti Autosport to Schmidt Peterson at the Flat 12 Bierworks in Indianapolis (where his Hinchtown Hammer Down beer is brewed).
But the problem was, all testing was done with the old Dallara DW12 aero kit and chassis until the new manufacturer aero kits made their official debut in March.
"The situation last year was very bizarre and very unique. It was not normal," Hinchcliffe said.
"It's nice to be going back to something very familiar and normalcy. Having the cars earlier in the year will be good to prepare for 2016, rather than trying to get an entire offseason's worth of testing done in four days before St. Pete."
In the interim, Hinchcliffe will continue plying his trade as IndyCar's resident court jester.
He had the chance to meet Will Power's comedian brother Damien this weekend at Sonoma, and he also took the opportunity to jokingly rip on Daly with him standing right behind us when we spoke this weekend.
"I got interviewed by him, actually. So that's gonna be coming out during the offseason," Hinchcliffe said of Damien Power.
"I was a big fan of his. That bit he did on Will was really funny. He had a commercial out in Australia that a lot of people probably haven't seen, but it was brilliant.
"I'm definitely a big fan of his. If I could have any other career, it would probably be stand up comedian. If I had a choice or if I had the talent, which I clearly don't. It'd be a good gig, so I have a lot of respect for him."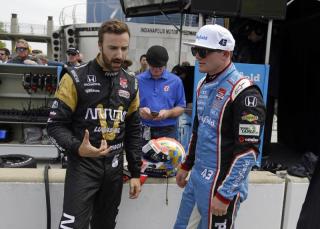 As for the results of Daly and Ryan Briscoe in the No. 5 car, who filled in for him while gone, "Hinch's" sense of humor immediately popped.
"Briscoe's done a great job… but Conor's results were… the results were OK. I don't want to say it was luck. But I don't want to say it was a big effort on his part. Definitely not talent," Hinchcliffe joked.
"In all seriousness, we've been very lucky as a team. We've had multiple guys fill in on that car and they both did a really good job.
"Conor delivered great at two street courses he'd never been to in the rain. A lot of experienced guys made a lot of mistakes those weekends, and he didn't. I was definitely super proud of what he did for me in Toronto."
Hinchcliffe doesn't know who his teammate will be next year, but he did make one suggestion.
"You wish you had a car for everybody and we come back with this super five-car team for me, (James) Jakes, Mikhail (Aleshin), Ryan, and Conor," he said.
"We're gonna pitch it to ARROW. We'll see how it goes."