The biggest and most important drag race of the season takes place this weekend with the 61st annual renewal of the Chevrolet Performance U.S. Nationals at Lucas Oil Raceway in suburban Indianapolis.
The five-day event has long been NHRA's marquee race, drag racing's equivalent to the Daytona 500, if you will.
How big is it?
"Indy isn't like any other race," said Funny Car driver and president of John Force Racing, Robert Hight. "In 2006 when I was in the final I kept trying to tell myself it was just another race but when I rolled through the water box my knees were knocking.
"This is the biggest race of the year with the most history. You have more fans that come to this race and you want to give them time for autographs and photos. I just try and get as much rest as possible and just enjoy the race."
Added Pro Stock driver Shane Gray, who won his first U.S. Nationals title last year, "Winning Indy is big. It's something most guys only ever dream of."
Five-time NHRA Pro Stock champion and three time Indy winner Jeg Coughlin, who is running a limited schedule this season, says going to Indy never gets old.
"Just driving over there you start to get hyped," said Coughlin, who lives near Columbus, Ohio. "It's Indy. It's the U.S. Nationals," Coughlin said. "For drag racers, it doesn't get any bigger than this. When I pull off Crawfordsville Road (in front of the track), my heart definitely picks up a few beats. I'm ready to go right now just thinking about it."
More than 130,000 fans and nearly 900 drag racers from the professional and sportsman ranks are expected to roll through the gates over the five-day race weekend.
MORE: NHRA: All you need to know about the 61st U.S. Nationals
Several significant storylines are brewing, including: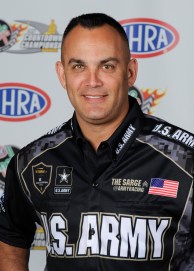 * Making his 20th career appearance in the U.S. Nationals, defending and eight-time Top Fuel champion Tony Schumacher hopes to become the winningest driver overall in U.S. Nationals history. Schumacher is currently tied with retired Pro Stock champ Bob Glidden with nine wins each in Indianapolis.
Schumacher's last win in the U.S. Nationals was 2012, but he's reached the final round 11 times in the last 19 years.
Nicknamed "The Sarge," Schumacher is also celebrating the anniversary of his 15-year primary sponsorship by the U.S. Army.
"I've been fortunate for the past 15 years to experience so many gifts because of the relationship we've had with the U.S. Army," Schumacher said. "All the people we've met, the places I've been, knowing U.S. Army soldiers around the world are being radioed the outcome of what we are doing in the U.S. Army Dragster.
"The passion, the commitment and feeling of unity that comes along with it. It's amazing to think back to where it all started and it was right here in Indy. We came out that first weekend and won the U.S. Nationals together. My first time winning it and we've been together for so many more incredible opportunities."
* As for the Top Fuel point standings, Schumacher continues to lead the series, holding a 53-point edge over teammate Antron Brown heading into this weekend. Brown is seeking his second career U.S. Nationals Top Fuel win, having done so previously in 2011. Brown also won at Indianapolis in Pro Stock Motorcycle in 2000 and 2004.
"I think what makes Indy so special is the history," Brown said. "You go back to the '60s, '70s and '80s and see how everybody comes from everywhere just to compete in this race. It's the best of the best and it can absolutely make your season.
"It's one of those deals where winning at Indy always sticks out. You know when it happened, how it happened, who you beat and what it took to get there. You can go down in history if you win this. Winning Indy is a big deal."
Defending Indy Top Fuel winner Richie Crampton is third in the standings (253 points behind Schumacher), followed by Larry Dixon (-262), Doug Kalitta (-392) and Shawn Langdon (-397).
* The NHRA has designated this race as one that will offer 50 percent more points than in a typical race. In other words, whereas 150 points is the normal maximum amount of points a driver can earn in a race, this weekend a driver can earn as many as 208 points, which could cause some dramatic shifts in the point standings for all four major pro series: Top Fuel, Funny Car, Pro Stock and Pro Stock Motorcycle.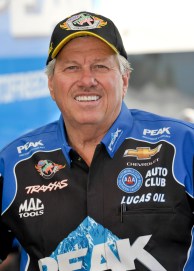 * The winningest driver in NHRA history (143 wins), 16-time Funny Car champion John Force, has four career wins and three runner-up finishes in the U.S. Nationals, including last year's second-place showing to first-time winner Alexis DeJoria. But, in a rare oddity, Force has not won at Indianapolis since 2002.
"I remember that final round," Force said of last year's battle with DeJoria. "It was a close race and both teams were at the top of their games. I like my chances this year with a new young team. (Crew chief) Jon Schaffer has gotten better all year and he was pretty good when he started. This is the last regular season race and we are locked into the Countdown (to the Championship playoff) so we can be aggressive."
After 30 years with Castrol Oil and over 20 years with Ford, Force comes Indy for the first time with a new sponsor (Peak Anti-Freeze) and car manufacturer (Chevrolet).
"This season we have had a lot of change and we are pulling together at the right time," he said. "My team is young but they have a lot of energy and I get motivated by that energy. This is Indy, the biggest race of the year and I will be ready."
Jack Beckman, who has won a series-high five races this season, leads the Funny Car standings heading into Indy. Defending series champ Matt Hagan is second (50 points back), followed by Tommy Johnson Jr. (-121), John Force (-195), Del Worsham (-242) and Ron Capps (-259).
* Several longtime stars in the sport are still in pursuit of their first-ever U.S. Nationals victory, including two-time Indy runner-up Doug Kalitta in Top Fuel; Funny Car drivers Ron Capps, Jack Beckman, Tony Pedregon and defending series champ Matt Hagan; and Allen Johnson in Pro Stock.
* The race-within-a-race Traxxas Nitro Shootout will be held Saturday (Top Fuel) and Sunday (Funny Car). The winners of each class earn a cool $100,000.
* In Pro Stock, defending series champ Erica Enders is back on top of the standings, leading Greg Anderson (16 points back), Chris McGaha (-137), Jason Line (-194) and Allen Johnson (-380).
* In Pro Stock Motorcycle, points leader Eddie Krawiec holds a 166-point lead over Hector Arana Jr., followed by defending series champ Andrew Hines (-177), Karen Stoffer (-301), James Underdahl (-332) and Gerald Savoie (-339).
* The U.S. Nationals is the last race before the NHRA begins the Countdown to the Championship, similar in concept to NASCAR's Chase for the Sprint Cup.
* Defending champions of this event — all first-time winners at Indianapolis — are Richie Crampton (Top Fuel), Alexis DeJoria (Funny Car), Shane Gray (Pro Stock) and Eddie Krawiec (Pro Stock Motorcycle).
"I have won 28 races and three Mello Yello championships and the one race that I will forever remember was my 2014 Indy win," Krawiec said. "As a pro racer we try to treat every race as the same but I have never been able to do that for Indy. The Chevrolet Performance U.S. Nationals is the race everyone wants to win."
Follow @JerryBonkowski