In a sport that is predicated on elapsed time and then speed, Funny Car driver Del Worsham couldn't have timed things better.
The veteran drag racer not only earned his first victory of the season this past Sunday to start the NHRA's Countdown to the Championship playoff, he now also leads the Funny Car point standings with five races remaining.
Worsham (4.086 seconds at 307.16 mph) earned the 27th win of his Funny Car career (and 35th overall, including his previous tenure in Top Fuel), defeating No. 1 qualifier Tommy Johnson Jr. (4.119 at 300.93) in Sunday's final round at zMAX Dragway in Concord, N.C.
Worsham leads Johnson by six points and Jack Beckman by 34 points.
What's more, with the start he's off to, Worsham is once again in pursuit of one of the rarest NHRA records: he seeks to become only the third driver in drag racing history to win championships in both Nitro Fuel categories (Top Fuel and Funny Car). Only retired drivers Kenny Bernstein and Gary Scelzi have achieved that feat.
But while Worsham is well aware of the record, he isn't letting himself get too far ahead.
"I just want to be at (the season-ending race in) Pomona and be in position to be the Funny Car champion," said Worsham, who won the Top Fuel title in 2011. "I know there's only a short list of people who have pulled it off."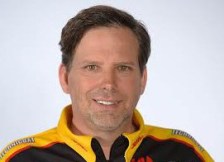 At the same time, Worsham has been around the drag racing game long enough to know he may have just won one race – but there's five more that could completely change where he's at right now.
"I don't want to get that far ahead right now," Worsham said. "We're looking forward to St. Louis (the next race in the Countdown, this weekend)."
Worsham's consistency behind the wheel of the DHL Toyota Camry carried him through the first 18 races of the regular season. He entered the Countdown as the fourth seed.
The driver for legendary team owner Connie Kalitta feels strongly about his performance thus far, as well as his chances going forward in the remaining five Countdown events.
"It was amazing to win, especially now that we are in the running for the championship," Worsham said. "I think all those losses during the season really set the tone for this final round. We wanted to set the tone of the final and we did. (His whole team) all came together for greatness today.
"Funny Car is extremely competitive right now. With what the DSR (Don Schumacher Racing) cars have been doing, especially Jimmy Prock (crew chief) and (driver) Jack Beckman, leaving Sonoma (last month) I was thinking, 'What are we going to do?'
"We've made some changes, weren't complacent and the team has worked hard and we pulled it off. Connie has given us the best parts. These are the races we are going to need to win if we're going to win the championship."
Follow @JerryBonkowski