Romain Grosjean will race for Haas Formula 1 Team next year after being announced by the American outfit in a press conference on Tuesday.
NASCAR team co-owner Gene Haas won the race to join the F1 grid back in 2014, and his team will debut at next spring's 2016 Australian Grand Prix following two years of preparation and planning.
Haas will be the first American team to race in F1 since the unrelated Lola Haas project back in the 1980s, and joins at a time when the sport is enjoying a rapid rise in popularity in the United States.
Gene Haas has signed a technical partnership with Ferrari that will see his team enjoy support from the Italian manufacturer, but has arguably secured his biggest coup to date by signing Grosjean from Lotus.
"Well this is part of our long term strategy," Haas said. "I think we've always maintained that we wanted an experienced driver to lead our team into the 2016 season. F1's a tricky business. You have to learn it, and the best way to learn it is to learn it from other people.
"We were looking for an experienced driver, and Romain was one of several candidates. He's been in F1 for many years, he's been an excellent driver for Lotus. I reviewed a lot of video of his driving style. He scored points every season, and that's really our primary goal here, to be able to score points."
The decision to leave an established F1 operation at Lotus and join a new team may represent something of a risk for Grosjean, but the Frenchman is relishing the opportunity to race for Haas next season.
"What Gene Haas and everyone at Haas F1 Team is building is impressive, and I'm very proud to be a part of it," Grosjean said. "F1 is incredibly competitive and the only way to succeed is by finding new ways of doing things.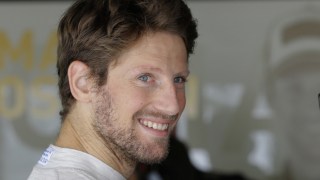 "This is a new opportunity with a new team that is taking a very different approach to F1. I believe in their approach and they believe in me. While I am committed to giving my absolute best to my current team in these last five races, I am very excited for what the future holds at Haas F1 Team."
Grosjean made his F1 debut back in 2009 with Renault before stepping back down the motorsport ladder to GP2 for the following season. The Frenchman won the title with ease in 2011, helping him to secure a seat with Lotus in 2012 where he has raced ever since.
Despite struggling to adapt to life in F1 at first, Grosjean has since flourished into one of the most respected and impressive drivers in the sport, even if he has been held back by his car for much of the past two seasons thanks to Lotus' financial difficulties.
After six years of association with the Enstone operation, Grosjean will now jump ship to join Haas for 2016. Although joining a rookie team does contain a lot of risk, Haas' reputation in motorsport, its support from Ferrari and long lead-up time should allay many fears about its fortunes for 2016.
For Grosjean, Haas also offers a possible route into the Ferrari works team for 2017 upon the expiration of Kimi Raikkonen's contract at Maranello. Grosjean is known to have been in contact with Ferrari in the past, and could be in the frame for a drive in the future by impressing with Haas.