The overpowering smell from nitromethane that powers Top Fuel dragsters and Funny Cars in the National Hot Rod Association oftentimes brings fans to tears after getting a whiff of the stuff.
Now there's a new inspirational book that will also bring tears to the eyes of die-hard drag racing fans.
Veteran crew chief Jim Oberhofer has released "Top Fuel For Life, Life Lessons From A Crew Chief," a touching homage to both his late wife and persevering and overcoming adversity in the highly competitive world of NHRA drag racing.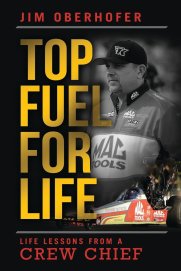 Oberhofer wears a number of hats as vice president of one of the sport's most veteran and successful teams, Kalitta Motorsports, including serving as crew chief for Top Fuel driver Doug Kalitta's dragster.
Oberhofer relates a number of stories about overcoming adversity in the book, but none more touching than how he watched his beloved wife "Tammy O" lose a long and painful battle to stage 4 metastatic lung cancer.
While Oberhofer has spent his life using wrenches and tools working on 10,000-horsepower engines, his new book shows that he is also a very gifted writer.
Known in the sport as "Jim O," Oberhofer describes the fight his wife went through in gritty and descriptive prose, but with a foundation built upon what the love of his life meant to him – and continues to mean to him more than two years since she passed away.
"When you take a long hard look at your life, I guarantee you that being a winner has little to do with crossing the finish line," Oberhofer said. "After many mistakes and a whole lot of heartache, I learned that happiness comes from a deeper, simpler place. That's the big win."
"Top Fuel For Life" is available on Amazon for $19.95.
Follow @JerryBonkowski