When you're going to Las Vegas riding a 7-out-of-7 streak, let's just say it's likely the odds favor you extending said streak.
Such is the case with Top Fuel driver Richie Crampton. Following his win this past Sunday at Texas Motorplex, last year's Rookie of the Year has high hopes for next week's fifth race in the six-race Countdown to the Championship playoff.
His win at Texas makes the Australian native a perfect 7-0 in final elimination rounds. Ergo, he now has seven career records in the Top Fuel class, including five this season.
The victory also moved him into third place in the Top Fuel rankings, but he's still 203 points behind series leader Antron Brown, who won the previous three Countdown races before Crampton's heroics this past Sunday.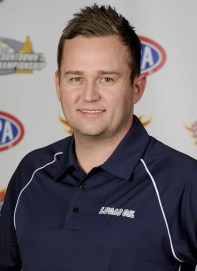 "We're trying very hard to have the best finish possible in the points," Crampton said in an NHRA media release. "We need to be better than everyone else we face. It would help our cause tremendously to bag a few more wins before the year is out.
"It's already been a dream season but we want more. There are (two) more race days on the schedule, so we have (two) more chances to show our stuff. We're hungry for more, no question."
Next up for Crampton is the NHRA Toyota Nationals next weekend in Sin City, where Crampton is already eyeing an eighth final round triumph, as well as a sixth win in 2015.
"Whenever you give (crew chief) Aaron Brooks and my Lucas Oil guys three shots at a racetrack on Sunday, you're probably going to have a pretty good car for the final round," Crampton said. "I just fed off that confidence that we haven't been beat in a final round yet and it's still surreal to me to have that stat. I can't say enough about my guys and that really helps my confidence."
Crampton has earned victories this season in Las Vegas, Topeka, Bristol, Brainerd and most recently Ennis, Texas. He'd love to add another win or two at Las Vegas and/or the season-ending event at Pomona, Calif. next month.
"We've got the hot rod to get the job done, and I'd match up our crew against any other one out there," Crampton said. "It's just so tough to win these things. To have (five) trophies this season and (seven) overall in less than two years of driving is crazy.
"I know a lot of people go years, sometimes their entire careers, without winning a single race. It speaks to the talent of (crew chief) Aaron Brooks and this group of guys."
Follow @JerryBonkowski