LAS VEGAS – Violent. Visceral. Bonkers. Mental. Surreal. Gnarly.
And that was just the first 100 yards out of the starting gate.
When you're blessed with the opportunity for media ride-alongs – this year for me has included laps in a two-seater Honda IndyCar, a 1930s open-wheeler on the historic Milwaukee Mile, a Mazda 6 at the Lime Rock Park bullring, a McLaren MP4-12C with Kevin Estre, and an Audi S3 street car with Allan McNish – not much really surprises you as you grow more accustomed to having them.
That's not to say they're dull – they're all mega in their own way – it's just that you know what to expect.
However… upon entering the passenger's seat of Sebastian Eriksson's No. 93 Red Bull Ford Fiesta ST for Olsbergs MSE at this week's Red Bull Global Rallycross season finale in Las Vegas, I expected it would be different, yet I had no idea of just how different.
The preparation for it came from, of all people, Schmidt Peterson Motorsports IndyCar ace James Hinchcliffe, who along with close friends and former roommates Stefan Wilson and NBCSN GRC/Indy Lights analyst Anders Krohn had just completed their own ride-alongs. So too did fellow IndyCar star, Josef Newgarden.
"It's so violent," Hinchcliffe told me after his own laps. "It's unlike anything I've ever been in in a race car."
"There is just so much going on in the driver's seat in such a condensed timeframe that you have no idea how they do it."
This, coming from a 28-year-old Canadian who more or less drives a rocket ship on wheels, who's won four IndyCar races, and was begging his own crew not to force him to pit upon his glorious return to the No. 5 Arrow/Lucas Oil Schmidt Peterson Honda at Road America in September. Even he'd never been "Wow'd!" like this.
The beauty of Red Bull GRC's ride-alongs, compared to other series, is that most if not all drivers participate. There were at least 12 different cars, split between Supercars and GRC Lites, all taking part in the sequence. Usually other series only have from one to three cars available; the beauty of rallycross is all cars are fitted with passenger seats.
Having Eriksson as my driver was the first sign that this would be a proper rally experience. With no offense to American drivers, having a Scandinavian as your tour guide is damn near the most authentic rally experience you can get. And in Eriksson, the 22-year-old Swede who's been a revelation in his Supercars rookie season, it was one of the best options.
Eriksson didn't speak a word to me going into the ride. I couldn't have asked for anything more.
Swedes don't talk. They drive.
A track walk earlier in the morning gave an idea of what to expect. I'd figured the guys would try to e-brake around the double apex Turns 1 and 2, after launching from the front straight.
The tricky section comes next, with a right-hand kink on pavement, then an immediate snap left to the gravel section, with a slow corner ahead before launching for the jump – or bearing off left and going for the Kobalt Tools Joker Lap.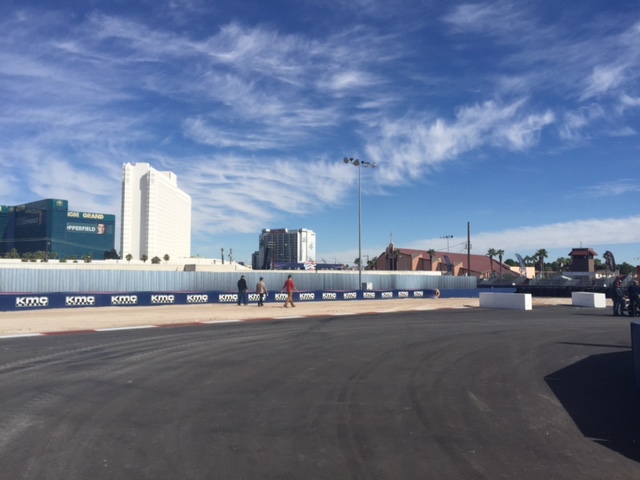 So, enough prep work done, I got suited and booted in my Jacques Villeneuve-esque baggy Ford firesuit, which was enough to get Krohn and Wilson laughing. Even sitting higher up, several inches off the ground in the staging area, I couldn't match Wilson's iconic towering frame.
You not only have a helmet, but a HANS device, to protect you on the ride. Drivers can obviously speak to how important that is and from a ride-along standpoint, this was the indication it would be bumpy and extra protection as a precautionary safety measure was needed.
Eriksson rolls out of the staging area onto the front straight, turning around before launching out of the gate.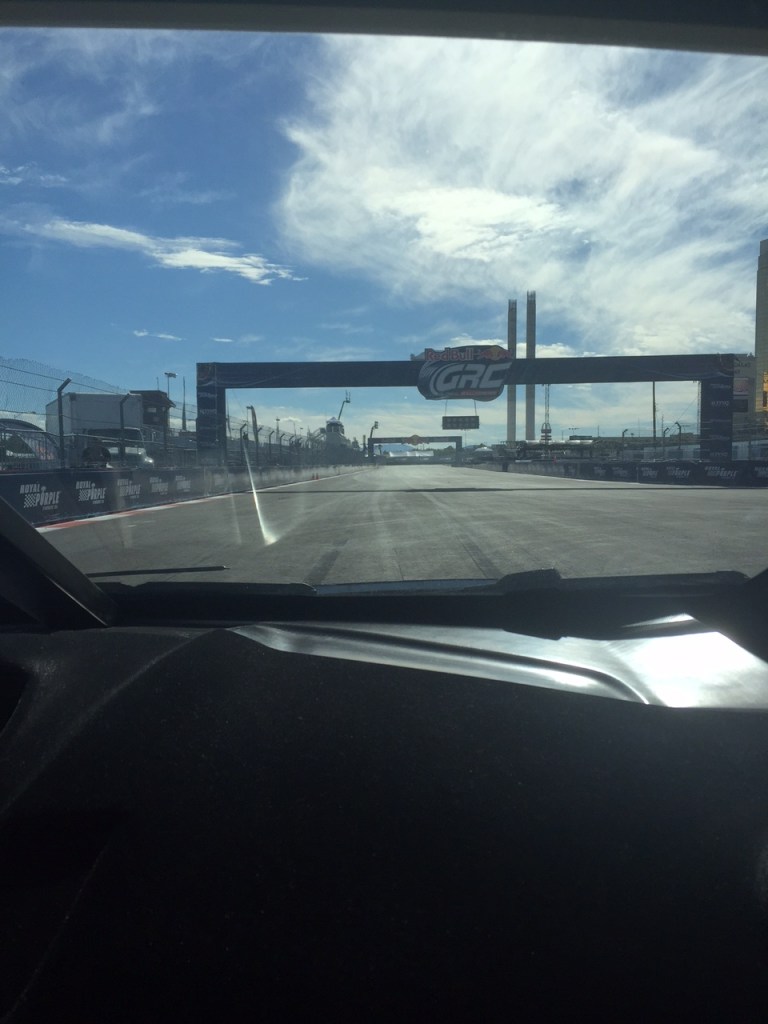 Three. Two. One. BOOM.
And you are thrown back in the seat like you wouldn't believe.
The acceleration is simply ridiculous on these estimated 600-horsepower beasts, and while the 0-60 mph time is listed as 1.9 seconds, that seems an eternity to how fast it actually felt.
Meanwhile, as I'm thinking "OHMYGODTHISISAWESOME," I snuck a glance over to Eriksson in the driver's seat. As "Hinch" outlined, the magic taking place behind the wheel almost defies description.
The laser focus is on the next turn, pulling the gears while turning, debating whether to use the e-brake after using the regular brakes as late as possible.
To give you an idea of the speed, we were in sixth gear not long after the gate on the front straight, and this is only a 0.8-mile course, so do the math on the velocity on that one.
As I figured from the track walk, the transition to gravel would be nuts. It is.
The car snaps sideways, half pointing at the wall, half the apex, with Eriksson steering back to the right as it veers left. It's simply surreal to watch. Throw down from fourth down to first gear for the next right-hander, which was the slowest corner on the track.
Then the jump. Oh, the jump.
I figured we'd hit it hard, but it wasn't nearly as hard as I thought we would. Maybe Eriksson did this politely so I didn't have a freak-out moment where I thought we'd overshoot the landing (long story short, I did that in college on a jump once, and it's always been in the back of my head…).
From the jump landing you get into a rhythm section with a quick straight, left, right, and double-apex right to lead you back onto the front straight.
Rinse and repeat for three or four laps. In the final, make it a few more.
In one sentence, it was the most fun I've ever had in a race car.
Once out, it was such an adrenaline rush, it made the quick walk and monorail ride back to the SEMA Show for a more standard part of the job – a "state of the series" presentation – all the more tolerable.
And it got the blood flowing to return back to the GRC event site later in the afternoon, ahead of today's final round action.
Thanks to Red Bull GRC, Ford and Olsbergs MSE for the opportunity.