If 50 is the new 40, then NHRA Funny Car driver Ron Capps — who hit the half-century mark back in June — is back driving like he did in the prime of his career.
It was 10 years ago – when Capps was 40 – that the Carlsbad, California resident finished second in the Funny Car standings to teammate Gary Scelzi, at the time the closest season differential (8 points) in NHRA history.
After finishing eighth in 2014 and sixth in 2013, Capps rebounded to finish fourth in this year's standings. It was his best season showing since 2012, when he came in as runner-up for the fourth time in his career.
His performance this season was also Capps' third top-4 Funny Car finish in the last seven seasons, adding to promise of a continued career resurgence in 2016 for the long-time NAPA-sponsored driver.
Capps performed outstanding in the six-race Countdown to the Championship. Including Sunday's performance in the Auto Club Finals at Auto Club Raceway in Pomona, California, Capps finished the season by reaching the semifinal round in each of the last five races.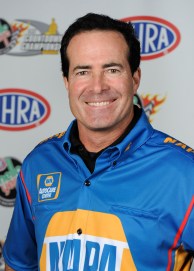 That, too, bodes well for next season.
"Yeah, our NAPA Dodge has been very solid the last part of the season," Capps said in a media release.
Capps said his recent success is due primarily to veteran crew chief Rahn Tobler finding something that has definitely picked up his 2015 Dodge Charger Funny Car's performance.
"Tobler and the NAPA guys have worked hard all year and they've been seeing that pay off," Capps said.
It's been nearly 20 years since Capps was essentially discovered by legendary drag racer Don "Snake" Prudhomme. He's gone on to amass 45 wins in his career: 44 in Funny Car and 1 in Top Fuel.
Two of those wins came this season.
And while Capps once again fell short of earning his first career NHRA Funny Car championship, he definitely has the car and the team behind him to eventually reach that goal.
"I'm excited more so for Pomona than I have been for a long time," he said prior to this weekend's season finale. "We don't have a chance to win the championship but Tobler has found a lot of little things that has helped and we're already excited about 2016."
Follow @JerryBonkowski