The ARCA Racing Series presented by Menards will have only minor changes to the 2016 season, the sanctioning body said Wednesday after revealing next season's schedule.
The biggest change is Mobile, Alabama is off the schedule, to be replaced by a return to Madison, Wisconsin.
As ARCA enters its 64th consecutive year of racing, the schedule will once again feature 20 races for the third consecutive year, starting at Daytona International Speedway on February 13 and ending on Oct. 14 at Kansas Speedway.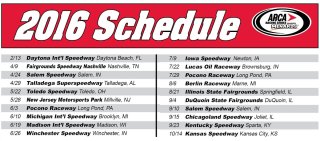 All told, there will be nine races on short tracks, eight on superspeedways, two on dirt and one on a road course.
"We are pleased to announce our full and complete schedule," ARCA President Ron Drager said. "We feel we have once again put together a schedule that highlights the diversity of the ARCA Racing Series presented by Menards. We are excited for the start of the new season."
Other changes include:
* The annual Chicagoland Speedway race will be moved to Thursday night, Sept. 15, kicking off the opening weekend of NASCAR's Chase for the Sprint Cup.
* The road course race at New Jersey will be moved to Saturday, May 28, rather than its previous Sunday afternoon date.
* The annual dirt race at DuQuoin State Fairgrounds in Illinois will shift from an afternoon to an evening race.
* The series will mark milestone events with the 75th series event at Toledo Speedway and the 99th and 100th races at southern Indiana's Salem Speedway.
* The series will have companion races with all three of NASCAR's pro touring series, as well as one weekend as the undercard for the Verizon IndyCar Series race at Iowa Speedway in July.
* As for the return to Madison, Drager said, "It was important for us to schedule a race in the Menards market. Last year, we did not have a race in either Minnesota or Wisconsin and this year, we decided to go back. We are definitely looking forward to racing again at Madison and the upper Midwest."
* The annual awards banquet takes place Dec. 12 in Indianapolis.
Follow @JerryBonkowski