The track in Punta del Este, Uruguay that will host next weekend's Formula E race has been modified in a bid to improve safety and encourage overtaking.
Last year's Punta del Este ePrix proved to be one of the most exciting and eventful races of the season, with the fast-flowing street course catching a number of drivers out.
However, the track did receive some criticism due to the way in which some of the chicanes were profiled, and also as the pit exit released drivers onto the racing line.
In a bid to remedy these issues, Formula E has confirmed that changes have been made to the track ahead of next weekend's race.
"This year the first corner is completely different, as instead of a right-left chicane it's now left-right," last year's winner Sebastien Buemi said ahead of the race weekend.
"The idea behind it is to make the pit exit much safer as last year we were exiting the pits on the racing line. Now, with this tweak, we will be able to exit easier and it will hopefully offer another good overtaking opportunity.
"There are also two chicanes which have been slowed slightly. It will be Punta like last year but with improvements. The FIA have kept the positive points of the track and tweaked the negative ones.
"It's the most unique track that we experience with a lot of quick, tight chicanes. It's a very high-speed circuit, which I enjoy."
2014 Version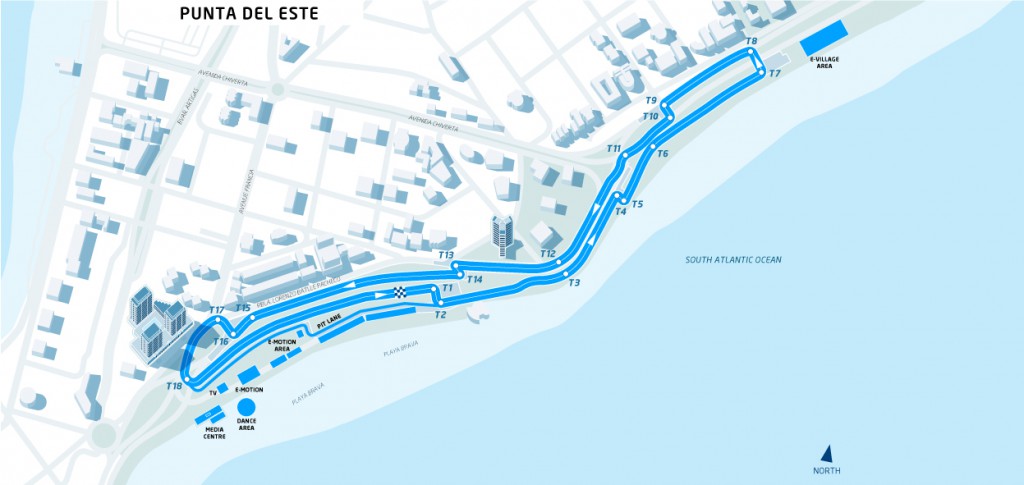 2015 Version
"Following the success of the opening two races of the season we are looking forward to arriving in Punta del Este, a beautiful and picturesque location to host a Formula E race on the beaches of South America," Formula E CEO Alejandro Agag said.
"The circuit is one of the quickest on the calendar and the fans in Uruguay are incredibly passionate and knowledgeable. We are thankful for the continued support and co-operation of the ACU [Automobile Club of Uruguay] and the local authorities on helping us put on such a fantastic event."
The Punta del Este ePrix takes place on December 19.